Nest, the Google-owned company that builds products for the connected home, has turned appliances even as mundane as thermostats and smoke alarms into beloved, sought-after Christmas gifts. Could it help do the same for other staples of the home: lightbulbs and door locks, air conditioners and coffee makers, ovens and refrigerators?
That's the hope of a new program unveiled today as part of the company's "Works with Nest" developer platform. As Apple, Microsoft, Amazon, and other tech giants race to own the home of the future, the winners will likely be the companies that manage to get others building for their ecosystems, much in the same way that third-party app makers helped iOS and Android mobile devices soar in popularity. The fact is, Nest is not likely to create its own, say, microwave or motorized window shades, so it has to rely on outside developers to build these kinds of products and integrate them with Nest. Today's platform update, called Nest Weave, is designed to do just that, by not only streamlining the process for hardware makers to connect with Nest's family of products, but also by streamlining that process for consumers too.
The promise of the connected home is that every household device will speak to one another, automating traditional domestic inefficiencies. Forget to turn off the heat before leaving for vacation? Nest's Protect smoke alarms have embedded motion sensors, and if they determine no one's home, they'll send a signal to the Nest thermostat to turn down the temperature to conserve energy. The problem is that the vast majority of household appliances remain disconnected: Just look at any corner of your home or apartment, and you'll probably come across a slew of devices built before smartphones or possibly even the Internet.
Why don't these companies bring their products into the 21st century? Because it's complicated, resource-intensive, and often outside their core competencies. GE or Whirlpool can afford to hire a team of engineers and designers to code a suite of apps, add Bluetooth or Wi-Fi capabilities, and so forth, but that smaller company or Kickstarter startup?
"For companies who don't want to have to build a cloud, build an app, or can't even put Wi-Fi into their products—they're stuck," says Nest engineering VP Matt Rogers. Enter Nest Weave, which offers developers a simplified way of making their appliances "smart." Rather than have to build out their own infrastructure, developers can rely on Nest's; by embedding Weave, a light-weight protocol, into their products, they can essentially let Nest handle the heavy lifting.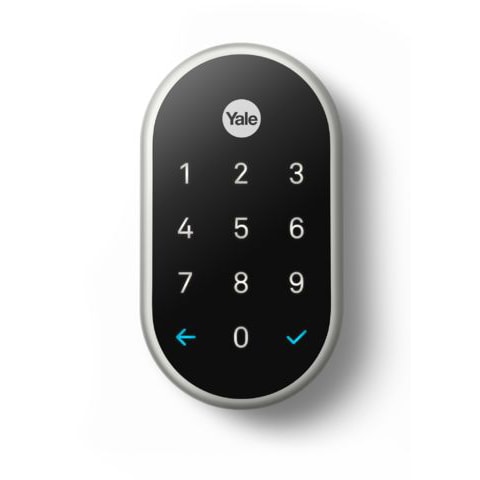 For example, for its new Linus door lock, Yale, a 172-year-old company, is using Weave to bring its portfolio of products into Nest's ecosystem. To use Linus, you can pull up your smartphone, open the Nest app, and lock or unlock the device, check if it's secured while you're away, or set temporary passcodes for visiting family or friends. The actions will be communicated from smartphone to Nest's cloud, which speaks to Nest devices in your home, which will in turn speak directly to the Linus lock. "You don't need to have your own cloud and you don't need to have your own app—you can use ours," Rogers says. "For a lot of developers out there, this is a much easier, cheaper way of getting your product connected."
Because it doesn't use Wi-Fi or Bluetooth and instead leans on Nest's ecosystem, Weave offers developers a more secure and energy-efficient way of becoming Internet-connected—a big plus for a product like Linus, which runs on just four AA batteries and will last more than a year on a single charge. It's akin to a remote control communicating with a television or cable box—the latter products can take on the burden of connecting to the cloud or Internet, while the remote control just has to connect to the TV.
"If you're building a lock, we're still talking about transferring kilobytes of memory, in order to get it [working] in that small of a package, with that battery life. It could not have been built with Wi-Fi," says Rogers. Yale can thus focus on what it does best: build locks (which "they've been doing since Abe Lincoln's time," Rogers jokes). Adds Yale general manager Jason Williams, "Nest becomes the gateway [for our product], whereas with other systems, you'll have to buy this [extra] router or device that sits in the corner [for it to connect to the Internet] and does nothing but collect dust."
Nest acting as the gateway for the home? That's exactly the company's ambition, in part because it will make it more appealing for consumers to buy into the Nest ecosystem. With each new smartphone device that enters the market, adding another piece of hardware or smartphone app to a household setup only makes the process more burdensome, not more convenient. If every third-party product can be controlled with the Nest app or paired with a Nest device? That's when home automation can become a reality. Imagine, say, if a burglar is tampering with a Linus lock; the device could automatically communicate with a Nest security camera and tell it to start recording and send a notification to your smartphone.
Still, as promising as that sounds, it's very early days and a slew of competitors are looking to bring a similar vision to life. When Nest Weave goes live in early 2016, Yale's lock will be the first product available for the system, and Rogers tells me it will be several months before the next one likely comes to market. Nest boasts around 11,000 developers on its platform, a sign not only of how fast its ecosystem is growing, but also of how nascent this market remains.