Millennials may be the most studied generation in history, caught in the confluence of the technology they actively use and the creation of data from all that activity. As analysts slice and dice terabytes of information on millennials, one theme has emerged: contradiction.
According to the U.S. Chamber of Commerce Foundation, millennials are optimistic (despite events like 9/11 and the great recession that have punctuated their lives), they're caring and community-oriented despite the copious use of a solitary activity such as social media, and they're eager entrepreneurs, even when they're often laden with college debt that has forced them to continue living at home after graduation.
The most recent index from the Kauffman Foundation found that 24.7% of all entrepreneurs were 20 to 34 years old, and those with college degrees were starting businesses in unprecedented numbers.
So where, exactly, are they starting all these businesses?
Thumbtack, an online marketplace that matches service providers with consumers, recently released the results of a survey that analyzed responses from 18,000 small business owners nationwide. The respondents answered questions about the friendliness of local tax laws, licensing rules, and the regulatory environment, as well as opportunities for training and networking in their area.
Thumbtack's Small Business Friendliness Survey used their responses to rank the top cities for millennial entrepreneurs.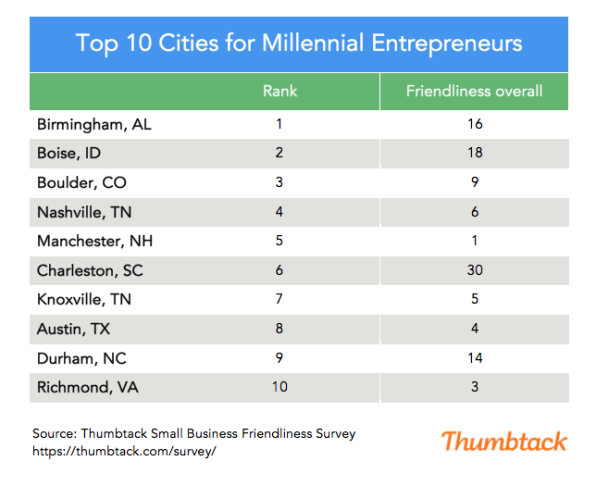 For an interactive graphic on each state's ranking click here.
State and city governments that promote local business training and focus on ease of regulatory compliance are consistently perceived as being friendliest to small business, according to the report. For example, those cities that didn't require professionals to have a license were judged more favorably. Those city governments that did require licensing but had rules that were "very easy" to follow were viewed just as favorably as those who weren't required to have a license at all.
Thumbtack's findings dovetail with those from Glassdoor's Best Cities for Jobs report. Business owners rated both Durham, North Carolina, and Austin, Texas, as friendly to entrepreneurs, and those cities are also a draw for job seekers. Fast-growing, mid-sized tech markets benefit both startup founders and workers because they offer an alternative to the higher cost of living in cities like San Francisco and New York.
Both Nashville, Tennessee, and Manchester, New Hampshire, also topped the list for the best places to find a job in tech, thanks to hosting some of the largest players in the industry such as Nashville's Vanderbilt University research center, and HP and Dell locations in Manchester. Biotech jobs in Nashville abound, but the proximity to professors and medical professionals also encourage those who want to strike out on their own in a community that would support their startup.
According to the Thumbtack report, small business owners rated these five cities as the worst:
Providence, Rhode Island

New Haven, Connecticut

Buffalo, New York

Albuquerque, New Mexico

Hartford, Connecticut
Thumbtack's findings indicate that millennial entrepreneurs were more likely to self-identify as politically independent, and far less likely to identify as either a "strong" conservative or liberal than older business owners.
They were more diverse in their ethnic backgrounds, and had a more even ratio of male to female business owners than survey respondents overall.
They also had a slightly more positive view of the overall economy, with 40% ranking it "somewhat good" or "very good," as opposed to 37% of all survey respondents among different generations.
Jon Lieber, chief economist at Thumbtack.com, pointed out on Thumbtack's blog: "Given that there is a crisis of entrepreneurship in the United States, seen in the broad collapse of self-employment across industries and states, creating the right environment for business startups is more important than ever."