Yet in day-to-day use, many of WatchOS 2's improvements can be easy to miss. You might have no desire to use the Apple Watch as a beside clock, and may never frequent the retailers whose rewards cards now work with Apple Pay. Siri's new voice controls are useful in only a handful of situations, and an expanded contact list doesn't matter much if you're not initiating many calls from the Watch in the first place. Public transit information is nice, but only if you're in one of the select cities where that data is available. As a way to tell time and view notifications, the Apple Watch is largely the same as it ever was.
But that doesn't mean WatchOS 2 is unimportant. It's just that the biggest changes are happening behind the scenes, as app makers rework their software to take advantage of new capabilities. WatchOS 2 is a significant update, but one whose effects won't truly be felt for some time.
I've spent about a week with WatchOS 2, and so far my experience hasn't changed drastically from before the big software update. Most of my Watch usage involves managing emails, checking sports scores, controlling music playback, and fielding the occasional phone call or text message. WatchOS 2 does little to improve those experiences.
But in dabbling with the first WatchOS 2 apps, it seems the update is more about establishing the product to be far more useful in the future.
The most noteworthy change in WatchOS 2 is support for native apps, which can run on the Apple Watch without being connected to a nearby iPhone over Wi-Fi or Bluetooth.
Already, this has opened the door to some offline utility apps, such as PCalc, a basic calculator, and Pomodoro Pro, a timer for managing productivity. But going native should also benefit apps that still rely on an iPhone for Internet connectivity; in theory, they should be faster and more reliable, since they're not banking so heavily on the iPhone for processing power and core app logic.
The native WatchOS 2 apps that I have tried do seem slightly more reliable than their non-native counterparts. The weather app Dark Sky, for instance, loads just a little faster, and doesn't revert to the loading screen as you move between various sections of the app.
So far, however, most Apple Watch apps are no different than they were in WatchOS 1. Several developers have told me that switching to a native app isn't especially easy, because it requires rewriting much of their existing code to run on the Watch instead of the iPhone. And certain features, such as iCloud and GameCenter, are a lot trickier to implement now. In other words, it'll be a while until native apps are the norm.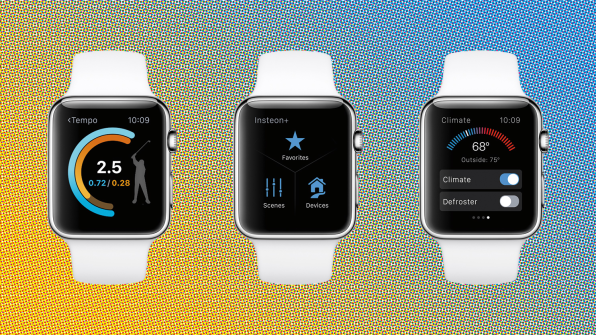 Apple Watch apps aren't just getting a speed boost in WatchOS 2. They're also getting more powerful as Apple provides access to more of the Watch's hardware capabilities.
A twist of the Digital Crown, for instance, can now control software knobs and menu boxes within third-party apps such as PCalc and The Weather Channel. Access to the accelerometer and heart rate monitor open the door to third-party fitness and sleep tracker apps. Haptic feedback allows for surprising new apps such as Tacet, a metronome that counts the beat by tapping on your wrist.
In time, these types of capabilities will help the Apple Watch become more than just a notification machine. By using the Digital Crown for selecting items, Apple can pack more information into the screen. And with wearable sensors and haptic feedback, they can accomplish things that just aren't possible on your phone.
Even when you're not actively using third-party apps, WatchOS 2 extends their usefulness by letting them appear as Complications on the main watch screen. DataMan Next, for instance, can show how much wireless data you've consumed, and WaterMinder can show how much more hydrated you ought to be. These apps can also use WatchOS 2's Time Travel feature to show past and future information with a twist of the Digital Crown. An obvious example would be a weather app that lets you scroll through the next several hours of forecast data.
For now, if you want more Complications, you'll need to seek out the handful of specific apps that offer them. (And sadly, none yet exists for sports scores or fantasy football.) But over time, it's likely that app makers will treat Complications and Time Travel as a high-priority feature. After all, it's an opportunity for their apps to be the first thing you see when you glance at the screen.
The current situation reminds me somewhat of Android home screen widgets in their early days, with too few Complications overall and too many of dubious value. But as app makers catch on, I suspect the inclusion of clever Complications will become a lot more commonplace.
Whereas WatchOS 1 was largely about the apps and services that Apple built in on its own, WatchOS 2 extends those capabilities to third-party apps. The difference is barely noticeable now, but over time there should be a cumulative impact as apps become faster and can do a lot more. (And one can imagine these effects will be more pronounced whenever the next version of the Apple Watch hardware arrives.)
That may explain why Apple calls this update "an even more personal experience." The tagline no longer refers to just the watch faces and wrist bands you choose, but to a new wave of apps that you'll come to rely on.