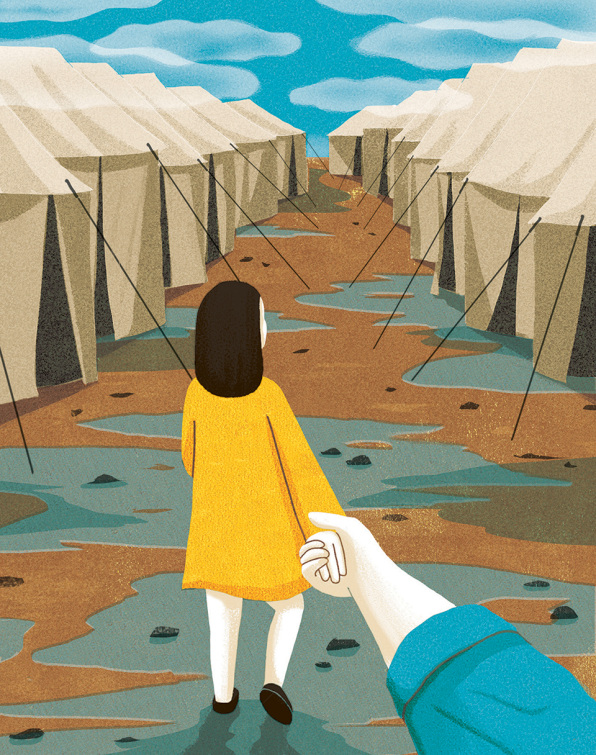 Milk should know. The trailblazing director, who made his name creating cutting-edge, immersive music videos for bands such as U2 and Arcade Fire, recently founded the Vrse.works production company to push the boundaries of virtual-reality filmmaking and offer tools and support to people interested in the medium. One of his first big projects: teaming up with the United Nations to create a series of short VR films highlighting some of the most pressing global challenges facing the organization, including the Syrian refugee crisis and climate change. The result is a powerful new approach to storytelling—one that could transform the way relief organizations and other NGOs approach fundraising.
Milk's collaboration with the UN—an organization known for progressive ideas but rather conventional approaches—is not as unlikely as it sounds. That's because his partner in the effort is Gabo Arora, a senior adviser (and self-described "bureaucratic ninja") for the United Nations Millennium Campaign with a talent for forming creative alliances and leveraging new media to promote social causes. Arora was exploring the prospect of using virtual reality when he met Milk last year at a launch party for U2's Songs of Innocence album (introduced by the Edge, naturally). Within a month, they had developed a plan for Arora to direct the UN's first VR documentary on his next visit to a Syrian refugee camp in the Jordanian desert. Milk equipped him with the tools to make it happen and then supervised editing of the film from his base in Los Angeles.
Clouds Over Sidra debuted in January at the World Economic Forum in Davos, Switzerland, where more than 120 diplomats waited in line for a chance to put on a Samsung Gear VR headset and be transported across the world. It went on to screen at Sundance, TEDx in Vancouver, and South by Southwest. The eight-minute short draws attention to the Syrian refugee crisis by chronicling the day-to-day life of a 12-year-old girl named Sidra who, along with more than 80,000 other refugees, lives in the Za'atari camp in Jordan. In August, Milk and Arora rolled out Waves of Grace, which looks at the aftermath of the Ebola outbreak by following a Liberian survivor. Documentaries exploring industrial pollution in India, disaster relief in Nepal, and climate change in China and the Amazon are scheduled for release later this year.
The key to these films is their uncanny ability to elicit empathy in viewers, an idea that Milk explored in a recent TED 2015 talk. Arora had been seeing diminishing returns for more traditional UN advocacy campaigns, ones that enlist celebrities or eminent people to write op-eds and joint letters. VR, by contrast, spotlights an issue by offering an inescapably immersive experience that transforms viewers into participants. Instead of having audiences passively watch Sidra in school or at the market, Clouds Over Sidra enables them to actually walk alongside her through the camp. "What you have is a set of tools that we've never had in any other form of media," Milk explains. "Cinema allows us to feel compassion for people who are very different from us."
Arora and the UN are strategically rolling out these films with impact in mind, bringing them to high-level meetings where policy makers, philanthropists, and big donors are present. After the success of Clouds Over Sidra at Davos, UN Secretary General Ban Ki-Moon insisted that the film be screened at the main reception of the Humanitarian Pledging Conference for Syria, held in Kuwait in March. The conference was projected to raise $2.3 billion but wound up generating $3.8 billion. At the UN's summit on global sustainable development in New York City at the end of September, the films served as the centerpiece for the organization's first-ever interactive hub (organized by Arora), open to delegates, foreign ministers, and heads of state.
To get these documentaries from decision makers to the people, Milk and Arora translated their films into 15 different languages and then partnered with UNICEF, which collects much of its donations from man-on-the-street campaigns. Through the Translating Empathy to Action program, UNICEF fund­raisers in 40 countries have hit the streets with a combination of Google Cardboard and Samsung Gear headsets cued up to play Clouds Over Sidra. According to Patrick Rose, the communications director for UNICEF New Zealand, one out of every six people who saw the film donated—twice the normal rate. And it wasn't just one-off donations; many people made monthly commitments. "A lot of people have a very emotional reaction to it," says Christopher Fabian, the co-lead of UNICEF's Innovation Unit. "I can't even count the number of times someone has taken off the headset and the goggles are filled with tears."
For Arora, the experience has also been a chance to shake things up at the United Nations, an organization that is often resistant to change. "In some ways, it's only through new media that we can actually get these issues out there," he explains. And VR is a natural fit: "It really speaks to the 'we the people' notion in the UN's charter," Arora says. "It's about listening, understanding, and bringing people's voices into decision-making processes all over the world."