Though Levi's is practically synonymous with jeans, the iconic brand has had to contend with increasing competition in recent years from boutique labels and­ the rise of athleisure. But Levi's is pushing back with chief product officer Karyn Hillman, who spent the past two years updating the brand's women's collection. The project culminated this summer with the release of Lot 700, a revamped line of jeans with new styles and more forgiving fabrics. Here's how Hillman got the denim maker to stretch its boundaries.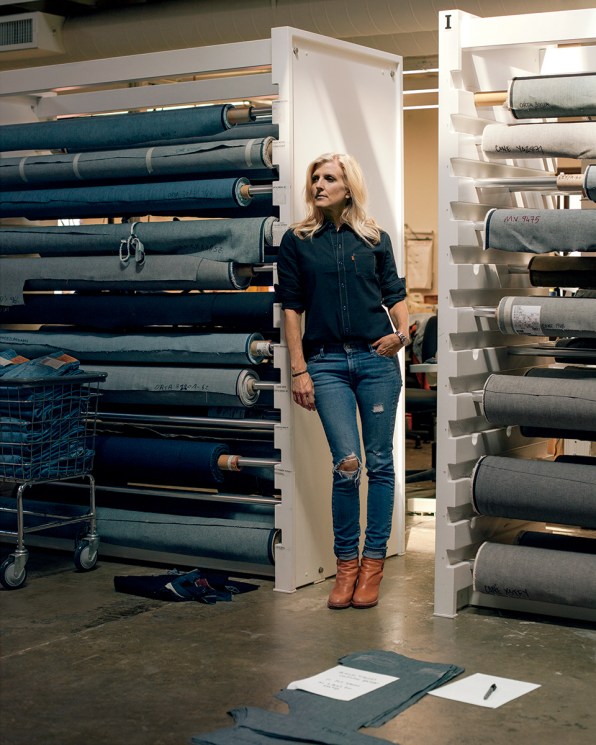 Levi's created a unique C-suite role for Hillman, who came from Calvin Klein and Gap. As CPO, she is responsible for both the design process and the production machine. Maintaining communication across the innovation-focused Eureka lab, where new fits are dreamed up; the denim mills, where fabrics are made; and the designers and technicians who execute the final product, Hillman ensures that the "signature Levi's DNA" remains top of mind.
Hillman and her team began by giving the existing Levi's portfolio a ruthless edit, going over everything from styles and cuts to smaller design details. They ditched stitching that had become "too modern and ornate" in favor of the more minimalist aesthetic of Levi's jeans past. And fabric was vital. "Comfort and feeling good are what wearers expect now," Hillman says. For skinnier styles, they developed a new fabric with up to 90% stretch that still has the look of true denim.
Hillman's team road tested a prototype of their new collection on women in a half-dozen cities from Beijing to Chicago. When Hillman noted that the first thing women did when putting on the jeans was check their backsides, the designers adjusted the pockets, making them thicker and lower to accentuate the area. They also found that women wanted a style between a skinny and straight leg, along the lines of a slim cut. Back at Levi's, they made a new set of prototypes, and went out on the road again. "We knew we had something when women didn't want to give them back," Hillman says.
Though Levi's launched the collection with a campaign starring singer Alicia Keys, Hillman and her team haven't stopped iterating in their quest for the perfect jeans. "Women's expectations continue to change," she says. "It's a breathing, living item of clothing, and we're going to evolve with it."