That parents around the world think love is the most important thing they can give their children will surprise exactly no one. But new research from Fisher-Price reveals that when it comes to parents' aspirations for their children, there's been a global shift in the characteristics they value most.
Rather than dream of success, leadership qualities, or intelligence for their new children, today's parents around the world hope their kids will grow up to be happy, kind, honest, respectful and polite. According to the Moms' Hopes & Wishes Study, a survey of 3,500 new and soon-to-be moms from seven countries conducted by Illuminas Global, it seems that traits associated with EQ are trumping those traditionally associated with IQ.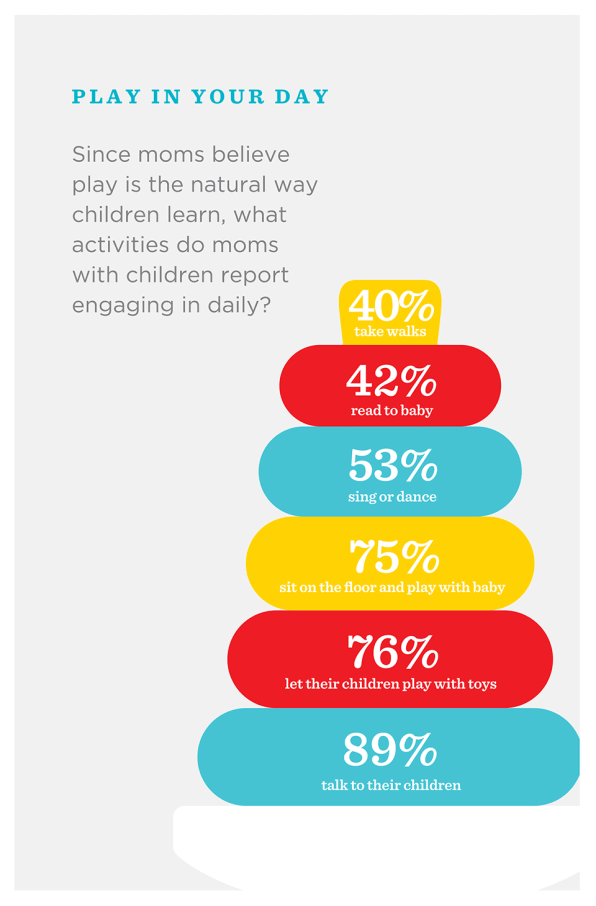 The top five traits that moms hope for their children are: happiness, respect for parents and elders, honesty, politeness, and self-assurance, where as traits such as leadership, ambition, individualism, influence and power ranked from 22 to 28 among the top 28 tracked traits.
Dr. Michael Shore, Vice President and Head of Future Play at Mattel, who conducted the research, says that these findings were particularly interesting because it illustrates how parents view their child's future. "To see [this shift] universally was interesting because there's a lot of talk about 21st century learning and what skills are needed for the future, such as the ability to communicate and collaborate, and that begs those emotional, social development characteristics," says Shore. "So it was interesting to see those traits rise to the top, globally. It's almost as if moms are attuned to what kids are going to need to thrive in the new world."
Both Shore and Lisa Mancuso SVP of marketing for Fisher-Price anecdotally attribute this shift to generational changes in attitude. "I think that a lot of today's moms were raised by baby boomer moms and the baby boomer mentality is focused on power and achievement," Mancuso says. "I remember doing groups when I started my career 20 years ago and parents would say, 'I want my child to be a doctor, I want them to get into Harvard.' Now they talk about them being a good person and having good character traits. Moms still want achievement but they want it more at their child's own pace. I think it's a generational shift."
Also evident in the study was a sense of optimism. The majority of moms in each country (ranging from 54% in France to 94% in China) said they felt their children would have better prospects than they did, something that Shore attributes to views on education.
"We measured a lot of things like access to clean water, ability to provide for their child, advances in science, but the one that really popped was this notion that education will be improved and the ability to provide a good education," says Shore. "If education is important, it begs the hypothesis that moms want their children to be really smart, so it was interesting when the trait that emerged at the top for most countries was happiness."
Still certain countries did tend to value traits related to success more than others. Mexico ranked intelligence highest out of all countries surveyed, while tenacity and perseverance was most valued in China. In Brazil (95%) and Mexico (97%) moms were also more likely to feel that it was important to push their children to their full potential.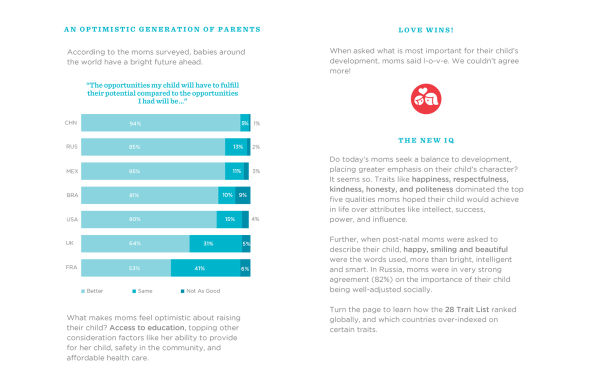 Views of when childhood development actually begins also differed around the world, with moms in Brazil, Mexico and China perceiving development to come later in early life whereas in the UK, U.S. and France, development was viewed as beginning around the time of birth. "When we dove into those perceptions, we think that the view that development begins later is rooted in the view that development is characterized by those abilities children have when they start exploring and learning how the works–so a bit more advanced developmental capability," says Shore. "So not until that point do those parents really view development beginning."
Fisher-Price commissioned the study as a means to better understand how first-time moms viewed various aspects of parenthood, specifically: their perception of what development even means and when it begins; perceptions around the parent's role in the development process; wishes and dreams of parents for their children; and of course how play relates to all of it. It builds off the Best Possible Start platform that launched in early 2015 with the Wishes for Baby campaign.
The company will now take those findings and work to apply them to its marketing and product development efforts. But more interestingly, the company is sharing the results publicly.
"This is the fist time we've done a research project of this magnitude that we're willing to share with the world. We've been a little insular with our research. We see it as IP and we keep it close to the vest. But we want to bring in other thought leaders," says Mancuso. "We see this as another way of doing business; talking to not only to consumers, but great minds in the realm of childhood development."
Shore adds, "The study was designed to create a body of knowledge that could be a catalyst for conversation about how parenting is viewed around the world."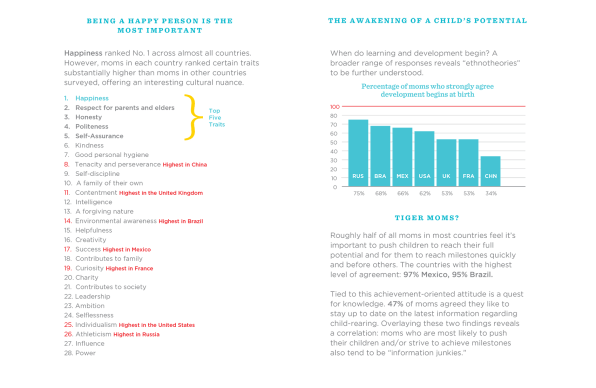 In fact, the first thing Fisher-Price is doing with this research is starting a social campaign that invites parents to share their opinions on what they hope most for their children with the hashtag #FPHappyFactor. The company is also sharing some highlight from its early childhood development event, The Happy Factor Forum, at which the study's findings were released. Then, in the following weeks, Fisher-Price will launch Grow, a parenting app created in conjunction with Shakira's Barefoot Foundation, which will feature over 2000 developmental tests and a milestone tracker.
And what of play? Shore says that was another area of consensus, with all countries ranking play as one of the most important and natural ways for a child to learn. "In all regions, there was this perspective that childhood is an important time and that it's important to let children be children," says Shore. "As a company involved in play, it was great to see that universally."