This week Facebook introduced 360 video to the newsfeed and, obviously, there were a handful of impressive launch partners, including LeBron James, GoPro, Saturday Night Live, and Vice. But the one that likely drew the biggest nerdgasm was Star Wars' 360-degree view look at the planet Jakku from the back of a speeder bike driven by Daisy Ridley's Force Awakens character, Rey. It's no contest.
But! This week was jam packed with impressive, engaging brand creativity so read on for a closer look.
What: A six-minute, heartbreaking and inspiring PSA that chronicles the consequences of a fleeting moment of driving distraction on the life of high school football player Fletcher Cleaves.
Who: AT&T, ESPN CreativeWorks
Why We Care: The fine art of the PSA is telling a story with a message, without being too preachy. This work from ESPN's in-house agency CreativeWorks is as good as it gets. Sure, it's an amazing story but one that could've been told any number of ways. This film, directed by Miles Jay, so effectively uses silence, the moments between actions, and a seamless blend of dramatization, home video and present-day footage in such a beautiful way that might just bring tears to your eyes.
What: An elaborate and amazing stop-motion animated film made entirely in-camera, using thousands of handmade illustrations and only a wee bit of CGI, that tells a Honda evolution story.
Who: Honda, RPA, PES
Why We Care: First we have a master of animated whimsy in the Oscar-nominated director PES, combined with the brand's open mind to let him adapt its story in such a wild way. Just a great piece of art that also happens to be rooted in the brand itself. Check out the making-of video here.
What: A 360 interactive video through a scene from the upcoming film The Force Awakens to mark the arrival of 360 video to Facebook's newsfeed.
Who: Star Wars, Disney, Facebook
Why We Care: *insert high frequency, mind-piercing nerd squeal that is the opposite of this.
What: A set of three films to unofficially coincide with the 2015 Rugby World Cup, that focus on star players from three of the tournament's top contending countries.
Who: Beats by Dre, R/GA
Why We Care: For those not all that familiar with rugby, Beats' now familiar signature style of sports storytelling is skillful enough to make anyone cheer for New Zealand's Riche McCaw, England's Chris Robshaw, and Wesley Fofana of France, even if we don't know the difference between a scrum and a haka.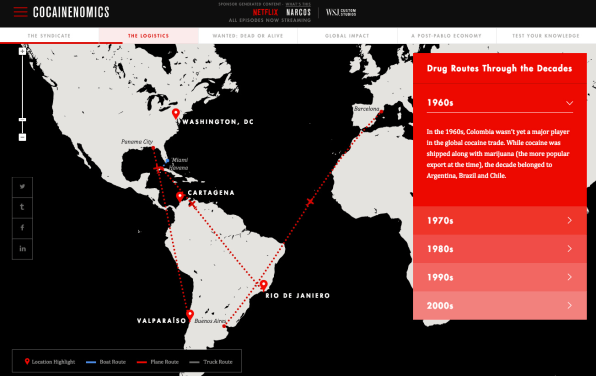 What: A native advertising interactive online feature in the Wall Street Journal about the business of cocaine to promote the Netflix original show Narcos.
Who: Netflix, WSJ Custom Studios
Why We Care: We've been here plenty of times before. From the New York Times' feature on incarcerated women for Orange Is The New Black, to the Atlantic's look at First Couples for House of Cards, to Wired's piece on the future of TV. Thankfully this continues the brand's impressive streak of content that remains a the standard bearer for editorial partnerships between publishers and brands.