Mass production is out, mass customization is in, and the furniture startup Tylko is emblematic of this paradigm shift.
"We're trying to change an industry that hasn't been touched by the technological revolution," Benjamin Kuna, one of Tylko's cofounders, tells Co.Design. "Automation and connectivity have been around for a long time, and we're really on a mission to digitize the furniture industry."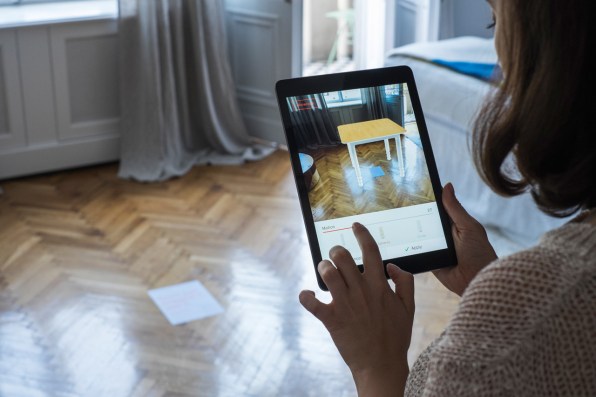 The Polish furniture company, which launched at the London Design Festival this week, is based on two things: parametric design and distributed manufacturing. The former tackles design that's more individualistic and the latter speaks to promoting local economies and reducing the carbon footprint generated by offshore fabrication.
Through its app, users can pick a piece of furniture—right now the company is focusing on storage, tables, and pepper mills—and customize it to their heart's desire. Make a table longer, paint it black, tweak the angle of the legs. While online customization tools aren't new—Nike's been doing this for years—here's the part that sets Tylko apart: You can use your smartphone's camera to show what the design looks like in your home, change it in real time, and see how the customization affects price. The algorithm has a few failsafes to ensure you don't end up with a design that's structurally unsound (like a too-long table or too-tall shelf) or so disproportionate that it's heinous. The app then generates a production file (written in G Code, for all you fabrication nerds out there) that gets sent directly to a manufacturing partner.
This concept of new technology meeting craftsmanship spoke to startup champion Yves Behar, who has been working closely with Tylko—and is an investor—since meeting the founders in 2014.
"What got me really excited about Tylko is the fact that it bridges the gap between tradition and technology," Behar says. "It expands the designer's ability to create a language, to create ideas, to create a set of proportions, a set of details, and to apply those across a really wide range of applications."
Behar sees this move to mass customization, with designers setting parameters and consumers making modifications, as the furniture industry's future.
"It's a new way for designers to design as much as it's a new way for people to appreciate a designer's work," Behar says. "A particular design is much more empathic to their needs by having that adaptability. As much as the big, classic designers dedicated their lives to making products that are both ergonomic and universal, but also a statement of a certain era that they live in, I think Tylko continues in that tradition by getting even closer to human needs, which are that things should fit our lives closely."
To Behar, the company is as much about finding more sustainable ways to buy and build furniture as it is about getting higher-quality design into our homes—it's not just about getting products on demand.
"I could see this discussion set aside with the 3-D printer where anyone could just replicate something that already exists and create it in their garage," he says. "It's a very different approach, one that's very cognizant to the craft of design and the craft of furniture making."
While the promise of revolutionizing the furniture that gets made is all well and good, it hinges on the willingness of manufacturers to partner with Tylko; Kuna admits that it took a lot of convincing to get the first three partners onboard. Right now, they're all located in Poland. While the pieces are only available for sale in Europe, Kuna hopes to expand operations regionally and to the United States as well.
Tylko has already shipped a few test units to paying customers, and Kuna is thrilled with the results. "Seeing people very excited while playing with the app was great," he says, "but the most rewarding was seeing them still excited after receiving the furniture. That's the best moment."