Growing weed isn't usually very green. In rural California, where marijuana is the top cash crop, it uses massive amounts of water during the drought. In fragile Northern California ecosystems that are just starting to recover from the logging industry, guerrilla weed growers are chopping down trees, eroding hillsides, poisoning wildlife, and illegally sucking up water from rivers and streams.
Indoor pot farms aren't necessarily better; the typical indoor operation uses more energy per square foot than a data center. A 2012 study of marijuana's carbon footprint estimated that it accounted for 3% of all the energy used in California–as much as the energy used by 1 million homes, or the carbon emissions from 1 million average cars.
Now that legal marijuana is the fastest-growing industry in the U.S.–and the environmental effects are multiplying–some growers are rethinking the sustainability of their methods.
Green Life Productions, an indoor medical cannabis farm in Nevada, uses traditional permaculture techniques along with new tech like LED lights that have been specifically designed to grow the most possible pot with 60% to 70% less energy.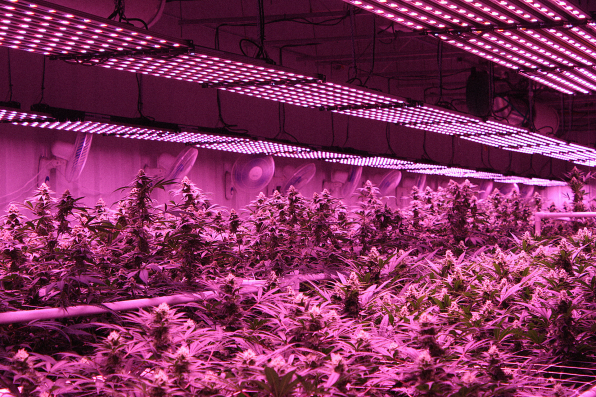 The company partnered with Illumitex, an LED manufacturer, to test and tailor energy-saving lights. While plants prefer specific colors of light, cannabis likes an even narrower range, and prefers different spectra at different stages of its life. Illumitex used lab testing with on-staff horticulture scientists to develop "light recipes" for weed, and then installed the lights at Green Life's facility to test more.
"The challenge for us has been that, while many states allow cannabis growing, it has been tricky to do research, given the patchwork of state-by-state laws around cannabis propagation," says Paul Hardej, VP of hortitecture lighting solutions at Illumitex. "We worked around these restrictions by working with innovative cannabis growers such as Green Life Productions, who agree to collaborate with us on testing various lighting spectra to find the optimal balance between the energy consumption and healthy plants, and ultimately yield and quality."
Lights with a specific red or blue spectra–invisible to the human eye–help the weed grow optimally. "Growing cannabis is very different than growing crops like lettuce or basil," says Mike Floyd, CEO of Green Life Productions. "Cannabis is a heavy-feeding plant, which means it requires a lot of nutrients, which are transported through its cell structure all the way to the top bud."
Because the lights grow plants faster, that means less water is needed. The company also saves water with mulching techniques, and is building recycling systems for water. "We've seen water usage that's drastically smaller than what we expected it to be," says Floyd.
Green Life's permaculture system–using plants like clover to grow next to the weed and fix nutrients like nitrogen from the air–also eliminates the use of synthetic fertilizers that are common on pot farms. "With traditional farming, soil gets rapidly depleted of nutrients, and so manmade synthetic fertilizers are often used in outdoor cannabis production," says Floyd. "Unfortunately, these chemical fertilizers often wash out, creating polluting runoff that ends up in our lakes and rivers."
The company also uses natural methods–like beneficial insects–to avoid plant diseases and pests without chemical use. "In order to prevent or control plant disease, most growers extensively use foliar spray applications of chemicals like Roundup or other products that [include] chemicals such as Agent Orange," he says. "These chemicals are often used on lawns, but when used on edible plants, these chemicals are known to cause cancer, among other illnesses, in humans and animals. Those chemicals leave almost permanent residue on plant leaves."
The result is medical cannabis that would be considered organic if the government recognized an organic standard for marijuana (the company follows the guidelines set forth by the National Organic Program). Green Life hopes others in the industry will follow.
"I hope our success will motivate others to follow similar methods of growing," Floyd says. "I think we'd all be healthier."