Did you ever try to pick something up after your arm went to sleep? Even if you can coax your fingers into working, you have no idea how hard you should grip. You'll either end up dropping the object or crushing it.
This is the problem faced by even the most advanced prosthetic limbs. No matter how well they respond to electrical signals sent direct from the brain, if the user/wearer can't feel anything, they can't really get a grip.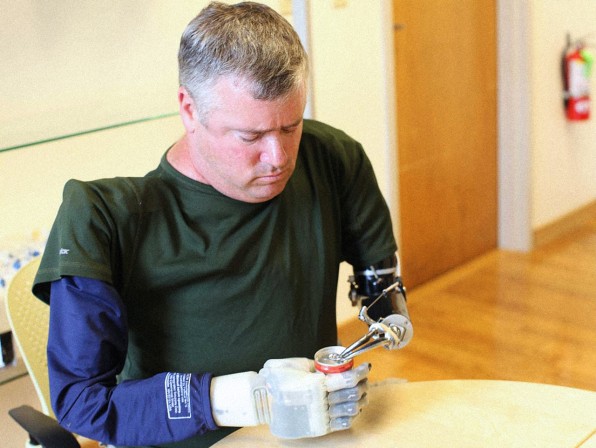 [url=https://www.fastcoexist.com/3037017/this-futuristic-prosthetic-hand-creates-a-real-sense-of-touch]Previous research into providing feeling in prosthetics has wired the limbs directly to the remaining nerves and let them carry the signals back to the brain.
DARPA's version bypasses this and goes straight to the source. Thought-controlled prosthetics can take their signals from sensors placed on the skin of the residual limb, but in this case, DARPA's Revolutionizing Prosthetics team, led by program manager Justin Sanchez, wired electrodes directly into the sensory cortex of the 28-year-old volunteer. The sensory cortex is the part of the brain that processes feelings like touch.
They then ran wires from this array to a hand, allowing the subject to control the hand just by thinking about it. Although amazing-sounding, this isn't the good part.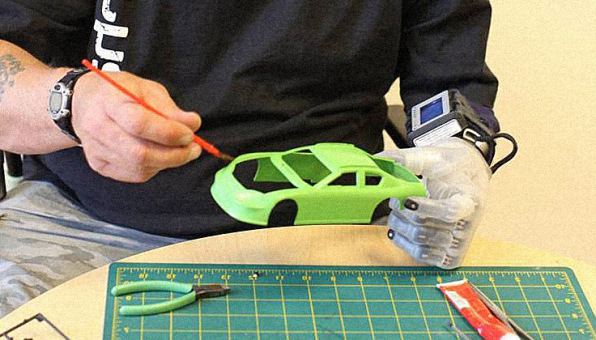 The hand is loaded with torque sensors, which can detect any pressure in the fingers. The electrical signals from these sensors are then translated into signals that the brain can understand, making them just like the signals sent by a regular flesh hand. The results, says Sanchez, were almost perfect. In initial tests, researchers blindfolded the subject and touched his fingers. He identified the touched fingers with "nearly 100 percent accuracy," says the DARPA report.
At one point, instead of pressing one finger, the team decided to press two without telling him," says Sanchez. "He responded in jest asking whether somebody was trying to play a trick on him. That is when we knew that the feelings he was perceiving through the robotic hand were near-natural."
Because our brains communicate with limbs using electrical signals, if you can generate the correct signal, you can spoof the brain into acting like its connected to a real hand. In DARPA's initial testing, their volunteer said that he felt like his own hand was being touched. This natural feeling not only makes the fine-motor control much more sensitive, but it can eliminate the phantom limb pain that amputees feel in their lopped-off limbs. With around 80% of amputees experiencing "stump pain," this new project might be worth pursuing for therapeutic purposes alone.