In 2013, Kristen Logan lost her job at the local hospital in Merced, California, where she had worked as a secretary for five years. She remembers the exact date–October 17–partly because it was her oldest son's birthday, but also because it was a turning point in her life. "Jobs in Merced are hard to come by, especially jobs where you can support three kids by yourself," she says. "Panic mode kicked in."
By January, her more than 14 years of administrative assistance experience still hadn't translated into a new job. A friend told her about Samaschool, which teaches low-income students how to apply for online work through gig-economy platforms like TaskRabbit and Upwork. Logan had heard about working online before—her brother often suggested she should look into virtual work, saying that the world was bigger and more connected than ever—but when she had researched options, all she had found were scams that asked her to pay for training or classes. Samaschool offered a 10-week-long in-person course, and it was free.
She signed up, learned basic skills like how to apply for a job on a freelance platform like Upwork, and, after graduating in April, feverishly applied for more than 100 online jobs in one week. Her first gig was with a makeup school in New York, for which she took calls from potential students for $10 an hour, 10 hours per week. It wan't initially enough money to pay her bills, but slowly the job grew into full-time work, with commission pay, that became her primary income. She went from making $1,200 every two weeks by working at the hospital eight hours a day to making about $2,000 every two weeks working from home, her children's sporting events, or anywhere else she can answer a phone. "I almost lost my house," she says. "I almost lost everything. [With the contract job], we're still in the same place and I'm still able to take care of things. There's a little more extra than there ever was before."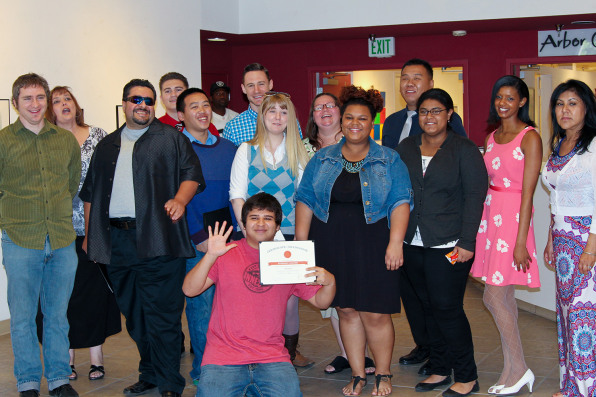 Today, a debate is bubbling over the increasing number of independent contractors like Logan, who accept work through online platforms that take a commission on their wages and aren't covered by the same labor protections as employees. Hillary Clinton recently called out the trend by promising to "crack down on bosses who exploit employees by misclassifying them as contractors." Later in the same speech, she explained, "This on-demand, or so-called gig economy, is creating exciting economies and unleashing innovation, but it is also raising hard questions about workplace protections and what a good job will look like in the future." Shortly thereafter, Jeb Bush took an Uber to the offices of Thumbtack, a platform that connects independent professionals to jobs. Elizabeth Warren has also weighed in on the debate, calling the rise of the gig economy "a real problem."
But for Samaschool, a nonprofit school with four locations in California and pilot locations in Arkansas, New York, and Kenya, the gig economy is not something on which to take a political stance. It is simply the best option many of its students have for work.
"The average student we work with is unemployed for 16 months prior to program," says the school's managing director, Tess Posner. "For them to take training that is months or years, they don't have that time. For people who have been unemployed for a long time, these job opportunities provide a way to reconnect to the labor market in new, growing industries."
Samaschool is one part of the Sama Group holding company, which started with a program in Kenya that connects marginalized people with digital work from companies like Microsoft, Google, and TripAdvisor. "The real catalyst [for starting a program in the U.S.] was actually from negative feedback that I got on our model from a guy in Ohio who said that we were ruining America by outsourcing American jobs to Kenya," Leila Janah, its founder and CEO, recently told Fast Company. Classes in both Kenya and the U.S. now teach students digital literacy and in-demand skills like data entry and social media marketing.
Since setting up its first program in 2013, the school has graduated about 600 students. In August, it launched an online version of the course for which about 700 people have already enrolled.
Many of them, like Logan, have had trouble finding other employment. Some of them don't have their own computers or Interent connections (Samaschool has an internship to fund devices). Others, like Zach Schultz, a 26-year-old college student, see gig work as the best option for other reasons.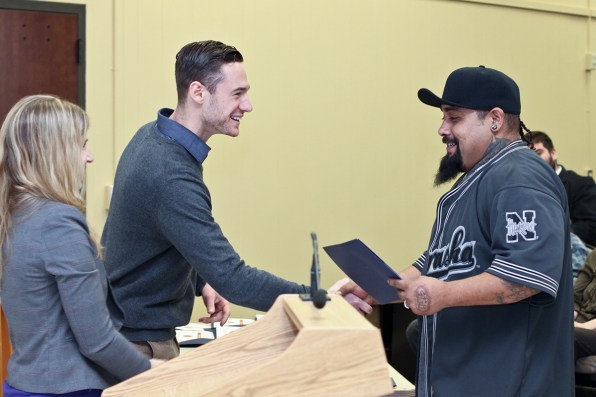 Schultz has a college degree in journalism, but he hasn't been able to find a steady journalism job. While working toward a marketing degree at a local community college, he has mostly taken jobs in food service management. When he heard about Samaschool through one of his courses, though, it seemed like an option that would work better with his variable school and volunteering schedule.
Samaschool, he says, helped him realize that he already had experience, like coordinating social media pages for restaurants at which he worked, that could lead to online jobs. After graduating, he found marketing work with local businesses through Upwork, which led to referrals to other local businesses, and, eventually, enough work to pay for his rent, books, and food (he is also currently an intern at Samaschool). "Once you go freelancer, you never go back," he says. "It's nice to be able to set schedule and say, no, I'm going to tell you when I'm free to work. It's a sense of ownership over my own labor."
Not all Samaschool students have been as successful as Logan and Schultz at finding jobs. Shakita Green, a 28-year-old certified nursing assistant, had been hoping that online freelance gigs might allow her to work when her daughter was at school instead of an overnight shift. "There are not so many jobs," she says of her town in Arkansas. "I just kind of take what I can, to be honest." But after graduating from Samaschool's program, she found it difficult to find time to apply for freelance work, and eventually gave up.
Even those who are successful in gig work are aware of its possible drawbacks. As Senator Mark Warner recently pointed out during a panel at the Aspen Institute, there are still no good safety nets built into this type of employment. "Even if you're doing really well, you're operating without any net below you," he said. "So when the stuff hits the fan . . . as it always does, what happens if you go from here"—he put his hand out to mark a space in the air in front of him—"to here"—he dramatically lowered that imaginary mark—"you can potentially be back on the government dime with nothing to catch you. Because there is not unemployment, there's not workman's comp, there's not disability, there's not retirement."
Schultz, for instance, doesn't necessarily see his freelance gigs as a long-term solution. "Right now things like job stability and 401k aren't as important to me," he says. "If I were a parent doing this, it would be a lot harder. There's no overtime, which really sucks." And, of course, "one of the drawbacks about being your own boss is that there are no federal laws protecting you."
Many have proposed ways to fix this problem. One popular idea is to create portable benefits, which would mean freelancers had the option to save pretax income in shared accounts that their employers contribute to based on how many hours they work. Others have proposed a between employees and independent contractors that would allow for the flexibility of gig work while offering some worker protections. Some third-party businesses, meanwhile, are creating products that allow freelancers to more cheaply access benefits like insurance.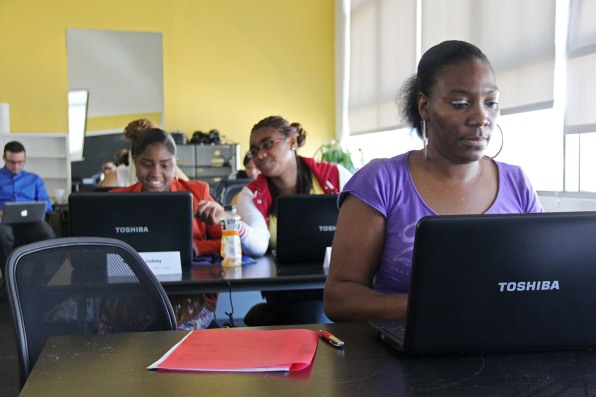 The wrong solution, Posner argues, is to focus on forcing employers to classify all of their workers as employees. "There's a need to create a modernized safety net that is not relying on old models," she says, "but new models."
In the meantime, workers like Logan whom Samaschool has helped to enter the gig economy accept a compromise between flexible work and lingering risk. On one hand, Logan knows she can make as much as $10,000 in a week on commission, more than she'd ever be able to make by the hour. She now has steady work after finding few other options locally, and she's happy about that. On the other, she admits, "It's scary. Because at any point [my employer] could decide there's not going to be a school anymore, and then I'm back to square one."