Everything is free online: music, videos, photos. Or so it seems. That makes it hard for artists to earn money—not superstars like Jay Z and Taylor Swift, but struggling creators such as singer-songwriters trying to sell their first CD. (You know, those silver discs from before iTunes and Spotify.)
StoryCloud is a new platform for controlling how media gets shared so that artists can publish their work without giving it all away or having it pirated. It also provides a lot of flexibility on how to target the content and how to charge.
"If you're a musician, whether you're a young upstart or someone who's well established, by the time you're finished with your music label, the distributor, the publisher, and Apple iTunes, there's probably little left on that plate for you," says Ken Kalb, StoryCloud's CEO. Yet with so much content up for grabs on and controlled by YouTube, Facebook, Instagram, SoundCloud, Apple Music, Spotify, and others, pointing people to yet another destination is a tall order. StoryCloud isn't meant just for music, but that's where most of Kalb's examples go.
The company's first service, Share By StoryCloud, provides 15 GB of free storage and lies somewhere in a Venn diagram between the bulk storage of Dropbox, the one-to-one sharing of a download service like Hightail, and the detailed monitoring of a website dashboard like Google Analytics.
When users upload a file, they can choose to impose no restrictions or to narrow access to a specific length of time (like 10 hours), a window of dates (such as till September 20), geographic location (like Denver or one of its neighborhoods), and number of total views, plays or downloads. Filtering by device type, such as PC or cellphone, is coming in early 2016, says Kalb. The service provides an analytics dashboard showing the numbers on all those criteria, like who viewed or downloaded a file, when, from where, and on what.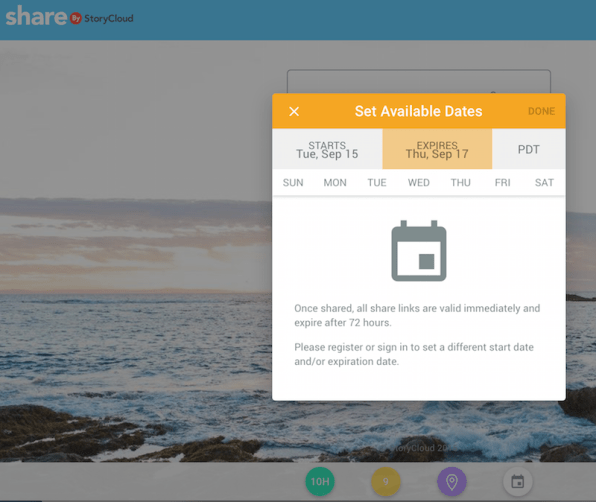 Why such control-freak tools? Kalb thinks it will let artists figure out new ways to share and distribute content to create promotions and test offers. "Where we see this going is that artists or musicians or anyone who's got content can decide, for example, that they want to have an impromptu concert in Central Park and broadcast that content only to cellphones on Saturday at 1 o'clock," he says.
Another example Kalb provides is filtering by location so that a musician doing a deal with Starbucks can restrict tunes to play only at the conglomerate's cafes.
Partnering with the biggest coffee chain in the world is an ambitious example for a company just launching, but Kalb really thinks he can go that big and even take on companies like Spotify. "We hope that that's exactly where it's going to go, that people will use it as an alternative to lots of the big music sites."
Whether or not StoryCloud has a shot at that kind of big time, it will also be available to regular consumers who might want to share photos just with family members or make medical or financial records available to specific people. (Access is determined by a custom URL sent to each person.)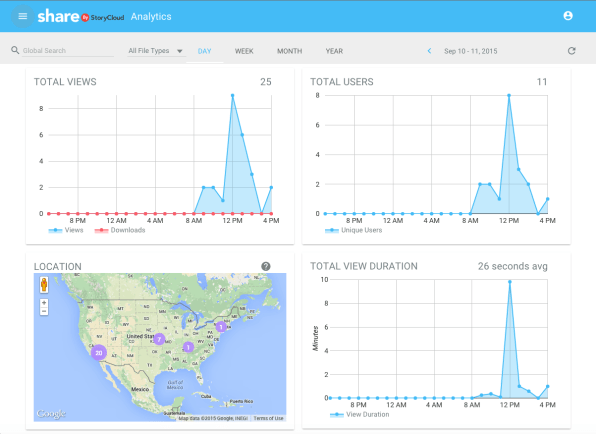 Kalb promises to have an e-commerce platform online in about 60 days so people can start charging for content. StoryCloud will eventually take a 10% cut of transactions, "but that's way down the road," says Kalb. "Certainly for the first six moths of 2016, the package will be free." Paid options for more than 15 GB of storage are coming, he says, but he hasn't set a price or date.
For personal sharing, StoryCloud has a lot of competition with immensely popular services such as Dropbox, Google Drive, and Evernote, where people already have a lot of their media and can also control sharing. Even on Facebook, people can restrict access to videos, photos, or other posts to specific friends.
StoryCloud intends to make Share By easy to get to from other networks: The company plans to integrate with Gmail and Outlook email, as well as Salesforce. One-click sharing to social networks is in the works.
Whether or not StoryCloud makes it, the service is a noteworthy attempt to deal with piracy and the notion that giving content away is inevitable. The perils of open sharing got especially silly when Richard Prince printed Instagram photos from burlesque troupe SuicideGirls, photographed the photographs, and sold the copies for up to $90,000 each. (SuicideGirls took a very capitalist form of revenge by selling same-size prints of the originals for just $90 and donating the proceeds to charity.) That's not an isolated case. "If I had a nickel for every time someone used our images without our permission in a commercial endeavor I'd be able to spend $90,000 on art," wrote SuicideGirls founder Missy Suicide in a Reddit AMA.
Most people probably won't stop posting to Instagram and Facebook in favor of a regulated system like Share By. Furthermore, torrent sites provide plenty of ways to get any popular song, TV show, movie, or other video. But StoryCloud at least offers an alternative between charging for everything, which looks ever more outdated, and giving it all away, which looks depressingly inevitable for creators.