As a tech journalist, I've been to countless product demos over the years. But I've never been to one, packed with other reporters, in virtual reality.
Until now.
Today, AltspaceVR, a Silicon Valley developer of shared VR experiences, unveiled its first mobile implementation, a version for Samsung's GearVR.
Previously, Altspace had been available solely for the Oculus Rift, and required a PC to run it. Now, the startup has opened up what it called the cross-platform era of VR experiences that can be shared by multiple people in physical locations that can be anywhere in the world, regardless of whether they're on a PC or a mobile phone.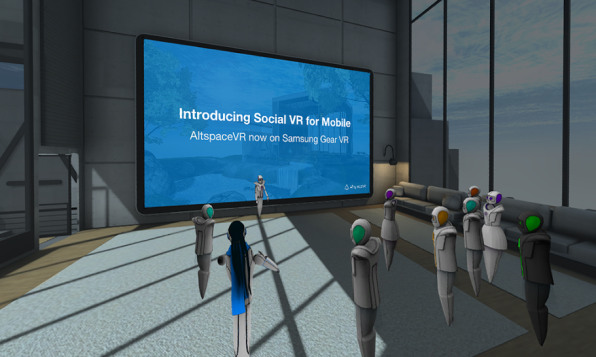 During the short presentation, CEO Eric Romo spelled out Altspace's vision for shared virtual reality environments that can be visited by people on both a full-scale Oculus rig or Samsung's GearVR.
And that's big, as virtual reality is likely about to make a big step toward becoming mainstream. Early next year, Oculus–owned by Facebook–plans on launching the consumer version of the Oculus Rift. Combined with the already-available GearVR and other presumably soon-to-be-released virtual reality products from companies like Microsoft, HTC, and others, VR will soon be something that millions of people can and will be using. That could open up a huge opportunity for those building shared environments, which is exactly the real estate Altspace is staking out, and which it has raised more than $10 million to build.
Strapping on the GearVR, I–represented by my avatar–wandered into a large hall where many of my tech reporting competitors, people I usually encounter at various corporate headquarters, were also milling around waiting for Romo to begin his remarks.
Altspace's technology is built to enable positional audio, so that you can hear someone's voice coming at you from the same side of you that they're standing. Romo said it was crucial for the GearVR version to support that same experience given that it is central to what Altspace has been building for the last year or so.
Romo boasted that the presentation was also the first-ever demonstration of shared cross-platform streaming video, as well as shared cross-platform web browsing.
As such, he showed off the ability for everyone in the room to jointly view a static web page–in this case, today's New York Times front page–as well as a video of the late Apple CEO Steve Jobs' 2007 unveiling of the original iPhone.
Because a PC has much more computing power than a mobile device like a Samsung Galaxy 6S or Note 4, Romo noted that there will definitely be some differences between the experiences Altspace users have, depending on what type of device they have. For example, he said, the graphics would always be much better on a PC than on the GearVR. But because positional audio is so important, he pledged that that element of the experience would remain the same, regardless of whether someone was on a desktop computer or a mobile device.
For now, few people will get to try out the GearVR experience. Altspace is expecting to open up an alpha soon, and will collect names for a waiting list.
The company is also expecting to release more news later this week, according to Romo, about customizable avatars, something that until now has not been possible for the thousands of people who have already been using Altspace to get together for things like playing Dungeons & Dragons, looking into volcanos, or even watching the Super Bowl.