Aaron Patzer knew when he bought a house that Google just wasn't going to cut it. The Mint.com founder suddenly found himself with a range of new problems and questions, from a broken hot water heater to uncertainty over how best to protect the wooden paneling on the side of his new home. But getting answers to these questions online proved tedious and sometimes impossible. Surely, he figured, there was a way to better connect people with the insights they need.
It is, after all, the age of apps, sharing, mining the crowd, and all that. Can't the so-called gig economy help fix our weirdest, most specific problems?
Patzer is rolling the dice on that very premise. Fountain, the startup he founded with former Mint alum Jean Sini, uses basic artificial intelligence to connect users with real-life experts who are available over text, phone, or video chat to dole out specialized advice. Today, nearly a year after soft-launching the app with a focus on home improvement, Fountain is opening up to "essentially all categories" of day-to-day needs.
"We have hundreds of experts on the system," says Patzer. "That's the only way to do it across a wide range of categories." It's a good thing, because as tricky as coding smart AI may be, the biggest challenge ahead for Fountain will be scaling.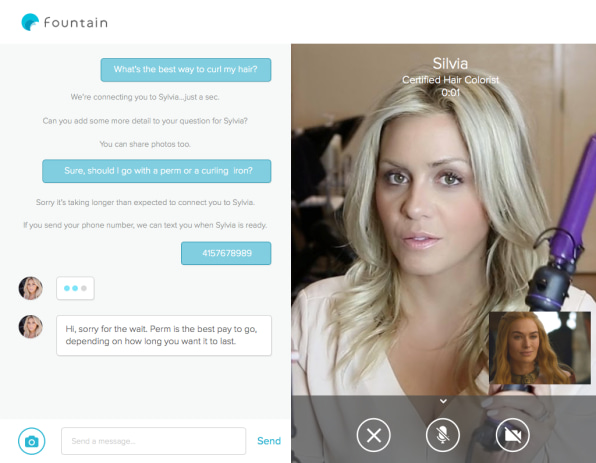 To demonstrate how Fountain works, Patzer flips open his laptop and asks me to cite a recent conundrum of my own. The first thing that comes to mind is a good friend whose cat recently had trouble breathing and had to be taken to the kitty emergency room. "My cat is breathing rapidly and hiding," he types. Over the course of the next minute or so, Fountain runs an algorithm to figure out some context clues–natural language processing, in the parlance of AI–and then, reasoning that we're asking about a veterinary question of some kind, the system starts to look for experts to connect us with. At launch, there will be about 20 veterinarians on Fountain, alongside a host of other specialists, from tax lawyers and marketing pros to beauty and fashion experts with thousands of YouTube followers.
Before long, we're connected via video chat with one of Fountain's animal doctors, who Patzer quickly informs that we're only testing the app. In other cases, we'd be able to take photos–say, of a broken home appliance, a faulty car part, or a room that needs some interior design–and annotate them within the app to clarify what the issue is.
Fountain plans on making money–and sharing it with its network of advice-sharing specialists–by charging users for sessions like these, once the app's initial two-week free trial period is over at the end of September. At that point, talking to a vet will cost $10 per 15 minutes, whereas the price of other experts–each of whom will have a public profile where they can build up their own credibility with user reviews and ratings–will vary on a case-by-case basis. The service will be free until the end of September, at which point users should expect to pay between $6.99 and $11.99 per 15 minutes of consultation.
Patzer tells me that some of these people are making up to $1,000 per week on the platform. Most of them are small-business owners who are offering advice and DIY project training on Fountain as a supplemental source of income, not unlike driving for Uber or Lyft on the weekends.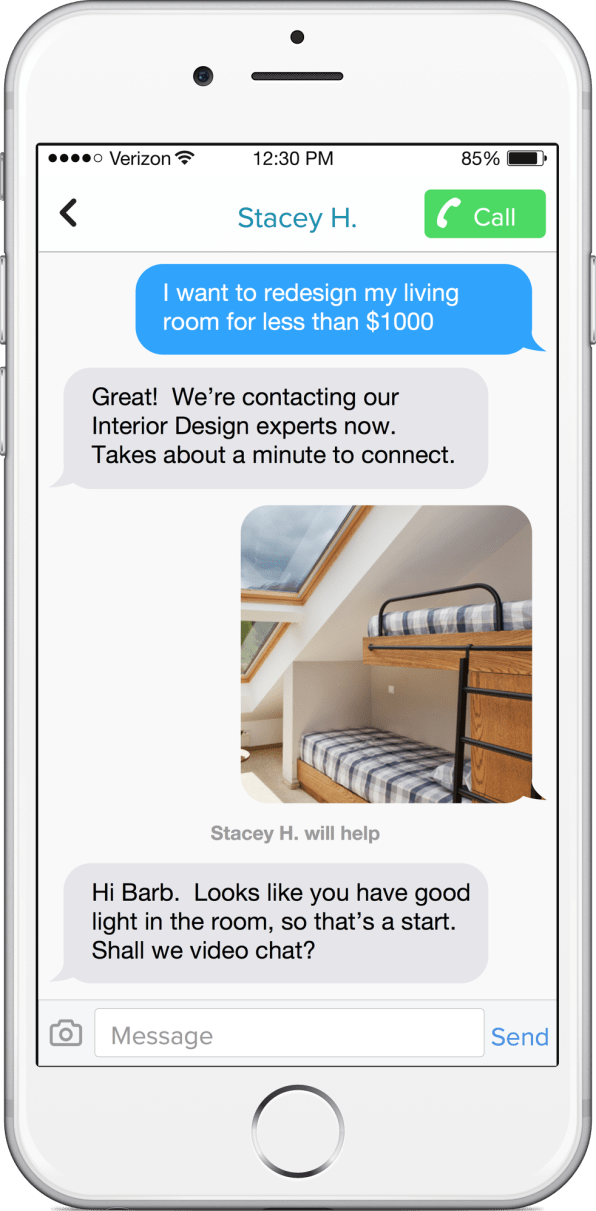 While some may balk at the prospect of paying for information that they could conceivably dig up themselves, Patzer is confident that the value proposition will be clear: In the case of a pet health quandary, one of Fountain's vets could help narrow down the problem over video chat within minutes, potentially saving me time running across town–or, if the problem isn't as serious as it looks, it could spare me a much pricier trip to the animal emergency room. The same is true of using Fountain to consult with a lawyer: It's better to spend a few bucks than a few hundred on basic legal advice. And if things are more involved, at least you're more informed before dropping more serious money to enter into a more formal legal relationship. With enough scale, you might even be able to use a service like this to shop around a bit.
Of course, that will be the toughest part of all about Fountain. Right now, the underlying logic has ways of trying to cope with the inevitable scarcity of experts. If the algorithm has trouble finding an expert for your particular problem–say, a super-specific, immigration-related legal question–the system will loosen its requirements and try to broaden its hunt to a wider swath of attorneys, rather than hinging its query so heavily on your exact wording. To take another example, asking Fountain which DSLR camera is best to buy for an upcoming European excursion will initially result in a search for an experienced travel photographer. If it can't find such a person within a few minutes, the search will broaden itself to include photographers more generally. Odds are, the system figures, somebody out there has good advice about DSLRs.
In the event that a session doesn't yield the results you want, Patzer explains, a brief explanation of your dissatisfaction could spare you from having to pay at all. That's good, because it's hard to imagine a system like this nailing every single request right out of the gate. Over time, Fountain will learn which kinds of requests are frequently going unfulfilled. Using that insight, Patzer and his team will know what kinds of experts to recruit next. The trick will be balancing that process–by definition somewhat nuanced and probably often time intensive–with the speed of Fountain's growth. If it winds up scaling more quickly than expected, they could wind up with more than a few dissatisfied customers. Patzer seems confident in their ability to scale, although he isn't shy about acknowledging the inherently challenging position he's putting himself in with today's expansion.
"Matching people with an expert via AI is complicated technically to do, but once it's done, it's not really done," Patzer explains. "It's not useful until there are people there. EBay the software might work, but if there's nothing to be sold or bought, what's the point? The actual hardest is that it's a marketplace."