Becca McCharen, CEO of the fashion label Chromat, thinks the solution for uncomfortable, ill-fitting apparel lies in making your clothes respond to your body just as easily as a webpage adapts to a smartphone or desktop screen.
"I think in the future, everyone will have a body scan, buy the files online, and print out their garments and get something fully customizable to their form," McCharen says of the far-off, souped-up future of fashion. "The other side of using technology to help with fit lies in sensing your mood and what your body is feeling to change."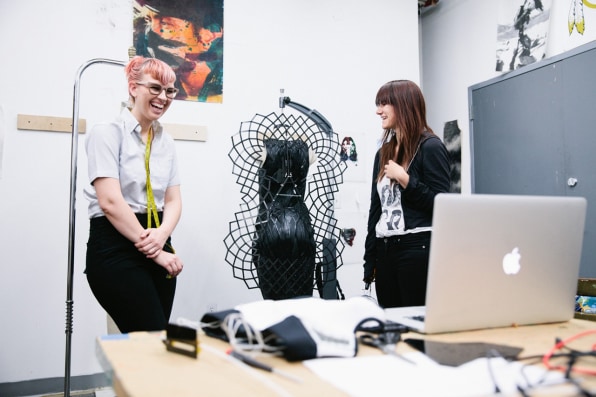 For New York Fashion Week, McCharen and Intel collaborated on two shape-shifting garments that use small electronic devices to show how wearable tech could upend the way we think about apparel and how our clothes represent who we are.
"Wearables will enrich people's lives, and there needs to be a bunch of applications—it's not just for techies," Ayse Ildeniz, vice president of the new-devices group at Intel and one of Fast Company's Most Creative People in Business, says of the chip maker's high-fashion ambitions.
Chromat debuted two pieces that utilize technical know-how in innovative ways: a functional sports bra that responds to changes in perspiration, respiration, and body temperature, and an expressive 3-D-printed carbon-fiber dress that morphs based on the wearer's adrenaline levels.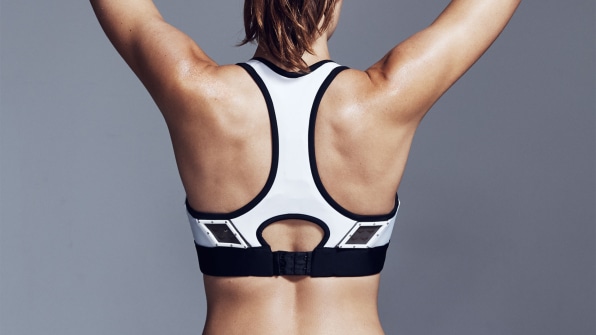 "I think of Chromat as structural experiments for the body, and I view the pieces I design as scaffolding for the body," McCharen says. Exploring the formal possibilities of lingerie has long been a creative passion of McCharen's since it's worn so closely to the body—like Chromat's Bionic LED Bra—but this also makes it well suited for technical experiments, like those she's pursuing here.
"Lingerie is so close to the skin that it can capture the most information—it's a data reading machine." McCharen says. "We started talking about all the different ways it could be smart."
For many women, finding just the right bra is a near-impossible feat since every body is shaped differently and doesn't hew to manufacturers' sizing. McCharen thought about ways to make the actual structure of the garment more comfortable. To that end, she embedded Intel's not-yet-for-sale Curie module in the Aeros bra, which is made from Lycra, neoprene, mesh, and a 3-D-printed carbon-fiber frame that can sense heat and sweat and opens vents to help cool the wearer down. Think of it like rolling down your car's window when it gets too hot inside or like kinetic architecture, but at the human scale (sweaty breasts, begone!).
The Adrenaline Dress works in a similar way, except its technical attributes are about expressing emotions: The garment's structure expands into a pronounced hourglass shape when the wearer is excited. Both use a similar 3-D-printed structure and logic, but show the creative potential of the Curie module. While the dress is more of an art-of-fashion experiment, the electronic bra is something women could wear all over town in 2015.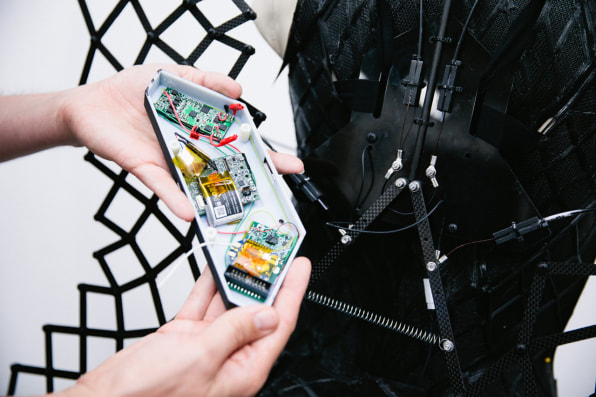 "We're still in that exploratory phase that we as an industry have to got through," Ildeniz says, noting that the project is very much an experimental exercise. "This is the proof of concept we're trying to present."
McCharen says that from the fashion designers' angle, flexible material development will be the next step in incorporating the technology into something that can be worn every day. While fabrics are stretchable, electronics—like the chips and the soldering—are rigid. Still, that doesn't deter her from dreaming up designs. "I love being a mad scientist and thinking about crazy new ideas," she says.