"I don't like happy actors, I like actors that are struggling," filmmaker Baltasar Kormákur says. Apparently, during the grueling production of Kormákur's gripping mountain tragedy, Everest, he liked his actors plenty.
It's doubtful that any movie in recent years, aside from Mad Max: Fury Road, will have more people asking more consistently: How did they even film this? Everest has the scope of a technologically evolved nature documentary, but with a nuanced narrative thrust, a killer ensemble cast, and the kind of stunts that seem designed to make viewers question the sanity of altitude junkies. If it looks eerily as though this major Hollywood film was shot on the actual Mount Everest in Nepal, rather than a snowy soundstage, that's because it was.
"I really wanted to take Everest mountain shooting to the next level," Kormákur says. "We basically trekked up to sixty thousand feet and slept in lodges that were unheated and used electric blankets to keep ourselves warm. The actors even carried equipment sometimes. We were shooting at -30 Celsius for six weeks. How do you deal with that? If you tried to hide or pretend it isn't there, it's not gonna help you."
The director and his team filmed all the way up to just under base camp. Even if the actors wanted to go higher, there's no insurance company that would've allowed them to do so. Everest, which is out on September 18 and is based on the 1996 mountain disaster Jon Krakauer famously wrote about, is the kind of movie that's incredibly hard to finance. With no potential sequel, no obvious hero, and a well-known downer ending (don't Google if you plan to go!), it's not exactly the bread and butter of Hollywood. Once financing did go through, Kormákur had to figure out a way to film safely and still capture the epic scale of this epic mountain.
Although keenly aware of not wanting to create another tragedy while shooting a notorious tragedy—the deadliest Everest disaster of all time took place while the second unit was still filming–the director sent a team of expert climbers all the way to the top of Everest to cover the mountain, and shoot from all angles. ("At that point it's like shooting a film in space. You can get a camera into space, but you can't have actors there with you. There is no way.") Everything the audience sees in the movie, which is playing exclusively in IMAX 3-D, was shot on the mountains, although a lot of the scene on higher elevation levels was shot with actors in the Dolomites and then spliced together. The effect is seamless.
"We are not creating something out of thin air," Kormákur says. "We are using a mountain that exists and trying to capture it in a way that hasn't been possible up till now."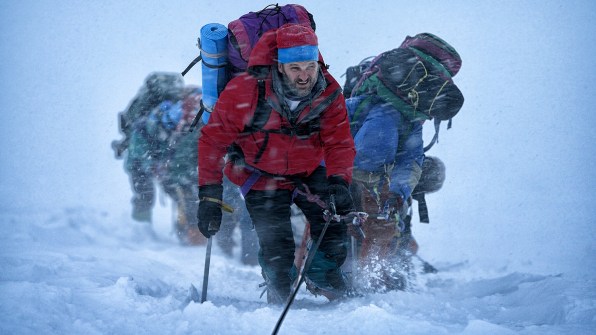 When the director was deciding how he wanted his film to look, he was influenced in part by BBC nature movies and also a Russian movie called Come And See by Elem Klimov, which is about people getting lost in nature while everything falls apart around them. Despite how majestic the mountain is, in the wrong hands it can look really flat and unremarkable, rather than giving you the audience a sense of the adrenaline that comes with actually being on the mountain. Kormákur was constantly searching for the right angles and camera movements that would make viewers viscerally feel the depth and height and danger all around them. The actors certainly felt it anyway.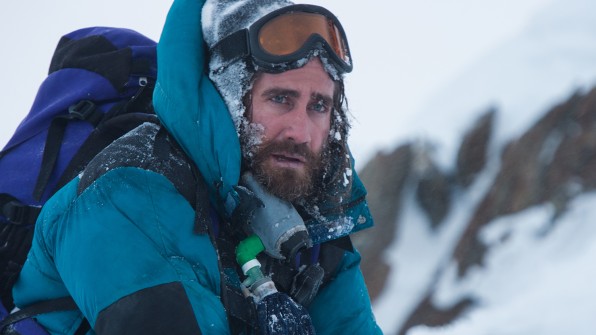 It seems as though it might be difficult to get performances from actors on a mountain in -30 degree Celsius weather. Even the professional mountaineers on hand would have trouble acclimatizing if they couldn't follow a walk-and-rest cycle. But the actors, among them John Hawkes, Jake Gyllenhaal, and Jason Clarke, had to shoot 12-hour days with only 50% of the preferred amount of oxygen in their lungs and then rest.
"I think acting is reacting and part of that is reacting to the surroundings you are in and whatever you are faced with." Kormákur says. "We actually started using those elements, reacting to the environment. For example, Josh Brolin told me he was really scared of heights. And so when we're doing this ladder scene, it's all about him allowing us to get into his psyche and use that, use that to our benefit because that's actually part of the narrative in the end. So he's not pretending or try to get over his fears: he's scared—which is more interesting for me."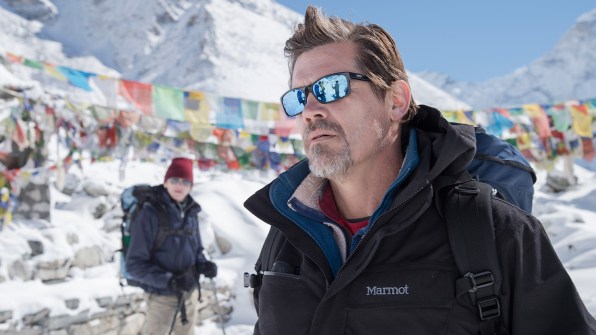 Some of the crew got sick and had to be evacuated with helicopters. Some of the actors did too, though Kormákur was understandably reticent to name names. There were avalanche warnings almost every other day. The whole crew had to come out each morning and assess what the mountain would potentially allow them to do, or not do, that day. They were practically at the mercy of nature, as much as the climbers were. Thanks to safety precautions such as those helicopters, on-set doctors, and expert mountaineers, everybody survived, and with incredible footage to show for it.
"I don't want to injure anyone during a shoot," Kormákur says, "but putting people through a little bit of pain, I am fine with that."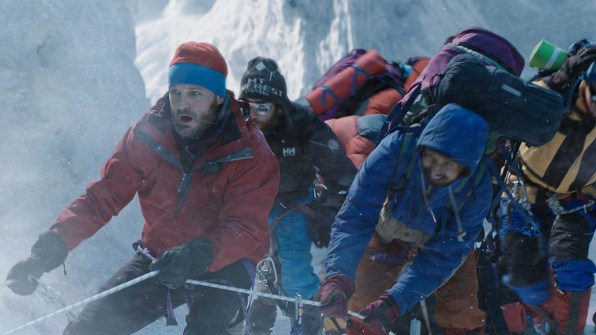 Watch an exclusive video with the director below.