If you haven't heard of group messaging services, you will soon, most likely because of massive hype about Slack—the current superstar of the tech world. Debuting in early 2014, Slack has eclipsed, at least in the public eye, the former hot messaging app, nearly six-year-old HipChat.
The elder service is now fighting back with a new feature called HipChat Connect, which pulls other apps into its interface so that you spend less time bouncing in and out. The idea behind Connect—which Fast Company recently got an exclusive early look at—is that HipChat should "not be just chat or just chat and video," says Steve Goldsmith, general manager of HipChat at Atlassian, which bought HipChat when it was a young startup in March 2012, "but really a mission control, the place where you work with your team."
The launch of Connect comes at a crucial point. Group messaging is booming as a real-time alternative to the tortured back-and-forth of reply-all emails. Slack is easy to use, with a cheery, casual design that's inviting to newcomers—traits that also made HipChat popular. Slack, however, seems to have an Apple-like momentum that makes it feel like the first and only innovator in the market.
One of Slack's oft-praised features, for instance, is its integration of other apps, such as Dropbox and Google Drive, for sharing files with coworkers right in the chat room, or Zendesk for handling customer support requests. But HipChat integrates about as many apps (around 100), and many of the same ones, such as Google Drive and Zendesk. Now, it's about to pull apps in much tighter through Connect, which allows them to run completely inside the HipChat interface—a bit like games inside Facebook—rather than requiring you to click off to another app or site, as is often the case now with both HipChat and Slack.
HipChat, in fact, is ahead of Slack in several other features, too. Slack plans to add voice calling, which HipChat already has. HipChat also has built-in one-to-one HD video calling and is likely headed towards multiparty video conferencing and screen sharing. Slack says it plans to offer built-in video communication but doesn't have a set time frame.
HipChat Connect, which will debut in beta in November, at first looks like a subtle redesign. It's focused on the right third of its three-pane interface. Currently, that pane shows shared items like files and links. In the new setup, it's also where you see integrated apps, such as New Relic, an analytics platform for monitoring servers, websites, or other IT operations.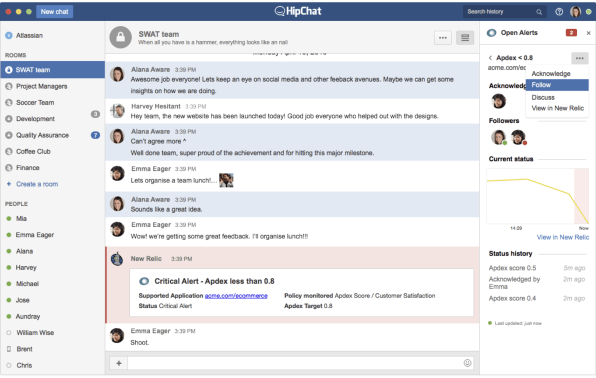 In an example I saw, New Relic can post a warning message right to the chat room and open up a summary of its diagnostics in the right-hand pane of HipChat for everyone to see. People can interact with New Relic, like assigning someone to deal with a bug ticket, inside the HipChat interface. "I don't need to tell everyone I've taken action because they are all right in there. They can see the result," says Goldsmith.
Files, notifications, and actions you can take should appear in the framework of the conversation among work teams—the place where other apps and services are pulled in.
Of course, that's also what Slack wants to be. Bill Macaitias, Slack's chief marketing officer, describes the messaging app as "the operating system for teams." Referring to other applications, he calls Slack "that spinal cord that's going to bring all these tools together."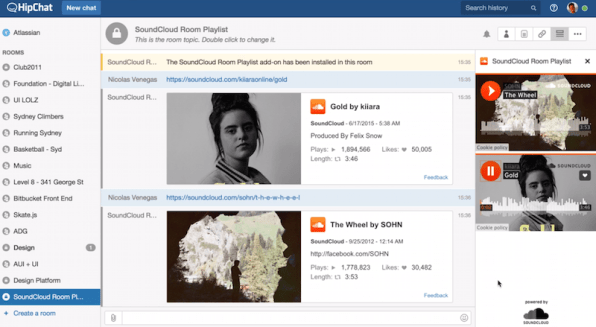 HipChat Connect is debuting with a modest lineup of partners. In addition to New Relic, there is PagerDuty (another dev-ops management tool), SupportKit.io (a customer service interface), Meekan (a scheduling app), and Giphy (a search tool for animated GIFs). Goldsmith says that it's very easy to integrate other apps. At an internal hackathon in late August, Atlassian built 33 integrations—such as directly accessing SoundCloud to share music—in 24 hours.
The company expects to see more at its annual Atlassian Summit for developers in mid-November, when Connect makes its formal debut. "Over the next couple months, there's a lot of things that are in flight that you'll see," says Goldsmith.
This at first feels like catchup to Slack. One of the integrated apps Goldsmith highlighted in our conversation, for instance, is Meekan, a program that can automatically check the schedules of people who want to have a meeting and propose times that work for everyone.
But Meekan also works with Slack, using what's called a bot. The original Slackbot is a digital assistant you can ping for help with things like setting up an account or configuring an auto responder. Now bots are morphing into a powerful tool for accessing Slack's application programming interface (API) to integrate new functions. Meekan's bot, for example, essentially makes the app a robotic member of a chat group, allowing it to follow conversations and propose those schedules.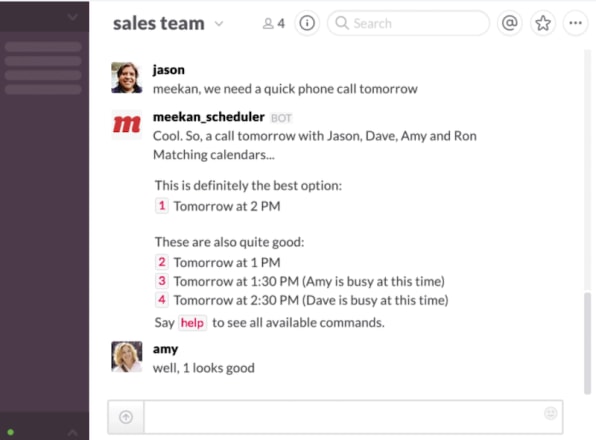 Other popular bots, according to Slack, include Product Slack, for updates on the most-popular items from Product Hunt; Subcurrent, for taking polls; and Ask Nestor, for things like booking Uber rides or finding restaurants. Bots essentially make another app or service a member in a Slack group chat. You aren't really seeing the external app, but you are accessing portions of it. In the case of bots, Slack once again prevails, although HipChat also has bots, including one for Meekan.
HipChat Connect goes much farther than bots by providing app makers with a customizable, graphical interface that everyone in the group can see. "The relationship between bot and human is somewhat cumbersome. As a user, you need to learn Meekan's vocabulary, and you communicate with the bot in its own language," Goldsmith writes in a followup email. "Because HipChat Connect introduces a UI component, Meekan can build a more immersive experience."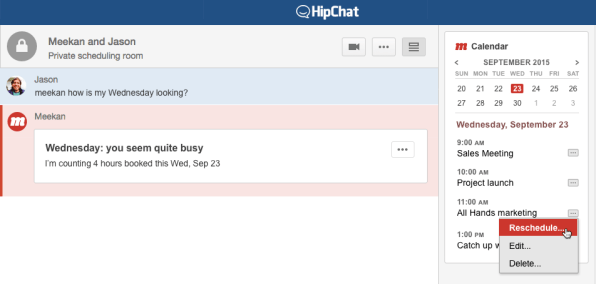 Despite Slack's ballistic rise, an epitaph for HipChat is likely premature. "This is our best year ever in terms of people using the product," Goldsmith says. From July 2014 to July 2015, the total number of messages sent has grown by 70%. About 3 billion of HipChat's 7 billion total messages have been sent just this year. The company did not provide user numbers or revenue.
As for Slack, from August 2014 to August 2015, it grew about tenfold in every measure: daily active users from 125,000 to 1.25 million, paid seats from 40,000 to 370,000, and annual revenue from $3.5 to $35 million.
In lieu of providing comparable detail, Goldsmith asserts that there's enough room for two companies. "It's not a finite pie that Slack and HipChat are going to carve up," says Goldsmith. "The space that we're both pursuing is corporate email, team communication . . . [It] is a huge space. There's plenty of room for both of us, I think, to be huge providers."
Goldsmith says that each company will establish its own style. "I often think about Android versus iOS," he says. "Android's mission is not necessarily to kill iOS. It is to provide a great experience to the huge and growing market of people who like that device."
When I asked Macaitias why Slack has picked up so many loyal followers so quickly, he invoked smartphones. "You can look at the first time Apple launched the iPhone," says Macaitias. "The Blackberry did a lot of the same things. The Windows phone did a lot of the same things. But there's something about a tool that's incredibly customer-centric."
Regardless of chronology, Slack for now has secured the iPhone mantle. The question for HipChat: Will people see it as a Blackberry, struggling to keep up in a market it once dominated, or will it evolve into an Android of group messaging, matching Slack on capabilities but establishing a unique style and some specialized features that appeal to a big enough chunk of users?