How much does stratospherically high CEO pay impact climate change?
A new report from the Institute for Policy Studies, a progressive think tank that studies executive compensation, argues that the more fossil fuel leaders make, the less likely they are to pursue alternatives like renewable energy.
A hefty chunk of CEO compensation at oil, gas, and coal companies comes in the form of stocks that vest quickly–so executives have an incentive to try to quickly push up share values without worrying about longer-term consequences.
"They usually vest over three or four years, whereas climate change plays out over decades," says Sarah Anderson, one of the authors of Money to Burn: How CEO Pay Is Accelerating Climate Change.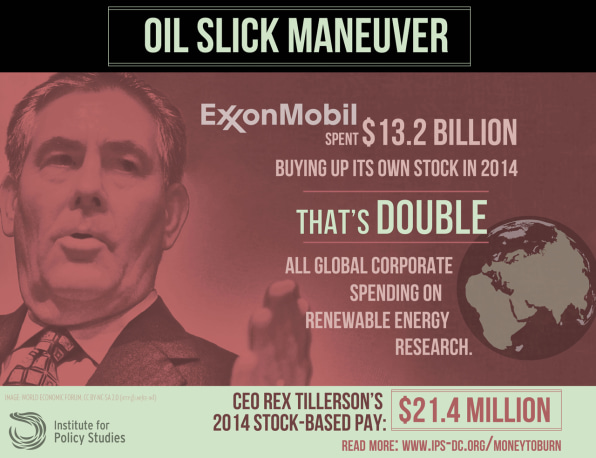 Even as some energy companies lose money, CEOs still keep earning more. Before the coal company Peabody went bankrupt, executives cashed in on $47 million in stock options. Similar stories happened at other coal companies. After the coal industry started to crash, executive pay at the top companies went up 8%.
The same thing might happen in oil and gas sectors, as the market share for renewables increases:
America's oil and gas sector could also face crisis pressures. But executives in oil and gas, like executives in coal, know they face virtually no personal financial risk. They will have, under our current executive pay system, little incentive to innovate and shift to a new, more sustainable energy future.
CEO pay also gets a boost when companies pour money into buying back their own stocks (ExxonMobil, for example, paid $13.2 billion to repurchase stock last year, while shareholder value declined). The biggest energy companies spend nearly six times more on buybacks than the entire private sector spends on renewable energy research.
Fossil fuel executives make around 9% more than average CEOs of S&P 500 companies–even though, on average, the oil, gas, and coal companies aren't bigger than the rest.
"We think it has a lot to do with the fact that they've been able to really externalize the costs of their activities–that they're really not paying for the burden that they're putting on taxpayers and communities in terms of the environmental and climate damage," says Anderson. "They're also heavily subsidized, as we point out in the report. They've really been propped up, to a certain extent."
The challenge of shifting an oil company to renewables clearly goes far beyond CEO pay to deeply held beliefs about the value of fossil fuels. Earlier this year, Tillerson mocked a shareholder who brought up renewables at a meeting, saying the company doesn't invest in renewables because "we choose not to lose money on purpose."
But Anderson argues that CEO pay is a good place to start, and that Tillerson's compensation helps isolate him from new ideas. "I do think that CEOs of major companies in the U.S. do tend to operate in sort of a bubble, and I thought that comment at the annual meeting was really reflective of that," she says.
As a first step, she thinks that bonus incentives for fossil fuel CEOs should change. "They have metrics now that continue to reward executives for increasing their carbon reserves, even though they're already sitting on way more than should ever be burned if we're going to avoid a climate catastrophe," she says. Right now, none of the 30 corporations in the study have incentives for transitioning to renewable energy. A second step might be making stocks vest after only a decade, so executives consider a slightly longer-term view.
As attention on climate change builds, the report's authors are hoping that more people will start to consider the impact of CEO pay. "I'm thinking about the Pope heading into town soon, and how everyone is expecting him to say a lot about the need to really transform our economy to deal with the climate change issue," Anderson says. "I think this is a very overlooked obstacle to that much-needed transformation."