When Apple introduces its newest iPhones on September 9, the company may reveal a new trick that could forever change how you interact with an iPhone.
It's called Force Touch, a technology the company has baked into its Apple Watch and newest MacBook trackpads. It's a strong candidate to be the benchmark feature in the widely anticipated iPhone 6S and 6S Plus.
Here are some of the ways Force Touch could change the way you use an iPhone.
On the Apple Watch, Force Touch brings up sub-menus when you "press" down on the screen like you would a physical button. It's a way to bring functionality to such a small space since the amount of room you have for swiping and gestures is limited.
This sub-menu functionality could manifest on the iPhone as a stylish and helpful navigation trick that sets this model apart.
On the MacBook, Force Touch is possible through Apple's Taptic Engine, which measures how much pressure you're applying when pressing down. It allows you to bring up definitions, web page previews on links, and other extras.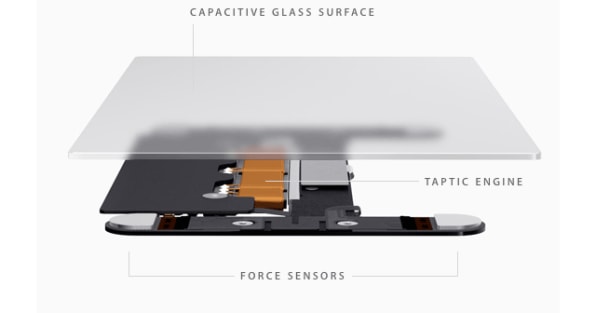 On the iPhone, it may work something like this: You open an email, and find a web link. You could force touch on the link to get a preview of the website, an option to copy the link, or to share it with others. Or when using Maps, a Force Touch on an address might show you a preview of that location.
Force Touch on MacBooks and the Apple Watch provides users with subtle physical feedback. For example, when using the Photos application on a MacBook to crop and then rotate a photo, you'll feel a slight "bump" when the rotation is at zero degrees. Apple outlines how else you'll get minor touchbacks with Maps, GarageBand, and other Apple apps. Just as Apple said its watch would be its most "personal" device yet, some of that connection may be coming to the iPhone.
For example, on the iPhone you might get a little haptic touch when you've pressed a button to send an email or post a status update. Such a small nuance could take some of the guesswork out of interacting with a plane of glass.
Whenever Apple splashes the tech world with a new innovation, its ripples are felt by those who build applications for the company's devices.
The big impact for iOS developers and designers will be in working Force Touch into their apps while trying to keep a consistent experience for those who won't be upgrading their current iPhone.
Cat Noone, the cofounder and chief design officer for Liberio, says rushing into implementing such a new technology is not always the best idea.
"While Force Touch opens up an entirely new layer of interaction for users (if done properly), it's not something I'd advise every product to jump on without a research phase," she said. "Because ultimately it comes down to a decision of whether or not it serves the users in a delightful and non-obtrusive way."
There's also the risk of confusing users who interact with the same app on different devices. Using a Force Touch-type action on an iPhone, for example, won't trigger the same action on all the other iPhones out there that don't have this new technology.
But there's a huge potential for an improved user experience with Force Touch. We'll find out on September 9 exactly how Apple plans to integrate this technology into future iPhones.
Derek Walter is a freelance writer in Northern California. He is the author of Learning MIT App Inventor: A Hands-on Guide to Building Your Own Android Apps.