Jessica Grose's life as a freelance journalist was pretty sweet: steady work from Slate, Elle, and New York magazine was rolling in; her second book The Closest Marriage was done. Nothing, it seemed, could pull her back into the daily hustle of a staff job.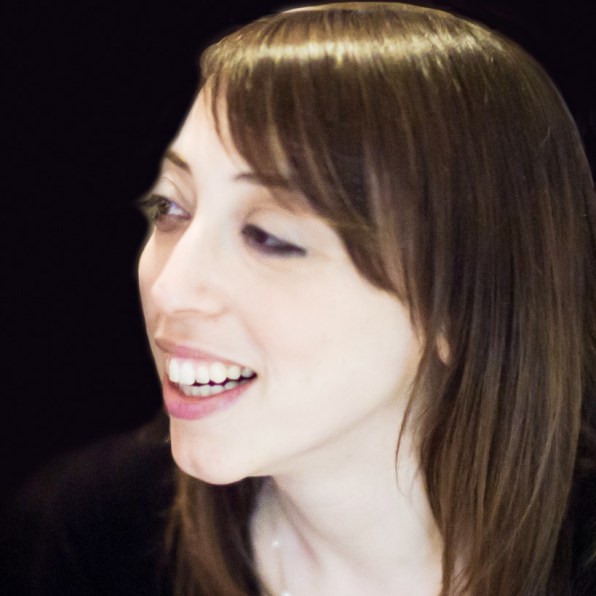 Except maybe the opportunity to work as editor-in-chief for Lena Dunham and Jenni Konner's forthcoming weekly newsletter Lenny.
"I really thought I would never go back to a full-time staff job," Grose says. "This project came along, and it was just so exciting and inspiring for me–it was starting something from the ground up, which I had never done before."
Dunham, one of Fast Company's Most Creative People and creator and star of Girls, and Konner, producer and showrunner for Girls, announced in July their plan to start "an email newsletter where there's no such thing as too much information," covering topics of "feminism, style, health, politics, friendship," and everything in between. Lenny will also feature original fiction, and recently previewed what's to come with its first issue of short stories (see the above slideshow for more on that). As it stands, Lenny's format will be five stories: one long read in the ballpark of 1,000 to 2,000 words, and four shorter pieces. Lenny has a tentative launch date of September 29. Here, Grose (who has written for Fast Company) explains why she's basking in the slower side of the news cycle–and Lenny's place in the women-centric media galaxy.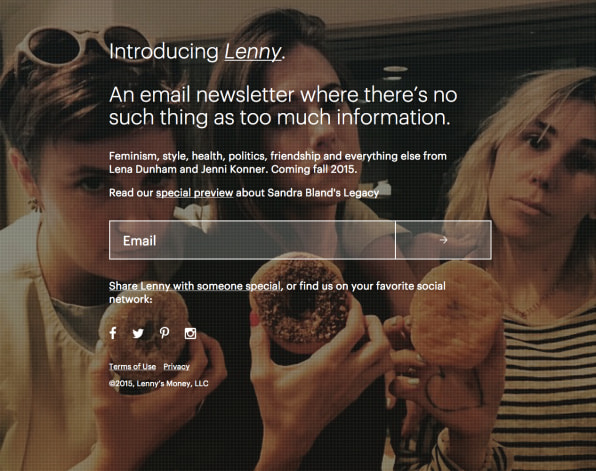 "I love the daily news cycle, but as a writer and an editor I had gotten burnt out," Grose says. "I was just exhausted by always having to come up with a fresh angle on the news and everyone talking about the same thing."
Part of Lenny's appeal for Grose was its second-day, magazine-style approach to topical events, which, in turn, Grose hopes will give readers less static and more substance. Take, for example, Dunham's Q&A with Chenai Okammor, a colleague and friend to Sandra Bland, the black woman whose death in a holding cell following her arrest in July stoked yet more claims of recent injustices against the black community at the hands of police officers. In the conversation, Dunham focuses on Bland's mentor and the website Woman4Woman they were going to launch together.
Given Lenny's format as a weekly newsletter, where space for content and timelines are to be considered, national stories like Bland's will indeed be discussed, "but it's going to be in a thoughtful way," Grose says.
Lenny will join an already loaded club of feminist-leaning blogs and sites–Jezebel, The Hairpin, and the newly launched Broadly, to name a few–each with a specific tone on the topic. Grose is perfectly fine with this.
"We're not reinventing the wheel, but, hopefully, making the wheel a little more spiffy," Grose says. "We're not trying to be a monolith in any way. Our feminism is pro-choice feminism, and beyond that, it's totally open and fluid and as different as the many contributors we're going to have. It's also intersectional, having a diverse number of voices that aren't just racially diverse but also in terms of gender expression. That's super important to us."
Whether or not Lenny competes with similar websites isn't important to Grose. What matters is that there is an audience hungry for information about both women's rights and fashion tips.
"The inspiration [for the newsletter came] when Lena was on her book tour. She didn't just do the regular book tour where she was at bookstores and read part of her book, she made it this event," Grose says. "Every place she went, she had poets and singers, and she was meeting all these amazing young women in the audience. So Lena wanted a way to keep that conversation going."
That idea of extending conversations of both broader and narrower women's issues comes at the perfect time in culture right now. Feminism has re-entered the zeitgeist in a way that can't be ignored, and which makes Lenny's presence feel that much more urgent.
"I think we're in a moment where women's rights do feel somewhat in peril," Grose says. "Women's rights are being beaten back at the state level, and that is really upsetting and troubling."