Many people around the world can't start their day without coffee in their system. But in some places, coffee is migrating from mugs to medicine cabinets. While coffee beans are most commonly consumed in beverage form, there's been a recent uptick in people slathering coffee grounds on their face and body as part of their beauty regimen.
On Etsy, there's a whole cottage industry devoted to coffee-based skincare. Dark circles under your eyes? There's coffee under-eye cream for that. Cellulite got you down? There's a plethora of coffee body scrubs that vow to get rid of unsightly bumps. Dry patches on your skin? There are coffee-infused body creams that promise to tighten skin while hydrating it.
Now, there's a new player in the coffee-based skincare space. Just over two years ago, an Australian e-commerce company called Frank Body developed an entire line of skincare products that include coffee as a primary ingredient. As buzz about the brand spread around the world through Instagram and Facebook, Americans began flocking to buy Frank Body scrubs and balms; today, the U.S. is Frank Body's biggest market. The company says it is on track to make $21 million in sales this year, up from $2.8 million two years ago.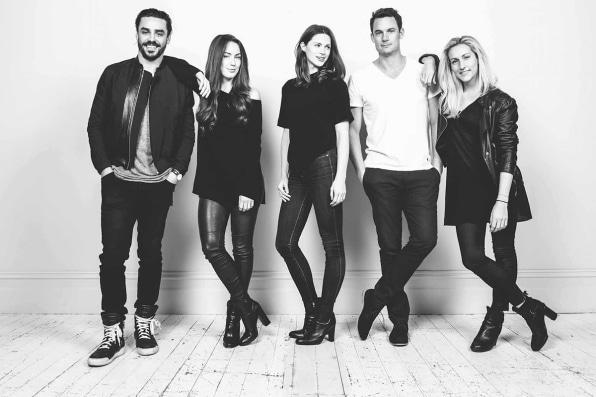 Steve Rowley, one of Frank Body's founders, was never expecting to start a beauty company. He used to run a coffee shop in Melbourne and was intrigued when women came in asking for used coffee grounds. "I thought they were using the old grounds as fertilizer," Rowley says. But as he learned more, he discovered that they were using them as a body scrub. Converts to coffee-based skincare say that caffeine has the power to stimulate blood flow, curing a range of pesky skin conditions like eczema and psoriasis, while also protecting the skin with antioxidants.
Rowley shared his findings with his friend Bree Johnson. "I was curious, but also quite skeptical," Johnson says. "We did some research and realized that there was some merit to what these ladies were saying." The pair found some scientific evidence that caffeine might indeed promote better circulation and reduce free radicals in the skin. But the DIY body scrubs that women were making at home actually had fairly low caffeine levels since they were using coffee beans, so much of the caffeine had already gone into the beverage. It was possible that these women were benefiting primarily from the exfoliating effects of the grounds.
Given the bubbling interest in coffee-based scrubs they were seeing in Australia, Johnson and Rowley decided to develop a product line of commercially made products they called Frank Body. They included unused coffee grounds as a primary ingredient in the scrubs to ensure there was enough caffeine present to have an impact on the skin. They also hired a scientific consultant to examine how the caffeine in Frank Body products works on cellulite, stretch marks, psoriasis, and acne; the consultant's analysis was that based on the characteristics of caffeine molecules, coffee-based scrubs had the potential to improve skin conditions, but further study was necessary.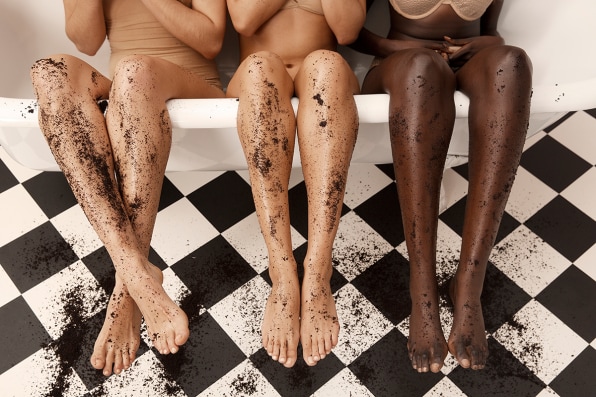 While the popularity of coffee-based beauty products is relatively new, caffeine molecules have been used in a range of skincare products for some time. Large skincare companies have touted the molecule's power to promote smoother, more vibrant, and healthier-looking skin. It's in Origins creams, Bliss Fatgirl soap, and Kiehl's eye creams.
In the medical community, the jury's still out about whether caffeine can transform skin for the better. SERMO, a private social network for doctors, conducted a poll last week on behalf of Fast Company asking dermatologists whether the topical application of caffeine has any positive effects on skin. Of the 86 doctors who responded, 48% said they weren't sure, 29% said no, and 23% said yes.
Dr. Tina Kinsley, a Michigan-based dermatologist, says that the existing medical literature points to caffeine being easily absorbed in skin and impacting its texture. "It does multiple things," she says. "It promotes microcirculation, increasing blood flow in the area where it is applied; it increases the breakdown of fat and the metabolism of the cells; it also scavenges up free radicals in skin because it has an antioxidant effect." However, for caffeine molecules to have a positive impact on skin, Kinsley says, how a company formulates its products matters. The caffeine needs to be extracted from the coffee and it needs to be in significant enough quantities to have an effect.
Greg Altman, the founder of a skincare company called Silk Therapeutics who holds a doctorate in biotechnology and chemical engineering, concurs. He says that when used correctly, caffeine can be a useful skincare ingredient. His company uses it in under-eye creams to constrict blood vessels in order to reduce dark circles and puffiness.
However, he's skeptical about the use of coffee grounds in skincare products. "As a chemist, I would have a very difficult time imagining that would do anything because the caffeine has not been extracted from the coffee grounds," he says. "Caffeine is soluble in hot water, which is why you need hot water to make coffee beverages. But the actual bean itself has no reason to release caffeine if you are just rubbing it on your skin." That said, Altman says that there are over 100 different ingredients that are in coffee, so it is possible that the scrubs are having a positive impact on skin in ways that are unrelated to caffeine.
Both Kinsley and Altman say more research needs to be done to examine exactly what caffeine can do to the skin. On the other hand, neither believes that caffeine is particularly harmful when used in moderation in beauty products.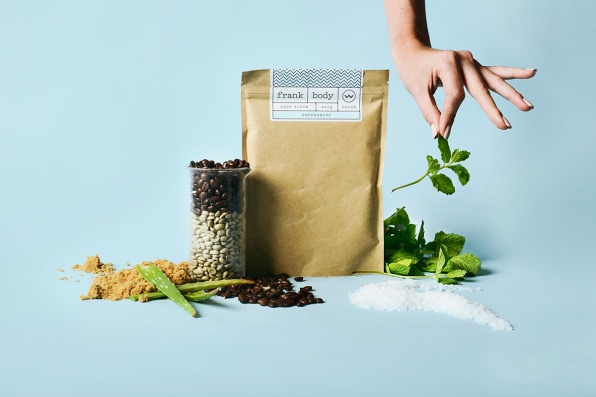 While the science of coffee in skincare is still in its infancy, it hasn't stopped people around the world from giving Frank Body a go, to see if the scrubs and body balms might work magic on their skin. Users frequently send in pictures of their skin before and after using Frank Body to show how it has improved their skin ailments, and this anecdotal evidence has convinced other consumers to give the products a try.
A year ago, Frank Body set up a fulfillment center in the U.S. to make it quicker to ship products to American consumers. Rowley says that Russia and the United Arab Emirates have been growing markets, and the company is considering setting up regional operations there as well.
Johnson says that the success of the brand has been largely a product of an aggressive Instagram campaign, resulting in a current tally of over 659,000 followers. "When I say 'aggressive,' I mean that we were posting new images every hour on the hour," she says. Frank Body has a cheeky voice on social media, referring to consumers as "babes" and making plenty of jokes about the joys of nakedness.
And in the end, Frank Body fans appear to be just as drawn to the fun-loving, sensual lifestyle that the brand embodies as they are to the products' purported health benefits.