Here's one way to land a gig directing an Elijah Wood movie: Create a killer look book.
It worked for Jonathan Milott and Cary Murnion. Collectively known as HONEST, the New York duo made the jump from TV commercials to feature film by creating a notebook packed with images, drawings, photoshopped scenarios and semi-scientific diagrams visualizing exactly how they pictured Cooties on the big screen. Opening September 18 in theaters and VOD, the horror comedy stars Wood, Rainn Wilson, and Alison Pill as terrified teachers who watch a chicken nugget-spawned virus turn elementary school kids into blood-thirsty playground savages.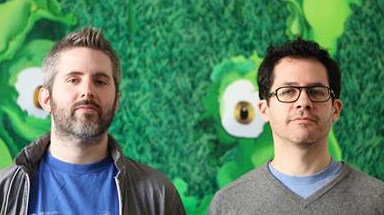 Working off the script by horror auteur Leigh Whannell (Saw, Insidious) and Glee scribe Ian Brennan, HONEST spent two months compiling visuals for their book. "We might find a really nice scene of kids playing in a school playground and then we'd photoshop a bloody head they were kicking around instead of a soccer ball," Murnion says. (That scene made it into the movie.)
Milott adds, "We also did a sizzle reel, but I think the look book really solidified the deal in terms of the producers and the writers being able to climb into our vision for the film. Since this was our first feature, Cary and I had to prove that we had considered every aspect."
Milott and Murnion met as classmates Parsons School of Design before carving out a career shooting offbeat spots for Mountain Dew, Diesel, Panasonic, Nike, BBDO, Publicis, and Leo Burnett. Murnion says, "Coming from an advertising background, we'd make 30-page look books to get hired for 30-second commercials. When it came to pitching a feature film, we were like 'Wow, okay, we really have to do more."
HONEST packaged the material Trapperkeeper binders as a nod to the film's schoolyard setting. "It was a nice conversation starter when we got into the room," says Murnion. "We handed the books out to about 10 producers, then told everybody 'Sit down and go to page one so we can take you through it.'"
Check the slideshow above for exclusive excerpts from the Cooties look book and read on for more on the HONEST approach to story visualization.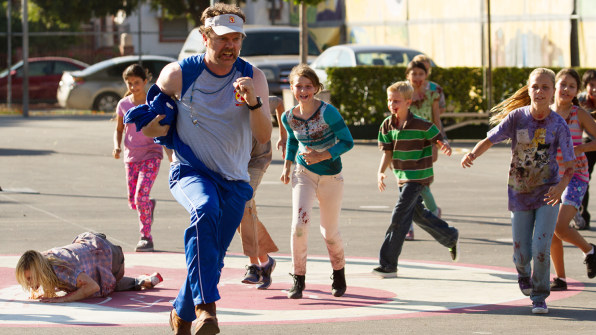 To prove they'd done their homework, Milott and Murnion designed the book to start with a semi-scientific bang. "We were very specific about each stage of the virus," Milott says. "On the very first pages, we made diagrams that showed the progression over a kid's face from normal to a kid that he just had some phlegm and beggar to someone who looks like they have really bad chicken pox and finally to a kid who looks like he could be walking right out of Evil Dead.
"We wanted to keep the horror a little bit away from typical zombie wars, because these kids don't die and come back to life," adds Murnion. Instead, he explains, "They're getting a disease like rabies that eats away at the frontal lobe of the brain which controls your inhibitions. When they get hungry, they go straight for the school principal and eat him because they're no longer inhibited by that part of their brain." To illustrate the effects, Milott says, "We'd just show a kid ripping a person's arm off or something. It's a fantastical idea but we tried to ground it in something that could actually happen."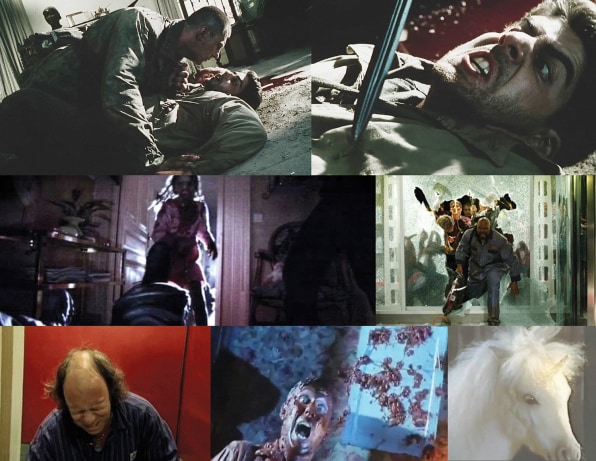 Both directors draw, so creating original concept art came easily, but they had no qualms about grafting imagery from other movies into their look book. Milott says, "There's a big chase through air ducts with Elijah in Cooties, so of course Die Hard is a great reference for that, where you have Bruce Willis going through the air ducts with his lighter. We pulled an image from Die Hard for that sequence and also used Gremlins[/i and [i]Raising Arizona. It's a mish mash of all these cool movies and artists that hopefully make something unique when they're all mixed together."
HONEST also tweaked stock photography into nightmarish scenarios. "We'd photoshop an adult playing with a bunch of kids and then add a 100 more kids and make them all bloody and having arms flying off their bodies. So a lot of the look book was about manipulating an existing image to make it represent the way we saw the movie."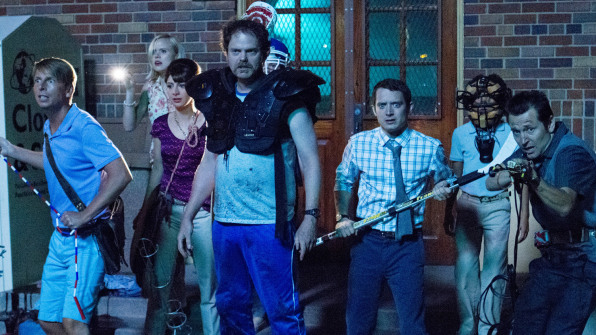 While the look book secured Milott and Murnion their first feature film directing gig, it was a goofy horror short they made in 2009 that put HONEST into contention for Cooties in the first place.
Screened at SXSW Midnight Shorts festival, their plastic-surgery-gone-hellishly-wrong film Boob snagged the attention of Cooties producer Josh Waller, who called the filmmakers out of the blue and invited them to Los Angeles for a pitch meeting.
Bristling with low-budget absurdity in keeping with the Cooties vibe, Boob stars a fake breast that goes on a rampage after breaking free of its owner. "The way that idea got generated is that everything you can think of has come alive in horror films. The hand becomes dismembered and runs around. Eye balls. So we asked ourselves, 'What hasn't come alive yet in a horror film?' We treated the premise as seriously as we could: 'If a boob came alive, how would that happen?'"
HONEST, who filmed Cooties last summer in Los Angeles over a tight 23-day shooting schedule, plans to make Texas-invades-Brooklyn bloodbath Bushwick their next adventure in satirically twisted terror. As with Cooties, HONEST believes Bushwick's wild premise has just enough grounding in reality to strike a chord with viewers. Murnion says, "The crazy things you hear presidential hopefuls saying, and with all the rioting and policing and internal turmoil this country is going through, we hope to hint at some of those political things without being preachy."