In September 2013, James Siminoff entered the Shark Tank, the popular TV show on ABC, in a bid to attract investment for DoorBot, his mobile-connected video doorbell. His pitch to Mark Cuban, Kevin O'Leary, and company fell flat. But Siminoff stayed true to his pitching style, and nearly two years later, Virgin Group CEO Richard Branson came ringing.
The approach paid off. Last week, the company Siminoff founded, which has since rebranded as Ring, raised $28 million from Branson and a host of other investors. Siminoff's eventual success in raising a much larger round from a different celebrity investor offers a few great lessons in what Shark Tank can and can't teach us about the art of wooing investors in the real world. Here are three.
In his Shark Tank appearance, Siminoff had access to a full television studio to illustrate just how his product worked. He went all out, using a mock-up of the outside of a home and even a cardboard cutout of "Mr. Wonderful" (O'Leary's nickname) to ring the bell. Typical startup founders can't set up such an elaborate stage, but they can make sure their words don't drown out their product.
"I think it is important to show the product and service," Siminoff noted when I spoke with him recently. "A lot of times, this gets lost in the slides. There is nothing like an investor seeing or feeling what you do."
In fact, it was seeing Ring in use by a guest on his private Necker Island that got Branson interested in Ring. Siminoff isn't alone in his thinking. Fred Wilson, the venture capitalist and cofounder of Union Square Ventures, has written on his popular blog that "the best presentations I've seen lately used no slides, but started with a live demo of a working web app and went from there."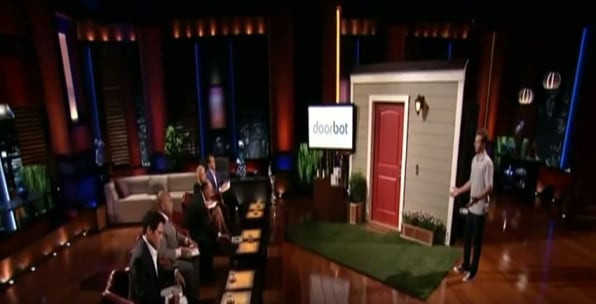 Another Shark Tank survivor agrees on the power of working demos. Cameron Sheldrake, the founder and CEO of Off the Cob tortilla chips, also missed out on funding during his own Shark Tank appearance, but he picked up on the importance of letting the product speak for itself. In his case, it was by filling up the mouths of a few hungry sharks. "Feeding the sharks shut them up at least long enough to make a split-second decision about which question to answer first," he shared with me. "I filmed right before lunch, and had I not fed them, I think they would have been much more critical."
Even though he didn't have a doorbell or an application to demo, Sheldrake says he'd rather let potential investors eat or have them visit his farm than deliver a formal presentation.
"I don't like PowerPoint decks. I try to forgo them whenever possible, and much prefer face-to-face sit-downs with customers or partners," he added. "When I won $20,000 from Babson College's business plan competition [in 2012], I used a PowerPoint, but most of the slides were black screens, so the investors focused on me. When you're first introducing investors to your business, you want them to listen to you and see your passion, not to have you present them slides to read."
Doorbells and tortilla chips are physical products. So what can entrepreneurs do when they don't have a product or service that naturally plays well for demos? Enter props.
For Shark Tank, Sheldrake brought along a corncob–the source of his unique chips–to add to the narrative. "I asked the audience a question to engage them," he recalls. "'Did you know most chips are made of hard, dry corn?' I then used corn as my prop, to show what makes my product different."
Finding the time and place to deploy a good prop is key. This usually needs to happen early in the pitching process to venture capitalists, before a final meeting is set with senior partners.
With Ring, Siminoff has tried to speak with investors on their own turf and in the office before any final pitch takes place.
"Typically with a venture capitalist, you will have to final-pitch to the partners in their office, but leading up to that, you should be able to get the main partner on your deal to see what you are doing and get them really excited about it," he adds. In other words, props are generally more effective tools for introducing a concept than for sealing the deal.
Not all investors roll their eyes at pitch decks. In fact, Bill Gurley of Benchmark recently wrote on his blog that he still prefers startups to pitch him and his partners using decks.
"If you are one of the thousands and thousands of startups that merely want to have an optimal fundraising process, I highly recommend that you develop a killer presentation," he advised at the time.
Gurley's view, at the very least, is a good reminder for business owners and founders of the need to tailor pitches to their target audiences, even if that means sticking with conventional tools. As a televised pitching environment, Shark Tank has entrepreneurs make their investment ask and terms upfront before pitching the potential investors. However, the best practice is typically to wait to do that until after you've gone through the meat of your pitch. This also helps avoid stumbling blocks right out of the gate, as Sheldrake experienced on the show.
"Putting the ask first is awkward, and so is the whole made-for-TV aspect of the pitch," he recalled. "I was so nervous, I fumbled my lines because I changed my ask last minute. I said, '$150,000 for 10–uh, I mean 15%.' This swayed the sharks' confidence off the bat."
At the same time, startup founders and entrepreneurs need to be true to their own strengths when considering how to deliver their pitch. For Siminoff and Ring, being authentic has always been more valuable than being targeted about delivery. "I think it [the presentation deck] kills the energy, and I am super against them. . . . A deck is not me."
If Siminoff's recent success getting funding for Ring is any guide, that authenticity is crucial. For all the entertainment value Shark Tank delivers, it may be that the show's format simply lets some startup founders and their pitches stay truer to themselves than others–which can make all the difference after the camera cuts away.