Disruption isn't something that Silicon Valley startups can lay sole claim to anymore. Todrick Hall, YouTube star and former American Idol contestant (Season 9, 2010) is aiming to disrupt reality television.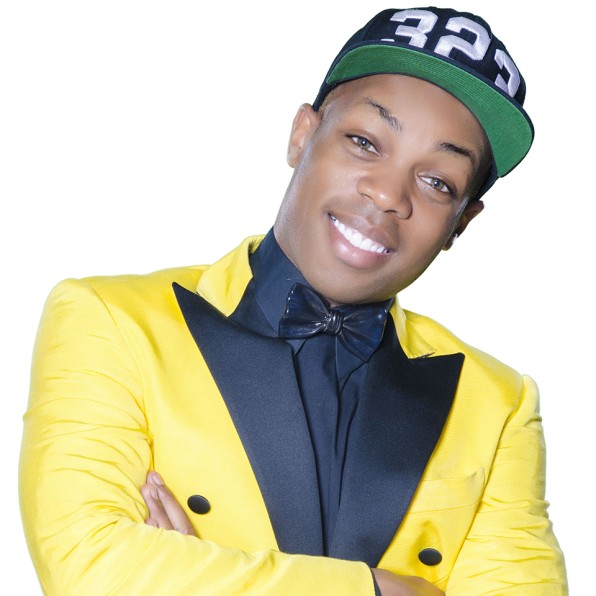 MTV is betting that he can do it. Though he's got a distinctive flair for the dramatic (the segment in which he re-enacts Disney princesses a la Nicki Minaj) the network signed Hall to star in an eponymous series that is an unscripted, behind-the-scenes tour of the creative collaboration that churns out musical YouTube parodies. Hall and company produce a weekly offering, which he sings in a vocal tone that's as honeyed as any boy band's front man, punctuated by over-the-top costuming, complicated theatrical makeup, and catchy choreography.
"I have faith in the American audience," Hall tells Co.Create. Faith that they'll keep watching a show sans manufactured drama, he says.
Since its debut five years ago, Hall's channel's amassed over 1.6 million devotees dubbed "Toddlerz," and brought him high-profile gigs in Beyoncé's "Blow" music video and Virgin America's latest safety video.
Big brands mine YouTube's viral small screen stars all the time, as evidenced by industry leaders gathering to discuss "working with the next generation of talent" at conferences such as Vidcon. MTV is no different. The network continues to strengthen its strategy to snare fresh faces with huge followings via a symbiotic relationship with social media. We've seen this with MTV2's capturing emerging comedians for ensemble shows like Guy Code. YouTube specifically brought MTV (Other)'s digital content lab comedic writer, performer, and producer Morgan Evans.
With five years of videos and a slew of concert appearances under his sparkly belt, MTV's landed a pretty well-known quantity with Todrick Hall. Nevertheless, Hall enthuses at length about how the network has given him and his pals a wide creative berth. Even though he's not feeling 100% on the day of this interview, Hall gushes enthusiastically about how the network allows them to take chances. "We went in with concepts," he explains, because there was only so much control MTV would relinquish and rely "on the brain of someone they never worked with. I think it was a very scary adventure."
Despite whatever their early trepidation, Hall says it only took three episodes until MTV executives started to trust him and actually want to be surprised. "They do like to hear the songs, though," he muses before launching into a story about the first episode in which he changed the original song in the eleventh hour.
"I sent the whole network in a frenzy," Hall says, laughing a little. Not to mention his team. "I started at one o'clock in the morning, called my roommate at 3 a.m. and we turned it in at 6 a.m. because we needed it to be ready for the East Coast at 9 a.m. "I think another network wouldn't have listened," he says, "But I just wanted to keep them on their toes, so they are ready for the crazy life that is Todrick Hall and how real the process is."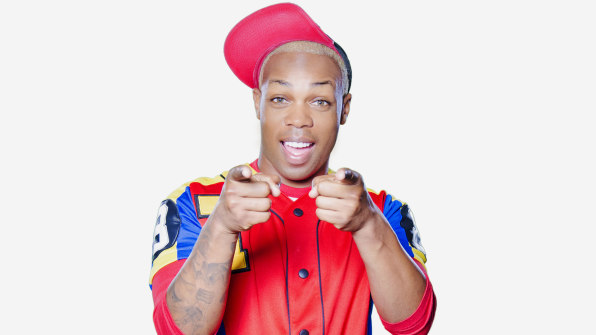 The last minute frenzy must certainly be anxiety-inducing, but thanks to careful editing, it doesn't come across as the kind of pre-packaged angst ever-present in many other reality shows, much to Hall's point. Sure, many of Hall's crew have side jobs to pay the bills, but they come together regularly to pull together these lavish productions in a sliver of time and a razor slim budget. "It's like a reality TV game show," he explains, where you only have 24-48 hours to write, rehearse, perform and produce a music video.
It helps that Hall's fans are numerous and willing to contribute in any way they can. In the first episode of the series, Hall puts out a video call for contributions to splice into a second video –and receives a slew of clips from all over the world. Likewise, in episode two, when Hall returns to his high school in Lubbock, Texas he puts out a similar call to enlist local dancers of all stripes to appear in a flash mob in the school's gym.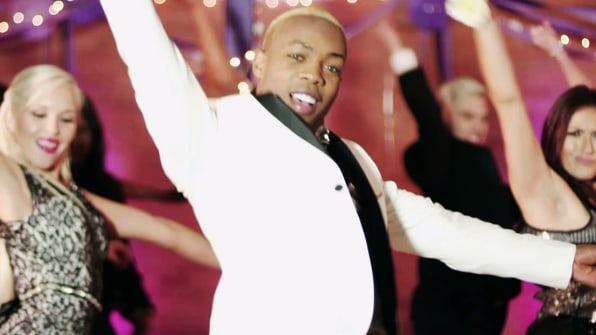 This is where Hall's other goal becomes clear very quickly. He's been vocal about regretting how he squashed his true persona to appeal to middle America when he was an Idol contestant. No more. Though his personal style and set designs are lean toward the Lisa Frank psychedelic (aqua leopard baseball jerseys and a matching convertible) with Disney-esque aesthetics (he's adamant that his is a show that families can watch), he's candid about his sexuality and appears to want to tackle the larger issues of bullying and discrimination.
Being yourself and expressing exactly who you are is what's resonated with his fans, and what he hopes to achieve with the series. "My biggest goal to inspire people to pursue their dreams," he maintains. As the fan base has grown, Hall says they've gotten swept up through various social media in a very interactive way. "Our fans are devoted because they feel like they are part owner," he says.
Whether you buy in and become one of the Toddlerz or not, it's impossible not to smile and tap along to Hall's infectious tunes. And who couldn't use a little more of that?
Todrick premieres on August 31 at 10/9c on MTV.