The narrow street in front of Steven Clays's house in Ghent, Belgium, is usually lined with parked cars and full of traffic. But for most of this summer, it turned into a makeshift park.
In the middle of the former traffic lane–now covered with astroturf and potted plants–neighbors sat at picnic tables and drank beer while kids played nearby. Parking spaces were covered with slides and pop-up bars.
The street was one of 22 in Ghent to become a "Living Street" for 10 weeks, beginning in late May. The project began three years ago, when the city of Ghent asked a group of citizens to imagine a sustainable future for the city. Their vision: A network of car-free zones built around central squares, with rapid transit bike lanes, public transit, and neighbors talking in the street.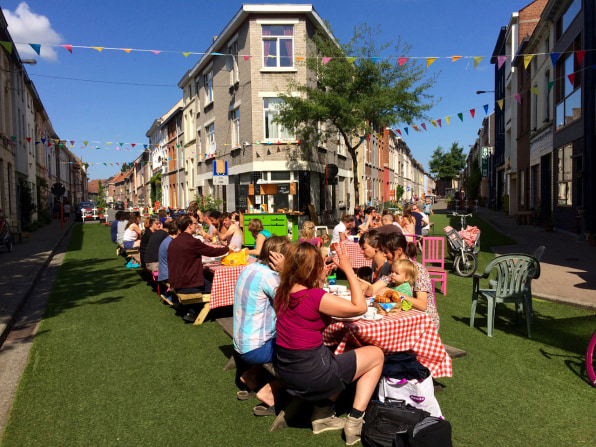 "We realized that only a vision by itself would not change the world," say Dries Gysels and Pieter Deschamps from Lab of Troy, a "creative lab" for urban solutions. "To make it really happen, we launched concrete experiments, such as 'Leefstraten,' the living street, and tried to make our dreams of the city of tomorrow visible today."
The Living Streets experiment began in 2013, driven by Lab of Troy, and gets larger each summer, as neighbors like Clays volunteer to plan and run the temporary parks in front of their homes.
"The main reason why we wanted to it was the traffic situation on our street," says Clays. "It's a residential neighborhood, but there are a lot of cars driving fast. We asked already the city council to do something about it, to no avail."
It also solved the need for more public space in the area. "The road connects to a small park, so the street became like a very big park," he says. "Neighbors saw each other more. More chances for interaction, for having a chat, for eating together outside, that kind of stuff."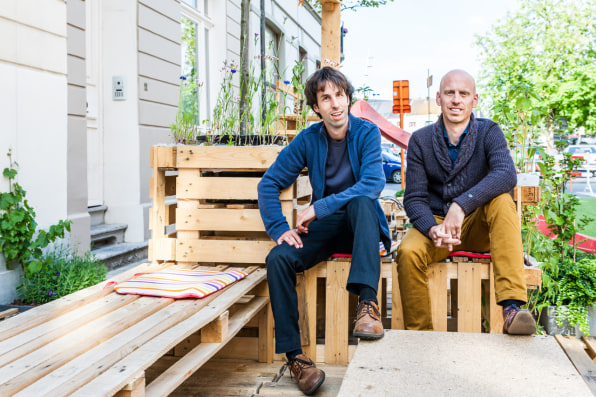 It was a little like a never-ending block party, which did cause a few neighbors to complain about late-night noise. But Clays says that the group quickly adapted to solve any problems, and the process ended up making the block much closer than before.
"Creating a living street … is a huge opportunity to strengthen the social cohesion," say Gysels and Deschamps. "The fact that they can use their streets as parks leads to much more intense contacts and often becomes the start of beautiful and interesting stories. Once the two month test period is over, these contacts stay."
The experiment gave neighbors the opportunity to see what life would be like without cars. While some people found parking nearby, others deliberately parked their cars out of easy reach, on the other side of the major roads that circle the central part of Ghent.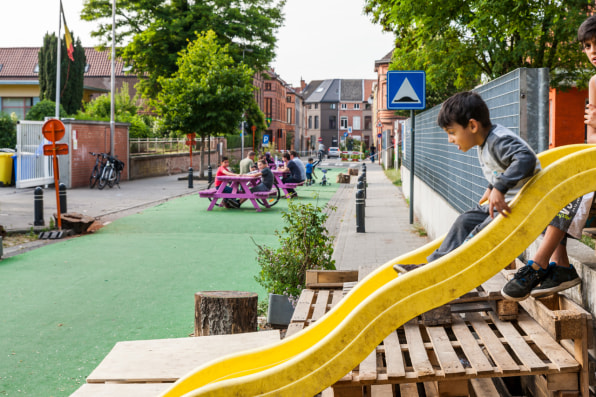 "They engaged themselves not to use their car for two months–a small experiment in mobility," says Clays, who doesn't own a car. "Pretty interesting. We don't know yet the effects of the experiment. But I think it might be a wakeup call that they don't need that car as much as they think."
"One of the main strategic questions of this experiment is how we can organize our daily lives without using our cars as much as we do today," say Gysels and Deschamps. "If we can, fewer cars will be needed and we can put them at distance. In order to regain public parking space and turn these into more livable places–with slides, petanque courts, pop-up bars, and picnic benches–the inhabitants search for suitable alternatives to put their cars."
Ultimately, the experiment is designed to lead to support for more permanent car-free streets. But it's a slow process. "This was just a test, and basically we've seen that it can work very well," says Clays.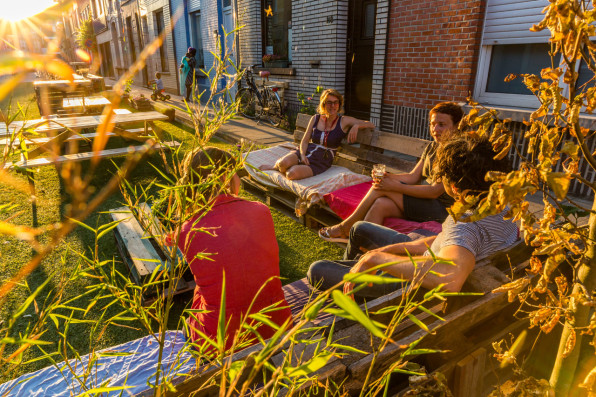 On Clays's street, it also led to a few immediate changes in public space. "The artificial grass on our street attracted little soccer players from every neighborhood," he says. "First 10 people, then 20, then it was like a street soccer field for Ghent." After neighbors started to complain, they realized they could put artificial turf on a concrete playing field around the corner–and even though the rest of the project has been taken down, the new field remains.
"When you do something like this, you can't predict all of the effects," he says. "What's interesting about the experiment, if you just react to the effect, you can actually do something that really matters. Almost no parks around here are designed for playing soccer. That was one thing that improved through this."
It's the type of experiment that is becoming more common. In South Korea, the "Ecomobility Festival" went even farther, removing cars from an entire neighborhood. The same thing will happen in Johannesburg, South Africa, this fall.
"Cities are the laboratories of the future," say Deschamps and Gysels. "We advise cities to get together temporary networks of engaged people–frontrunners from society–who can challenge and inspire everyone in the city."