Depending on your line of business, you may have never even used or heard of Salesforce. But it's actually one of the biggest enterprise apps in the world–only recently surpassed by Office 365 for the top slot–used to coordinate CRM or "Customer Relationship Management" for businesses ranging from small town bakeries to Fortune 500 companies like HP.
That's an especially amazing feat, given that it's easily the ugliest app in this space, a front-end fossil from the days when "enterprise" software was synonymous with "engineer designed." (No offense to all the talented, dual-classed engineer/designers out there.) Just take a look at this thing. Grey boxes around charts. Retirement home blue headers over text fields. It's more hideous than old Google. Yet it generates billions in subscription revenue every year because of its functionality: tracking clients, projecting revenue, sharing files and assets in project-specific work, supporting apps to further customize the experience.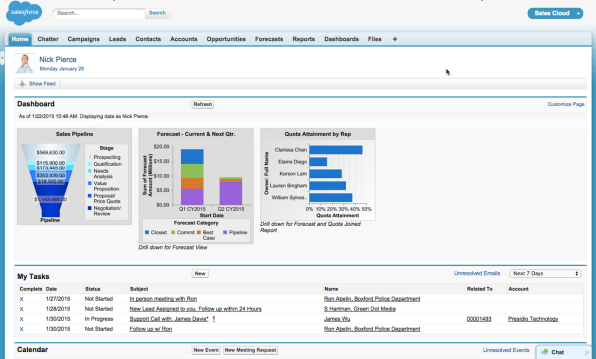 However, this week, Salesforce is getting a complete makeover. Inspired by their 2013 mobile app, Salesforce1, and thousands of hours of interviews, site visits, ride-alongs, surveys, and usability studies with customers, Salesforce.com has been remade with all sorts of superficial improvements: loads of white space, cleaner typography, vibrant charts, a search bar on the top of every page–and more info density on top of all of that–making the new design look like a cross between Google Docs and Chartbeat.
But the biggest improvements run deeper than that. Here are three changes that Salesforce customers–or anyone considering an aggressive redesign of a big legacy product–might appreciate.
Users Are Guided To Best Practice
The Salesforce of yore was like a giant, interactive database of clients, files, and data. The new Salesforce still has all of that, but it uses three different timeline views to not just document projects or serve as reference, but drive them forward.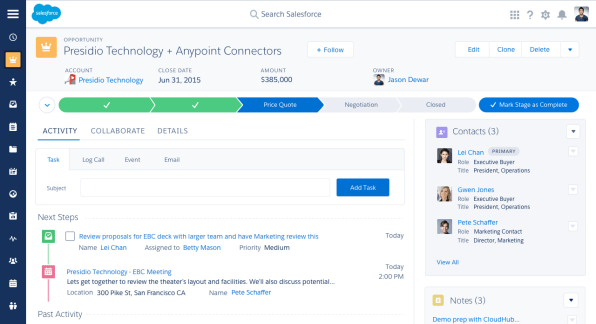 "We're working on producing a product that has a particular point of view," says Craig Villamor, Chief Design Architect. "We heard there was too much noise on their screen. Here we've built in basically, stages for each [project]. Its interface doesn't just present information. It coaxes you into their own thesis on what is a best practice on how to deal with that information.
Every project breaks sales (or what they call "opportunities") down into six steps. The user can check each step as complete, graduating them to new tasks. It's a complex workflow dumbed down into "what do I do next?" methodology.
The other two timeline views don't push users into one best behavior as much as they allow a better perspective on projects as they evolve.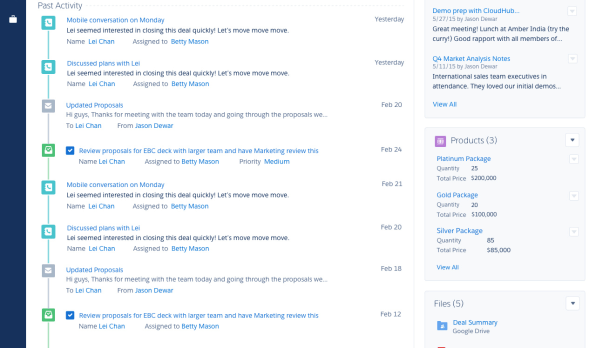 One tracks collaboration playing out in real time. It's a bit like Basecamp, or even Facebook, in this regard, in which actions taken by different people on the project show up in a larger feed.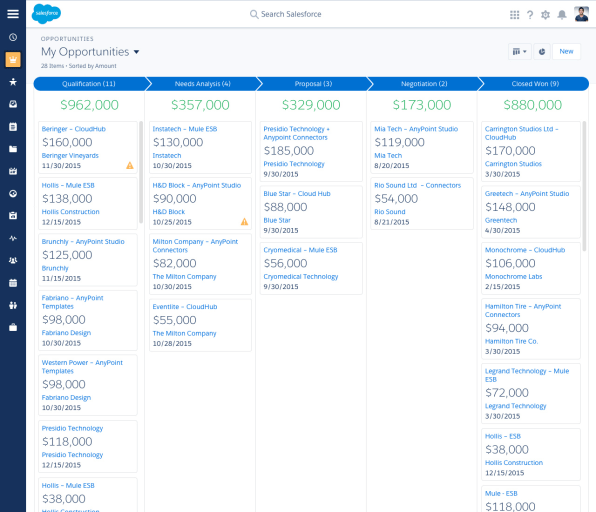 The other is a pipeline board that offers a 10,000-foot view of sales over months. Each element can be drag-and-drop rearranged so that sales projections can easily be reconfigured. Re-timing a $1 million deal was never so easy.
Pretty Much Everything Is Customizable
Despite Salesforce's new, stronger point of view on what you should be doing at any given time, the system is actually more customizable than ever.
"What we're presenting is what our opinion is: Out of the box, here's the best workflow for sales reps to close deals," Villamor, says. "But the whole thing is customization–the drag and drop components–every single thing on this page, I can change–the name of a fields, or the layout."
The biggest change in this regard happens on the core dashboard page. Formerly, users were able to place modules–various tools and data analytics–just three panels wide. Now, the dashboard can fit as many as nine, and these modules can be both installed and resized by dragging and dropping them.
"For the sales rep, the info-density might be [shallower] than for a service rep, who might want very very dense data, because they need lots of data at once," Villamor says. Providing a customizable dashboard allows people to take micro or macro views, depending on their actual job.
You Don't Have To Adopt It
But the best part of the new Salesforce is going to be its rollout. Managers can set schedules for select subsets of their staffs to get the new experience when the changes won't disrupt workflows. And for anyone who's about to head to a big meeting and finds themselves too flustered to find where some button or data point has moved? There's a simple toggle. They can turn the new design on and off, instantly.