Getting into a top music school like UCLA (where John Williams studied) or Boston College (where conductor Robert J. Ambrose studied) requires more than a demo tape. Tiny nuances distinguish the very top musicians from the merely great ones, and judges really need to hear and see an audition in person to tell the difference.
Piano maker Yamaha has convinced 20 U.S. schools, so far, to conduct in-person auditions without the actual person, using a line of Internet-connected player pianos called Disklavier. This allows students from as far away as China to audition for U.S. universities and conservatories, and use the same recorded performance–stored in Yamaha's cloud network–for applications to multiple schools.
The Disklavier line of pianos may, at first glance, seem a bit gimmicky. It uses MIDI–a digital encoding system for musical instruments–to play back a performance recorded on another Disklavier (or on the same piano earlier). During playback, the piano keys depress and the pedals move up and down as if the instrument were possessed.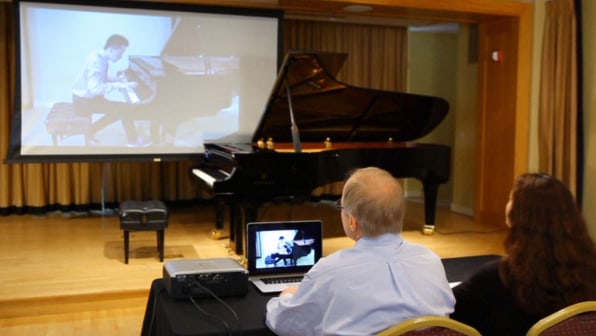 These pianos are extremely precise. On the top-end Disklavier PRO models (with list prices starting around $100,000), pedal positions are measured with optical sensors and reproduced with piston-like solenoids on up to a 256-level gradient (an 8-bit level of detail). The speed of the hammers striking the strings is measured and re-created at 1024 levels (a 10-bit level).
"A lot of intersecting musical parameters would result in a response from a listener," says George Litterst, a music instructor who runs Yamaha's online audition program, called Disklavier Education Network, or DEN. Take tempo. "Even when we perceive it to be steady," he says, "there is a certain sense of ebb and flow." Rubato–Italian for "stolen time"–refers to the slight speeding up or slowing of tempo for artistic effect.
While music schools are starting to use audio and video recordings to evaluate prospects who can't afford to fly in for an audition, it's hard to get a nuanced recording from a piano. "It's just a difficult beast to record," he says, requiring careful placement of microphones and adjustment of audio levels–not the kinds of things a typical student can do at home. The quality of the playback equipment at schools varies, too.
Yamaha's DEN audition system also records a silent video of the player, which is synched to the MIDI file on the piano. "It becomes almost a virtual reality experience, as if you've beamed the student into your space and they are playing right in front of you," says Litterst. "You very quickly lose track of the fact that the body of the performer is not on the stage."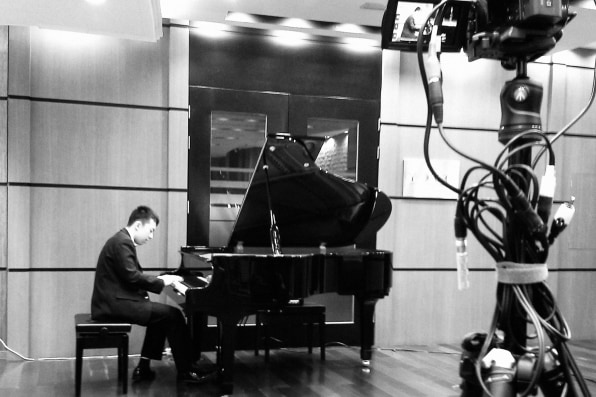 Japan-based Yamaha has been selling Disklavier pianos in the U.S. since 1988 and upgrading them over the years. (Steinway brought out a similar piano line, called Spirio, earlier this year.) But Yamaha only started building the cloud auditioning system in 2014, and took it fully online this past winter.
Led by Yamaha's U.S. division, the DEN audition network now has about 40 locations where students can go in to record a performance. Some of these locations are Yamaha corporate offices and some are dealerships equipped to record the demos. Most locations are in the US, but Yamaha now has spots in Beijing and Hong Kong to tap a huge pool of Chinese candidates. "There's such a flow of them coming out of Asia and especially China that's causing [U.S.] schools to focus on China," says Litterst. There are also audition spots in Hamburg, Moscow, Vancouver, and Toronto. Yamaha expects to get auditions from one or more locations in Australia this year.
The 20 U.S. schools participating include Boston University, Brigham Young, CalArts, Louisiana State University, UCLA, the University of Kansas, and the University of Wisconsin-Madison. Some of the biggest names, like Berklee in Boston and Juilliard in New York City are not on the list, but both institutions and many other top-end schools either own or have borrowed Disklavier pianos, says Litterst. In 2012, Juilliard organized a three-piano performance of John Cage's "Winter Music." Alongside a live performer in New York City were Disklaviers controlled by players in Japan and California.
A student has to perform only once, even though several schools may ultimately listen to the recording. Students and teachers also use the Disklavier and Skype in real time for distance learning, such as short-term master classes. Litterst says that musicians learn to adjust to the slight lag time in the piano just as people adjust to the latency on a Skype call.
Could DEN become a core distance-learning tool, with students not just auditioning but completing an entire course of study from thousands of miles away? Litterst is skeptical of it going that far, although he knows it could. In 2013 he taught, for a semester, a remote student at Valley City State University in North Dakota. "A student was doing an online degree from a university in North Dakota but living in Houston," he says. "And I was in Massachusetts."