A lot of familiar faces show up in Straight Outta Compton—or at least a lot of actors portraying familiar faces. Aside from early incarnations of lead characters Dr. Dre, Ice Cube, and Eazy-E, cameos abound of young Snoop Doggy Dogg, baby Tupac Shakur, and the dewy likenesses of others involved in the sprawling story of N.W.A. Nobody appears in the role of a fledgling, upstart F. Gary Gray, but such a meta-touch wouldn't have been farfetched. The careers of N.W.A. and the man who ultimately directed a film about the group are inextricably linked together.
"I remember where I was when I first heard 'Boyz N The Hood,'" Gray says of N.W.A.'s first single. "126th Street and Normandy, South Central, Los Angeles. I remember that I was on my porch. What they described in that song was so vivid and so clear to me because it was the kind of life I was used to witnessing and partly experiencing in my neighborhood. I felt like they were right around the corner, writing about us."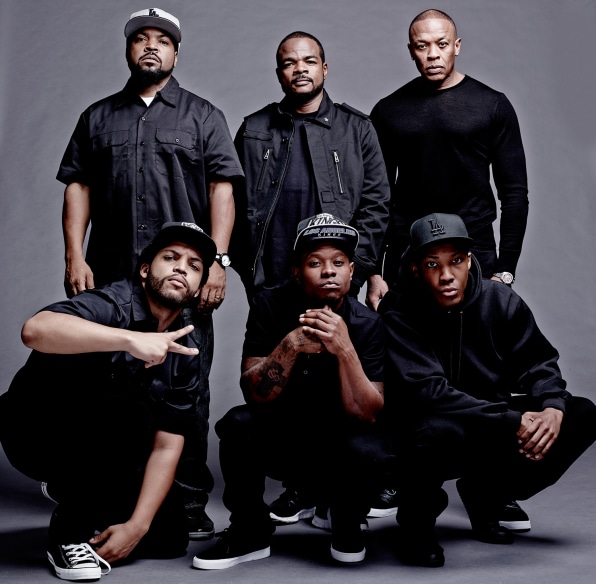 Gray first encountered N.W.A.'s music as a fan and geographical kindred spirit, growing up near Dr. Dre and Ice Cube's Compton stomping grounds. He was just starting out as a cameraman, working on developing the chops to become a filmmaker. By the time he'd started actually directing music videos, the group had already descended into fractious infighting mode, with Ice Cube breaking off solo, and rap beefs percolating.
The first time Gray met Ice Cube, the rapper had already dropped a couple albums and established himself as an industry force to be reckoned with. It was on the set of the video for "Dress Code" by WC and the Maad Circle, where Ice Cube had stopped by. He and the director hit it off right away and went on to make several videos together, including Ice Cube's seminal hit, "Today Was A Good Day." Gray even worked with both Ice Cube and Dr. Dre on their first post-N.W.A. project together, "Natural Born Killaz," helping to build the conciliatory bridge toward the movie they would eventually all make together. But first there was another movie.
Cube cited Gray's experiences growing up in the streets of L.A., along with his technical prowess, as the right combination for the first movie he wrote and produced, Friday. The movie opens with a shot of two umbilically linked shoes slung over a power line and goes on to depict every other element of life in the kind of neighborhood Cube and Gray grew up in. It's a slice-of-life comedy, caked beneath a layer of pot resin, that takes place in a single day. It became a classic overnight.
"I knew what I wanted, I just didn't necessarily have all the experience in the world because I'm 24 years old putting together my first movie," Gray says of making Friday. "So it was just a weird, kind of naive self-confidence. Jumping from music videos to film definitely helped me with the technical part, but I already knew that that was only part of it—you still had to understand how to work and communicate with actors, and what it takes to tell a full story. You don't necessarily get those skills from directing music videos."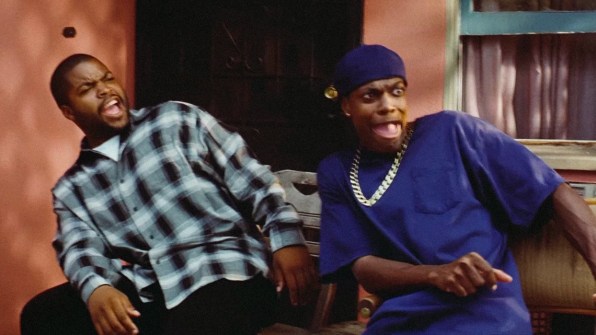 Gray first started developing those skills as a teenager, when he decided he was going to make a film. His uncle was an actor and he'd break down his process, how scripts work, and how important it was to serve the story. Gray soaked in all this advice, and learned more about storytelling from watching his uncle's plays. Eventually, he also developed the technical precision of behind the camera.
Friday was Gray's first feature film, but he didn't want it to define him. Rather than continue making homegrown comedies with a modicum of action, he quickly pivoted into making all-out action movies that featured pockets of comedy, like The Negotiator in 1999 and 2003's The Italian Job. He modelled himself after the Spielbergian example of mixing different genres together in search of the perfect alchemy of audience enthralment.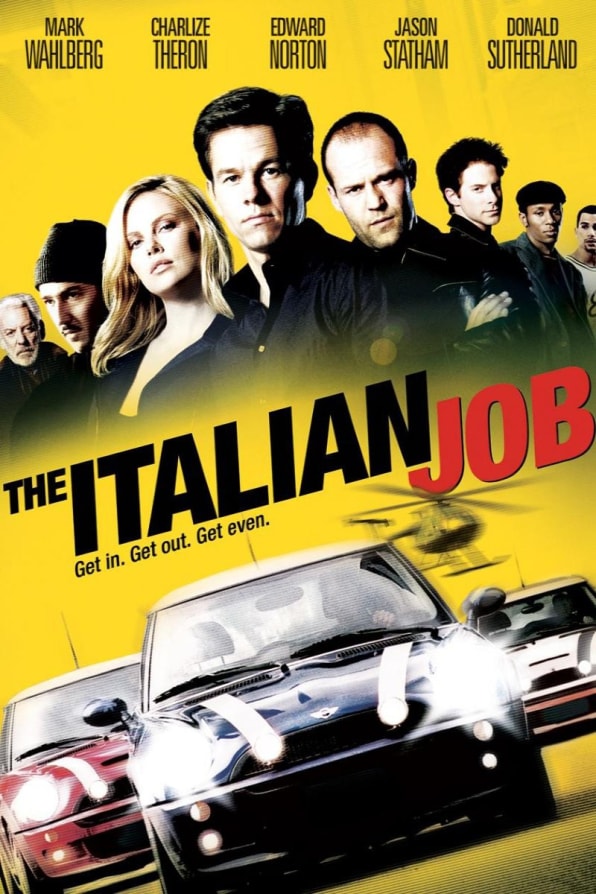 "I knew that in Hollywood they tend to pigeonhole talent and when you experience a little success in one genre, their instinct is to keep you in that box," Gray says. "I made a conscious effort to do something different and Set It Off was that first different movie. It was four female leads, action, a little drama, and it was like the polar opposite of Friday. I knew if I delivered at least a decent version of that script, people would look at me in a different way and say, 'This guy can do anything.'"
It's this versatility, along with his personal history with N.W.A., that made Gray an ideal candidate to eventually helmStraight Outta Compton, nurturing it to a colossal $56 million opening weekend. If Cube thought Gray was a good fit for Friday because of his technical skills and life experience at the time, those same qualities are what make him an even better fit for Compton, even though they mean different things now.
Straight Outta Compton has been in development for the past 13 years, and Gray has been involved with it for four of those. Although Ice Cube had been considering an N.W.A. biopic for some time, the wheels only went into motion when S. Leigh Savidge began writing the screenplay in 2002, an outgrowth of his documentary, Welcome To Death Row, which premiered the previous year to acclaim. This script bares little relationship to the finished product, in large part due to the influence and dedication of Gray.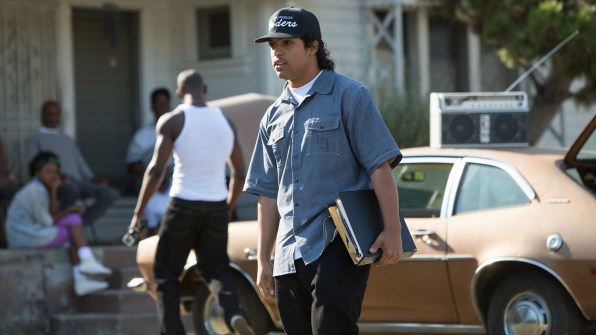 "The first draft was a lot different than what you experience on screen," he says. "It was more Making The Band, and it followed just the chronological order of how the group came together and how they fell apart. It didn't go as deep as the film goes. It wasn't as edgy. It was a decent script, don't get me wrong, but it wasn't what it is now. And that was my job, just to come in and give my thoughts on how we could frankly strengthen it."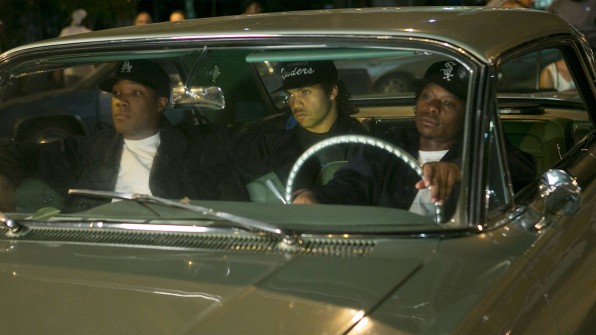 It was Gray's goal to understand the context in which the group was forged, and translate that for the audience. He shepherded other writers on board the project, guiding them to depict the edgy and criminal background of some N.W.A. members' lives at the outset, and some of the formative experiences that lead to the creation of their music. He also injected reality into the high drama of how it all fell apart once they broke up. Gray also insisted on doing the primary research to get the details just right–interviewing Eazy-E's widow, Tomica Woods-Wright, and spending great sums of time with Dr. Dre to probe him for insight into how his tenure at Death Row Records really went down.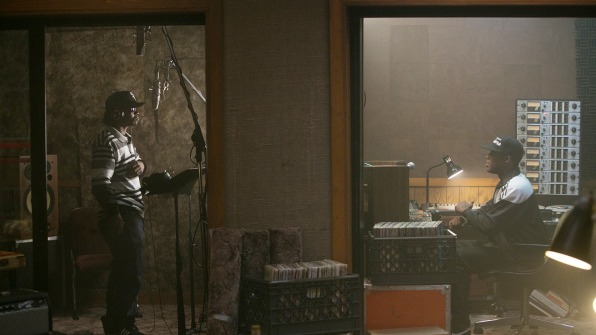 It's also a credit to Gray's genre-fluid background that the movie's mix of myth-making, musicality, action, drama, and steady laughs all gels together. In the wrong hands, Straight Outta Compton could have turned into a made-for-BET movie, tainting the band's legacy rather than cementing it. Instead, the film found a director who knows the subject matter intimately, has personal relationships with the personalities behind the project, and has the experience to wrangle it all together. Just like N.W.A. itself, Gray took great care to make a movie steeped in the essence of Compton but designed to reach far beyond it.
Watch a trailer for the film below: