Over the last 20 years of talking about the problem of big money in politics, Congress hasn't actually voted to do anything about it, and it's unlikely that they will anytime soon. So Harvard University law professor Lawrence Lessig has cooked up a crazy plan to force some change: He's trying to crowdfund a presidential campaign focused on the single issue of campaign finance reform.
If Lessig can raise $1 million by Labor Day, and if no other presidential candidates take up what he calls "citizen equality" as their first priority, he plans to run as the first ever "referendum" president (he has already started a SuperPAC to help fund candidates who support his goals.). Once elected, he would work solely on passing a law to fix campaign finance and to re-draw districts that are more politically fair. And once he accomplished that, he'd instantly resign, handing over the reins to his vice president–whether that's either of the major Democratic candidates Hillary Clinton or Bernie Sanders (surely they appreciate the offer), or someone else.
Here he is explaining his "Citizen Equality Act," designed to move the country back to equal representation for everyone:
His theory is that an ordinary president can't take on the issue of campaign finance. "They can't fix this on their own," he says. "We have to accept that simple fact. The interests that would block reform are the interests Congress depends most upon. They can't do it. They need an intervention."
Presidential elections don't allow for real referendums like the kind that happen in states like California, where voters can approve or reject laws while they're voting people into office. But Lessig thinks he can hack the system, and find out what people really want by asking them to back a single issue. He also think no one's tried it before because the technology didn't exist to run a campaign this way.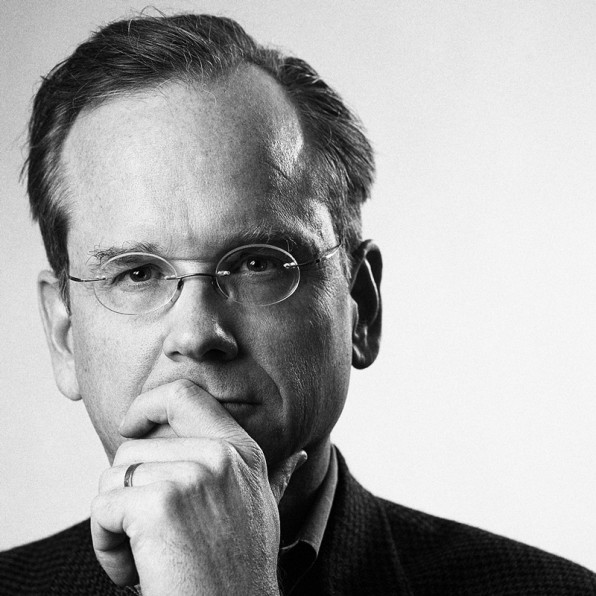 "There's never been the means–aka, the Internet–and rarely the need," he says.
The lopsided system of funding campaigns keeps getting worse. By the beginning of August, it was clear that the 1% (or the 1% of the 1%) are already dominating the 2016 presidential campaign: A tiny group of ultra-rich families and their businesses, smaller than ever before, has funded half of all donations so far.
Lessig argues that we need campaign finance reform before any other significant legislation can pass. NASA scientist Jim Hansen, for example, has said that money in politics is the single biggest reason we don't have climate legislation yet.
"Money is the leverage point in our political system," Lessig says. "Politicians are dependent on campaign cash; they dance to the tune of the suppliers of that cash call. The simplest way to get a senator's attention is to hold a fundraiser for her. So the simplest way to build the influence necessary to block critical reform is to make the members dependent on you–for campaign cash."
If corporations don't want something to happen, they can buy their way to the result they want. It's an obvious problem, and Lessig has a laudable goal. But will it work?
Most people say no. "I guess if Lessig gets elected to national office, anything is possible," says Julia Azari, a political science professor at Marquette University who studies presidential mandates. "But really, individual leaders work within the larger system. There's no reason to believe that members of Congress–especially Republicans, but probably also many Democrats–would be more likely to pursue something like this."
Focusing on a single issue might actually make things worse. "Single-issue candidacies are, in my opinion, much less likely to accomplish things," she says. "Parties and coalitions are formed around a range of issues. Some of Lessig's ideas sound good, but they're not related to the constraints of political reality."
Even if Lessig were somehow to succeed, corporations would still be able to pour money into lobbying. He admits that perfect equality isn't possible–but also argues that it's "not an argument against removing the radical inequality we see today. Even our Framers–people who couldn't see the importance of race or sex equality at all–got the importance of citizen equality. By 'the People,' Madison explained, they meant 'not the rich more than the poor.'"
And even if his campaign doesn't get far, he thinks he's already having some influence. "Bernie moved the issue from #8 to #2 the day I launched," he says. "That's progress."