Samsung being Samsung, it isn't content to have one flagship smartphone. It wants to offer several of them. So today, less than six months after unveiling the Galaxy S6 and Galaxy S6 Edge, the company is back with two more high-end models, which it's announcing at its "Samsung Unpacked" event in New York City.
The two new phones, the Galaxy S6 Edge+ and Galaxy Note5, have much in common. Specs-wise, in fact, they're essentially identical, down to their roomy 5.7″ displays. They're also kissing cousins of the Galaxy S6 and Galaxy S6 Edge. But each new phone has one key feature of its own, making them different enough that almost everyone will instinctively gravitate toward one or the other. They go on sale in the U.S. on August 21, on all the major carriers; Samsung recently gave me a sneak peek.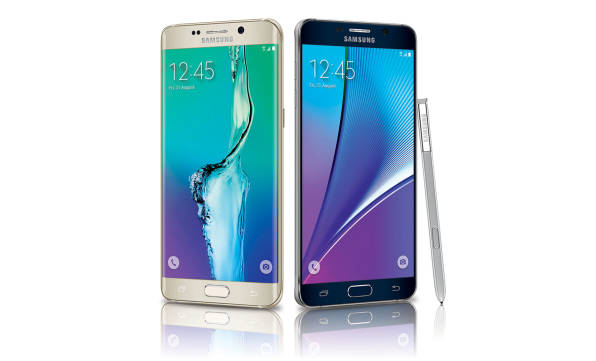 The Galaxy S6 Edge+ practically seems designed to revive the old charges that Samsung's best ideas are all borrowed from Apple. Just as the iPhone 6 Plus is almost the same phone as the iPhone 6, but with a bigger screen, the Edge+ is the Edge's doppelganger, but with a 5.7″ display.
But the Edge+'s signature feature–the way its display's left- and right-hand edges taper off in a stylish curve rather than a harsh right angle–owes nothing to Apple. It also makes even more sense at the Edge+'s 5.7″ than it does with the 5.1″ Edge. The curved edges let you nestle the phone in your hand in a surprisingly graceful way. Compared to garden-variety ginormous phones, this one is less of a tank, making it an intriguing option for people who don't think they want a phone this big. As my colleague Ross Rubin notes, it's a thoroughly mainstream device.
The Note5, meanwhile, lacks the curvy display and represents only a minor refinement of last year's Note 4. Specs such as the screen size and rear-facing camera resolution remain unchanged; the case is just a skosh thinner and narrower than the Note 4, and slightly thicker and wider than the S6 Edge+.
With the Galaxy S6 Edge+ matching the Note5's screen size, the Note5 is free to focus on a particular type of user: a productivity-minded type who's drawn to its S-Pen stylus, which you can use for note-taking, sketching, and other useful tasks such as marking up PDFs. Based on a bit of time I had with a Note5, its S-Pen is not only the nicest version yet, but one of the most highly evolved digital pens anyone's ever designed, period. It has a more luxe look and feel than previous versions, and a slicker method for removing it from the phone; press on its end, and it pops out. And when you touch this pressure-sensitive writing implement to the screen and jot or draw, the simulated feeling of of laying down ink on paper is subtle and pleasing.
The Galaxy S6 Edge+ and Note6 share a few other new features. Their camera apps can stream live video via YouTube, providing an alternative to Periscope and Meerkat. Both phones also include a new version of SideSync, Samsung's feature–akin to Apple's Continuity–for doing things such as sending text messages or taking a phone call on a computer. (Unlike Continuity, SideSync will be available for both Windows PCs and Macs.)
But the new feature with the most potential to matter is Samsung Pay, the company's mobile-payment service. And Samsung Pay could be significant for one specific reason: Unlike Apple Pay and Google's Android Pay, it doesn't require that you use it at a retail location with a newfangled NFC payment terminal. You can also use it to pay for stuff by waving your phone at old-school credit-card terminals which only have a magnetic swiper. (Samsung acquired the startup behind the technology, LoopPay, last February.)
Samsung Pay won't work with 100% of swipers: It's incompatible with ones that are stuck on older software. The fact that it performed smoothly in the demo Samsung gave me using a terminal the company had set up itself doesn't mean much. But if it's quick and reliable, it could be a meaningful point in favor of the phones that support it: these new models and the Galaxy S6 and S6 Edge. The service launches in the U.S. next month.