Coming off the highs of the Oculus Rift's grand unveiling and the general coming-out party that was this year's Electronic Entertainment Expo, it seemed like virtual reality (VR) was going to ride an unstoppable wave right into Q1 of 2016.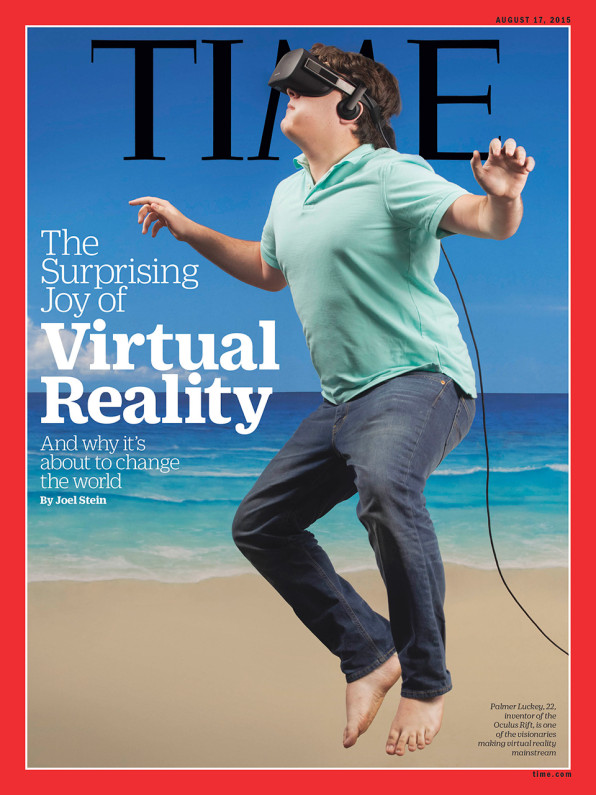 But then….Time magazine put Palmer Luckey on its cover and the punch lines started flying.
Although the magazine doesn't have the sway to drastically affect VR's future one way or another, the cover was still indicative of a problem the devices could face. It presents Luckey in a, let's say, less than flattering light–the Oculus founder is pictured wearing the Rift, head tilted skyward, leaping barefoot against the backdrop of a terrible motivational poster-like image of a generic beach. It was an image that launched a thousand Photoshop memes and, coupled with writer Joel Stein's insistence on painting Luckey with the usual "eccentric gamer nerd" tropes, seemed to reduce the whole endeavor to a snarky joke.
But filmmaker and industry activist Lexi Alexander quickly took to Twitter to express not mockery, but her concern. Concern that this type of knee-jerk response coupled with ingrained Hollywood and video game industry thinking had the potential to force VR into an unflattering identity before it's had the chance to grow one for itself–at least in the eyes of the general public who likely won't wait until a hands-on to form their opinion, like those in the industry.
"They are going in the Google Glass 'glassholes' direction and they are going to alienate people," Alexander told Fast Company. "Maybe [Luckey] didn't deserve that cover, but I see the sentiment like, 'Oh, those Silicon Valley guys buying up all of San Francisco now have a new toy. And it's a little bit his fault, for not saying, 'No, no, this is important'."
"We have to quickly, quickly change the narrative."
While most people will likely get their first taste of VR through video games, Alexander was introduced to the technology while shooting a VR project for G-Technology and Reebok. It was then that she realized she was stepping into the tech equivalent of new snow.
"When I was hired, I kept saying that I don't have any [VR] experience," says Alexander. "And the producer told me, 'No one does.' This is really a brand-new field for everybody, so I didn't need to find someone with specific experience. I could hire who I wanted."
Alexander hired director of photography Cybel Martin, who blogged about the experience for Indiewire, reiterating Alexander's assertion that "The VR industry is evolving rapidly. Technological advances will make a number of these rules obsolete by the time you shoot."
The situation seems similar to the one facing emerging health care startups like Sherpaa, which are actively looking to recruit experienced doctors who have yet to get too set in their ways and are more open to new tech and new ways of thinking. Alexander sees a similar opportunity for filmmakers and creators in VR.
"Somebody with a long resume in filmmaking is going to have trouble adjusting. You still want good storytellers, but you should be pulling them out of the indie realm. People who have had to think on their toes, because they have to make up for not having friends in the industry and access to million-dollar cranes. I've talked to a lot of black filmmakers, Latino filmmakers, Asian filmmakers, women filmmakers…and they are interested in this. The people making these projects could go to people who have no set experience whatsoever, because it's all so new."
By way of example, Alexander points to Vice's hiring of filmmaker Spike Jonze to shoot a VR documentary on the police brutality protests in New York City earlier this year.
"It's counterproductive," says Alexander. "But they can't help themselves. They think they have to hire someone who fits the Hollywood-slash-geek narrative. And it's a mistake. We cannot say for that much longer that this is a brand-new field. By next year? It won't be the same."
Having herself been introduced to VR through a virtual tour of Iceland she described as so amazing she jokingly said it could become "like a drug," Alexander sees the push for sameness as more damaging to the emerging tech than a million Palmer Luckey-riding-Rainbow-Cat memes.
"If you're aiming at a group that is already being catered to, how are you going to gain any interest? Anyone who is sane will feel stupid admitting they bought these things just for video games."
Alexander sees opportunities for people not as entrenched in the current status quo to decide how and where VR is used before it gets painted with the "expensive and frivolous gimmick" brush.
"How do you go to the same people, when everyone admits it's a brand-new field? It's like we invented a new sport, but they are still going to the guy who looks like the typical quarterback," says Alexander.
"It's a new sport! None of us have played it yet!"