Germany might still be a car-obsessed country, but it's starting to build an Autobahn for bikes. One new network of bike highways may soon show up in Munich, a city with heavy commuter traffic that's now trying to convince fewer people to drive.
If the plan goes forward, two-lane bike highways would sprawl out from Munich in every direction–over about 400 square miles–providing a direct connection from the suburbs to the city with no interruption from cars. With no crossroads or traffic lights, commuters could ride without stopping.
"It's just easier if you don't have to stop," says Andreas Groh, a member of ADFC-Munich, a local cycling advocacy group. "If the way is too long, or has too many hills, or too many crossings where people have to stop, they simply don't use the bike. Then they use the car or something else. The idea is we want to make it as easy as possible for people a little bit more outside the city–10, 15 kilometers–to use an electric bike and commute into the city."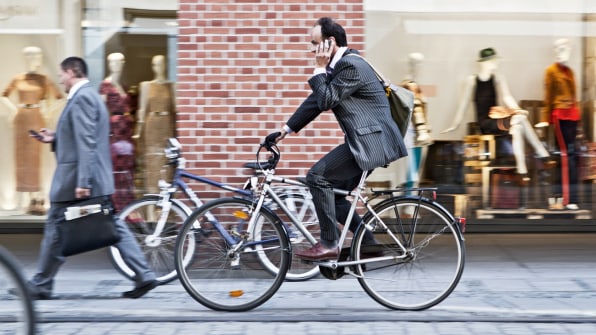 Inside the city, cycling rates are already pretty high–about 17% of people ride bikes. But the farther people live from their offices or universities, the more likely they are to drive. Public transit is overcrowded, so commuters often choose their cars instead. And as the city's population grows, roads are already at capacity.
The proposed bike highways would work like similar networks in places like Copenhagen, where bridges and tunnels help riders cross over or under busy roads without stopping. Other intersections would give cyclists a special traffic light so they can keep going while cars stop. "The cycle superhighways will make a huge difference for cyclists, as the time of travel between two places will probably be cut in half," says Thomas Schmidt, who leads a bike-friendly employer project for ADFC.
At the moment, the plan is still just a proposal, though several other networks of bike highways are also in the planning stages around Germany. Politically, it may be a challenge; even building smaller bike lanes inside Munich can be hard.
"If it's about redistributing a street–removing a car lane and making it a bike lane–this is very, very complicated right now in Munich," says Groh. "If you want to remove a car lane, you have the protest of the car driver. The conservative party doesn't like it."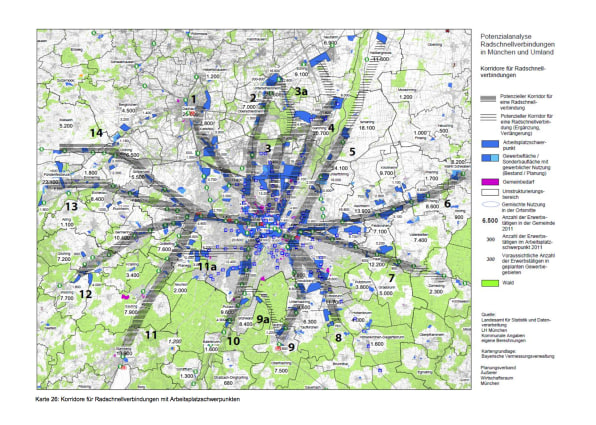 In the plan, the bike highways would connect all the way into the city, but it may be easier–at least initially–for them to end at the city's borders. "It's a long process," says Groh. "If you're realistic, you can build these bike Autobahns only outside Munich. Otherwise, you're rebuilding and removing houses."
Ultimately, the city will still need to keep improving bike lanes inside city limits as well. "Superhighways are a nice idea, but they miss a very important point," says Mikael Colville-Andersen, urban design expert and CEO of Copenhagenize Design Company. "In Copenhagen, 93% of cyclists don't cycle more than seven kilometers. This is the same in other cycling nations. Spending too much money for the 7% is not always beneficial if you don't understand this transport anthropology."
Still, biking could still be easier and safer inside the city even if the new bike highways don't reach inside, just because fewer cars will be on the road. "The last day of July we had 50 accidents," Groh says. "People have so many cars parked on streets that bike lanes aren't visible, and that causes the most common accidents. The fewer cars, the fewer accidents."
Munich's new study looks at a potential network of up to 16 bike highways and recommends that the city dig into feasibility studies of three of them–something that's likely to happen next year. One route–connecting the city center and main train station with BMW's main factory outside town, with 26,000 employees–can be built relatively easily, says Schmidt, so the cycling group plans to push for it to be built even sooner.
And as the bike highways start to fall into place, it's almost guaranteed that fewer people will drive. "At rush hour, cyclists in Munich are already quicker than people going by car," says Schmidt. "Cycle superhighways will even widen the difference. We are sure commuters will change from car to bicycle."