We understand the impact: homogenous workplaces aren't good for business as they report lower profits, less engagement, productivity, and innovation.
We also know that one of the best ways to ensure the future of STEM is a more equitable one is to engage girls while they are very young (think: GoldieBlox), keep them interested in learning necessary skills through middle and high school (hello, Girls Who Code), and throw in a strong female lead to watch on television to further the message that women can be scientists and engineers.
But science itself–specifically the scientific method of asking a question and testing through experiments–may hold the key to what will eventually right the lopsidedness of gender in STEM.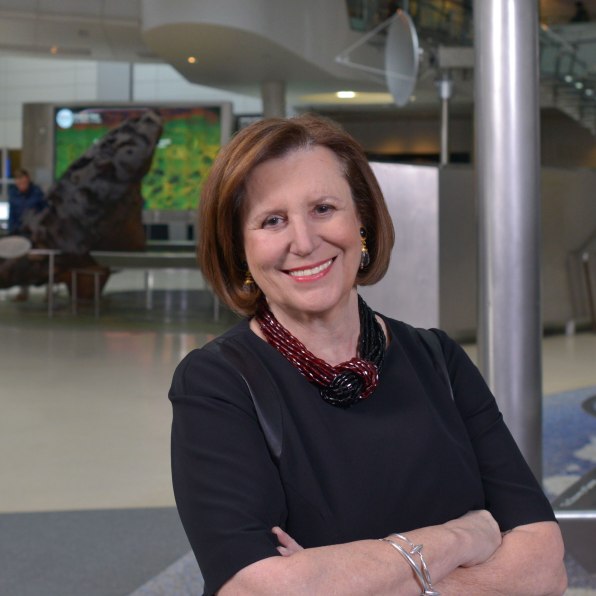 "It is going to take a lot of different approaches in combination," says Ellen Futter, "and testing and experiments to see what works best." As president of the American Museum of Natural History (AMNH), Futter is leading the charge to do just that.
The 146-year-old institution may be best known for its dinosaur bones and dioramas, but Futter sees it taking a pivotal place in the firmament of educational activity. "We are not a school setting," Futter underscores, "but we have from the beginning integrated science and education."
Right now, Futter believes science education is "broadly in crisis, as certain groups are not empowered to participate." Because, she notes, many of the most important issues of our time have a scientific underpinning, opportunities that flow from a science background are important for individuals of all backgrounds. In other words: without innovations in tech, healthcare, and environmental sustainability, the world we know would be in peril.
She believes it's up to institutions like the AMNH with its extraordinary resources (33 million specimens and 200 scientists) to extend the halls of the schoolhouse and change the ratio. "Most people don't understand what science is," Futter argues, railing against the persistent perception that science involves men working alone in a lab, and experts only need apply. The reality, she counters, is much more collaborative. "The museum offers an exquisite opportunity to solve a giant detective story," Futter says, by providing the venue for inquiry-based, hands-on, project-oriented learning. "Ask questions, make observations," she states. "Even failure can lead to eureka."
To guide the process and close both gender and opportunity gaps, the AMNH has a variety of initiatives. Its newest, BridgeUp: STEM, funded by the Helen Gurley Brown Trust, is designed to help underserved and underrepresented students get comfortable with computer science. Where it differs from other efforts to teach girls to code is that these "Brown Scholars" (9th- and 10th-grade girls) focus on programming for science research and data visualization using Python and SQL.
Though the program just "graduated" its first class, many of the young women said that while they'd never heard of the programming languages, nearly all responded that they now knew how to use them, and some considered themselves "experts." So much so, that some went to the NASA SpaceApps competition in New York City, and two of them were on the winning team. All 15 students elected to stay and keep working on their projects with mentors and museum curators after the program was finished.
"We know women start out interested [in science] and then they fall off," says Futter. "We want to catch them, not just learn coding for coding's sake, but to apply and connect it to science," she explains. "It is a two-fer."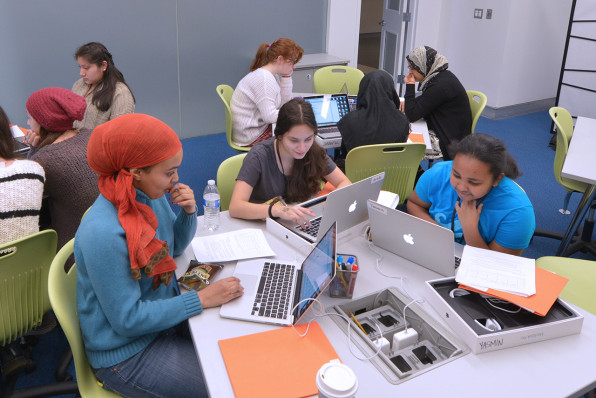 That said, there is no foolproof process, Futter admits, but understands that a point of inflection occurs during middle school. That is where Urban Advantage comes in. AMNH working together with other science-based local organizations such as the zoo and the Hall of Science are focused on training middle school teachers. "It empowers them to share science and make it a detective story, not just body of facts," Futter.
Since its inception in 2004, the program has served 1,371 teachers and more than 225,000 students by providing materials for scientific investigations in the classroom, field trips, access for teachers to scientists and collections, and professional development for educators. Futter points out that an independent evaluation conducted by NYU found that students who go through the program perform better on standardized tests.
As the former president of Barnard, Futter understands the importance of role models to attract and retain students in STEM. As such, AMNH offers a PhD program in comparative biology as well as a Masters of Art in Teaching program specifically geared towards getting more qualified teachers in the pipeline to teach, as well as three MOOCs that cover genomics, evolution, and climate change.
"Capturing [women and minorities] young and giving them the opportunity to really do science is very special, and very essential to where we fit," says Futter. Achieving gender and opportunity equality "takes a village," she adds. "You need to cover all the bases."