"Look at that flavor JAR!" Scott Drummond, the chief strategy officer and cofounder of Eatsa, a fast-food restaurant scheduled to open in downtown San Francisco in late August, pauses his slide deck on a chart showing the results of the company's latest round of "sensory science testing." Pitted against real menu items from a half-dozen would-be competitors in the healthy fast-casual space, Eatsa's quinoa-based, all-vegetarian lunch bowls scored JAR, or "just about right" numbers that put them near the top of the heap across measures like saltiness, spiciness, juiciness, and overall deliciousness.
It's late May–about two months before the store's scheduled launch–and the sensory science data clearly warms the members of Eatsa's launch team gathered here inside a large, unheated garage below a nondescript Nob Hill apartment building, beside a life-size foam-board mockup of the first store. They're data guys and brand guys–black fleece, jeans, and dress shoe-wearing Bay Area tech guys. Not food guys. But if Drummond and his data are to be believed (for the record, I was not offered a taste test), Eatsa's food and sensory scientists have performed pure culinary alchemy. They've made quinoa–the good-for-you grain du jour now appearing in a bland, watery version at a salad bar or potluck near you–actually craveable.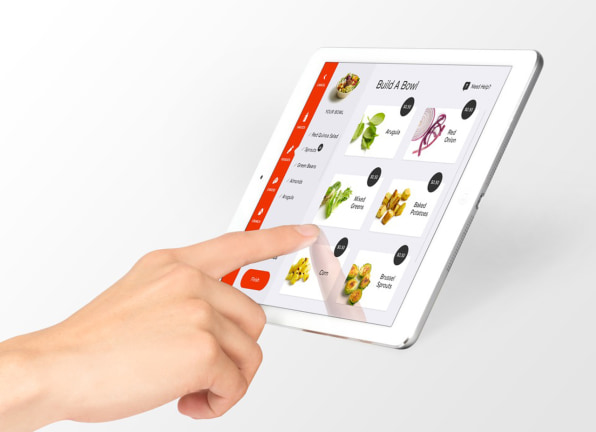 Their secret? It's science, not just more fat and salt. They undertook a roughly two-year process of collecting and analyzing data on consumer taste preferences, and engineering a taste experience–naturally, and without excessive fat, sodium, or sugar–with the addictive qualities of the best fast food. They use a few varieties of quinoa (red and white). For some dishes, they toast it, others they stir-fry it, and others they make it into a kind of backed quinoa "stuffing." It's delicious enough to eat plain–then, they add the fixings.
The kicker is the price point: all of Eatsa's lunch bowls, eight signature combos featuring quinoa that's toasted, stir-fried, or turned into stuffing and combined with vegetables and sometimes cheese, have a $6.95 base price. For example, the Harvest Bowl, for $6.99, includes quinoa stuffing, cranberry chutney, roasted autumn vegetable, green beans, crispy onion strings, mushroom gravy, and almonds. Then you can add any additional ingredients–like cheese, to a dish that doesn't already include it. That's a solid notch in pricepoint below a Chipotle burrito or a salad from healthy fast-food chains like Sweetgreen or Specialty's. Forgoing meat helps keep the cost of goods down. And unlike those places, Eatsa (whose parent company is called Keenwawa) makes no special claims–organic, local, GMO-free–for its ingredients. They're just "healthy." And in a city like San Francisco, $7 for lunch is almost McDonald's cheap.
Drummond, his cofounder and CEO Tim Young, and their lead investor, David Friedberg–who in 2013 sold his climate-prediction startup, the Climate Corporation, to Monsanto for about a billion dollars–have McDonald's-size ambitions. Quinoa is just one part of the story, and arguably a less important part than the way Eatsa plans to use technology to transform not just the menu but the whole fast-food experience by removing humans–and human interaction–wherever possible.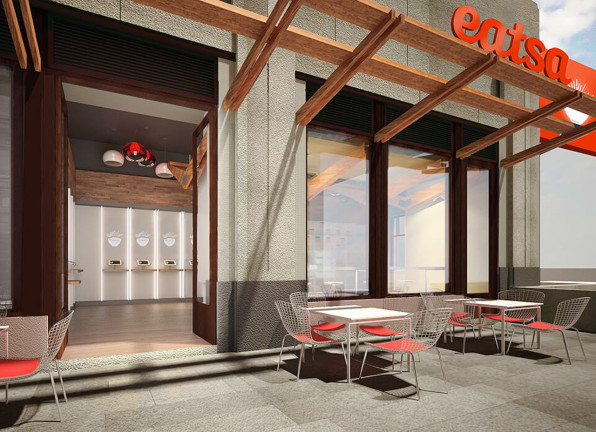 That might seem like a business model targeting the Bay Area's asocial programmer demographic. But really, Drummond says, it's about efficiency. "We're using data science to drive the whole Eatsa experience," he says. And what the data tell him is that human cashiers suck, a weak link in the food-delivery chain. Eatsa gets rid of them. "Cashiers won't be a limitation," says Drummond.
Rather, customers will order at one of several touchscreen kiosks, paying electronically. No cash. When their order is ready–in less than two minutes, is the plan–invisible hands slide it into a cubby, which lights up with their name and order number. If you don't need to ask the store's single human "concierge" for help, you need never interact with another person to get your lunch. And because of that, Drummond promises, customers will never have to wait in a line.
Soon after launch, Eatsa plans to add enhanced mobile ordering that allow customers to place an order on their smartphone, set a pickup time, and find their cubby lighting up precisely as they arrive, thanks to mobile location tracking.
This whole data-rich digital conversation with customers will allow Eatsa to bump up customer retention and satisfaction though "enhanced predictive and personal health engagement," as Drummond explains. Since your previous orders are all saved, for example, reordering the same thing is super-fast. It won't take long for Eatsa to learn whether you're a same-thing-every-time person or a more adventurous eater, and to show you a personalized menu highlighting what they think you'll want to eat today. Frequent guests will also be able to collect rewards automatically–and feedback, new-item requests, and the like can flow seamlessly back to the mothership, helping them to "iterate quickly on the food side."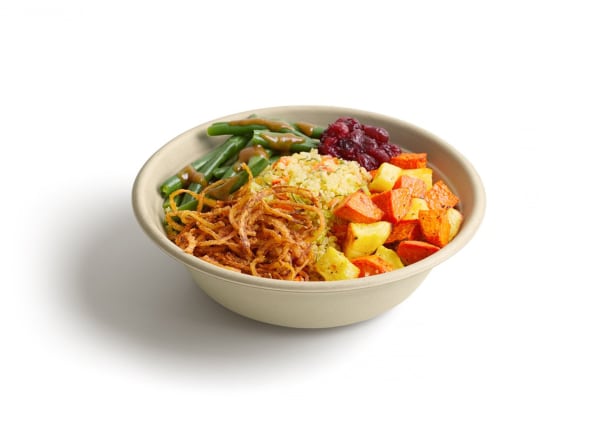 It's a lot of high-tech promise to deliver on, which is why Drummond, Young, and director of engineering Adam Hiatt are spending so much time here in the garage, debugging the front-of-house experience in a white box equipped with iPad ordering stations, backroom servers, and prototypes of the cubbies. The system, say Young, has been tested for all sorts of real-world eventualities and seems resilient. How the kitchen will hold up remains to be seen. For now, at least, it relies on human components: about five employees involved in prepping, assembling, and expediting behind the store's façade. But Drummond doesn't seem too worried about them, and he foresees a day when robots can perform many of the routinized tasks involved in assembling an order. But for now, Eatsa still needs a few good chefs, with some special skills. "They can't be afraid of technology," say Drummond. "Our first general manager used to be a military robotics specialist." Until the day the robots take over, the kitchen operation has also been rigorously engineered to root out inefficiencies, and anyway, Drummond points out, a place like Chipotle only spends about 25 seconds actually making your burrito. The 20-minute wait to get to that point stems from a flawed ordering system.
For a company based anywhere else, eliminating fast-food lines and making quinoa actually taste like something would be achievement enough. But this is the Bay Area, where if you're not also changing the world, well, what are you doing?
"We are really intent on solving big, scary challenges," says Drummond. "The world desperately need alternative sources of protein that are affordable and more sustainable than meat." While other VC-backed food startups, like Impossible Foods and Beyond Meat, are focused on making plant-based meat analogues, Drummond says he already has the perfect, complete vegetarian protein, and it can be produced using about 1/30 the energy inputs of meat. And now that his team has succeeded in making quinoa delicious, they'll use a technologically optimized fast-food platform to gain the broadest footprint and distribution in the shortest possible time.
After the opening in San Francisco's Embarcadero, Eatsa plans a second, micro-location in a nearby office building–a proof of concept for modular kiosk with all the restaurant elements self-contained inside it that could be dropped into all kinds of environments ("Give me 500 square feet–anywhere–and we can create an access point to this product," Drummond says. "We can bring it into places where few other food concepts would work.") A third location will test the suburban market, in a Los Angeles shopping center. "Our goal is to test the concept and then scale rapidly, getting into different markets as quickly as possible," says Drummond. "If anyone can change fast food, the Bay Area can. This is an opportunity to do something that really matters–and it will be relevant across the country."
The grand opening of the first store is scheduled for August 31. Human cashiers beware–your days might be numbered.