If you've ever spent even a few minutes with a toddler, you are likely familiar with the global juggernaut that is Thomas and Friends.
It's a television show, sure, but it's also many, many associated products featuring the affable tank engine and his band of hardworking locomotive colleagues on the fictional Island of Sodor.
Now, in time for the 70th anniversary of the books on which the show is based, there is a new way for children themselves to become one of the aforementioned friends: ToyTalk is launching an iPad app today called Thomas and Friends Talk to You that lets kids be part of the stories by talking to characters and hearing appropriate responses.
The app uses the same speech recognition and ToyTalk's PullString technology that power the company's groundbreaking apps, such as The Winston Show and SpeakaZoo, in which a kid's responses to prompts are sent to the cloud, triggering any of a wide range of possible replies. The company was founded by several Pixar alums, including CEO Oren Jacob, with the mission of reinventing storytelling as an interactive medium.
As a partnership with Mattel, and working with the Fisher-Price Play Lab, Thomas and Friends Talk To You is the first of ToyTalk's apps that lets kids talk to a licensed, well-known character, though the second to be announced–the first-of-its-kind interactive doll using ToyTalk's technology, Hello Barbie, was unveiled in February, and will be available by year's end. The announcement of Hello Barbie brought widespread attention to ToyTalk's work, as well as a backlash by parent groups who feared that a doll that recorded children's speech in the cloud could violate their privacy. As Fast Company reported in May, ToyTalk's consent agreement is in line with the federal Children's Online Privacy Protection Act (COPPA), and Mattel rejected a petition to keep the doll off the market.
From a product standpoint, the challenge for ToyTalk was to adapt a beloved entertainment property for a brand-new medium in a way that kids will find familiar and engaging. "He's a very established character, a very rich character–we have a lot to work with," says Scott Ganz, a former TV writer who is now the head writer for the app and a creative director at ToyTalk. "The challenge is really bringing a small child into the story. The show is very good. It doesn't play down to its audience, it deals with good issues. It's a very well-made show. The challenge there is you can't quite work at that level of sophistication when a four-year-old child is the hero of the story. There has to be some adaptation in terms of getting the child's part to the point where they can comprehend what their role is and be an active participant."
While ToyTalk animated the app itself, the company used the TV show's animation models as well as the entire U.S. voice cast to make the app look and sound like the show kids know. Each episode is three to four scenes that would take about seven minutes for an adult blazing through it, but can take much longer for an engaged kid. "It's in the style of the TV series–not quite as sophisticated, because when you make a child a part of the story, you have to accommodate them," says Ganz. "But it's still very much beginning, middle, and end, with an important message about friendship or good behavior." (And of course usefulness, which, as every Thomas fan knows, is an incredibly important trait for a train.)
The Thomas app is new territory for ToyTalk in that it is aimed at kids ages three to six, while the sweet spot for their other apps is closer to 10. Younger kids are more prone to free-associate, theoretically making it harder for scriptwriters to anticipate relevant responses–but Ganz says he and his team were very conscious of this and programmed the app accordingly. There is also a very clear video demonstration when the app starts for how to hold down an on-screen button to talk, and release it for a response (this is a key feature of ToyTalk's apps and the upcoming Hello Barbie–contrary to some reports that the toys are "always on" and listening to kids, ToyTalk only processes speech that is said directly into the toy while holding down the button walkie-talkie style).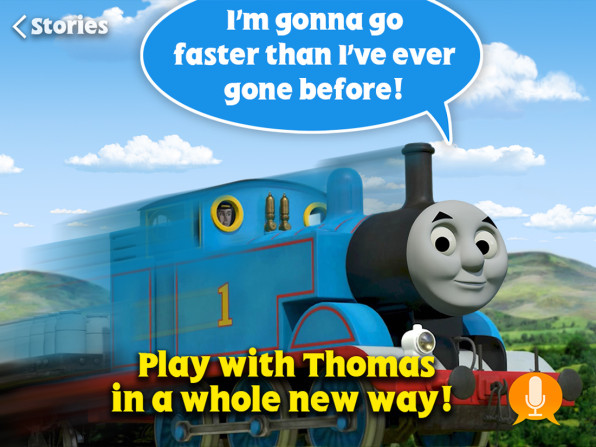 "We redesigned the mic button for younger kids so it now gives much better feedback when you're holding it," says Ganz. "In terms of the actual interaction style, my goal there was to ramp up the complexity from very simple to a bit more challenging as the stories went on. If you look at some of the stories on the top row, the mic interactions are pretty simple: say hello, make a noise, go faster. Very much designed just to get them comfortable talking, expressing simple concepts, a little more towards game play. In the later episodes, you'll help the characters solve a mystery, and deal with more conceptual things like teaching how to share."
Ganz says the app is also built to emphasize coplay with parents or a caretaker. "Particularly at the beginning, it is a little tough for the younger kids. But we've seen out in the marketplace, there are a lot of parents who play the app with their child, they play the app first, evaluate it, and we're absolutely in favor of having parents join their kids for the adventure. It's written, hopefully, to amuse parents as well."
While a lot of the conversation in Thomas and Friends Talk To You is fairly straightforward, and meant to move the stories along, the script possibilities are extensive, based on what ToyTalk has learned from previous apps about what kids are likely to say in any given situation. There is also some clever anticipation of kids' interjections based on the timing of the app's release as well as lessons from previous apps. For example, if a kid goes off topic to tell Thomas that they saw him in Marvel's recent Ant-Man movie, he has a funny response. There is also a "potty break"–if a kid tells Thomas he or she has to use the potty, Thomas says, "Ok! Let me know when you're back!" and starts humming.
The Thomas app is a first for ToyTalk in a number of other ways: iPhone and Android versions will eventually follow the iPad release, and it will be the first ToyTalk app with an in-app purchase. The app and the first episode are free, but for a yet-unspecified promotional period, each of the following five episodes are 99 cents or $3.99 for the bundle of six. After that, they will be $1.99 for each additional episode and $6.99 for the bundle. There are also two additional bonus stories that unlock for free. The app will be released internationally, and a special UK version will be created with the British cast of the television show. Even though the EU doesn't have equivalent laws to COPPA, ToyTalk's consent agreement for recording and processing children's speech will remain unchanged as a U.S. company.
With the company's higher profile after the Hello Barbie announcement, and the attention that an innovative new Thomas product is likely to draw, Jacob says he's prepared for parent questions and feedback about how the app works and how the data are used, information that ToyTalk has always made available. But the company has taken an extra step to guard against additional backlash. This week, Jacob traveled to Washington, D.C., to voluntarily meet with legislators to discuss ongoing privacy concerns, particularly in the wake of a letter this month from watchdog group Electronic Privacy Information Center urging the FTC to investigate "always-on" devices such as smart TVs that record sound–a letter that included a mention of Hello Barbie, even though that is not how the doll or any of ToyTalk's products operate.
"There have been some misconceptions about the Hello Barbie product in the past couple of months," says Jacob. "We came to D.C. to make sure they know what the product actually does, to answer questions they might have about that."
Which is to say: ToyTalk is now actively engaged in conversations of all sorts.