Take a look around any workplace, and it's hard not to see the radical transformations revolutionizing the way we work. One of those major changes is the evolution of modern robotics, or artificial intelligence (AI), which has made our lives easier but also stirred some worries as to how human workers will be affected.
It's easy to see why we might have cause to worry.
Visit the futuristic Henn-na Hotel in Japan, which opened its doors this month, and you'll be greeted by a robotic staff that's said to run 90% of the hotel's operations. The other 10% is handled by the hotel's only 10 human employees.
The robots, called "actroids," manufactured by robot maker Kokoro, will be responsible for greeting and checking in guests, all the while establishing eye contact and responding to body language–and three of the 10 robots are multilingual.
Related: Yes, Robots Really Are Going To Take Your Job And End The American Dream
The Henn-na Hotel, which means "strange hotel" in English, will use the actroids along with other robots, including Aldebaran Robotics' NAO humanoid robot and SoftBank's Pepper humanoid robot to make up its staff of three receptionist robots, four service and porter robots, an industrial robot responsible for guests' coats and bags, and several cleaning robots.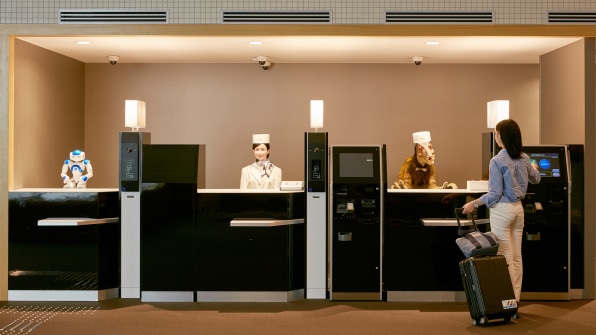 Henn-na Hotel isn't alone with its high-tech implementation. In New York, there's YOTEL, which employs robots to take care of guests' belongings, make coffee, deliver laundry, clean rooms, and take on many other service-related jobs. Last year, hotel giant Starwood introduced its robotics staff called "Botlrs", responsible for delivering amenities to guests by navigating around hotels and using elevators without human assistance.
In hospitals, robots have been delivering trays of food and drugs, cleaning linens, and carting away trash since as early as 1992. At home-improvement chain Lowe's, the customer-service OSHbot robot, which stands about 4 feet tall, can shows customers where items are throughout the store. There's Amazon, which uses 15,000 robots in its warehouses to keep up with customers' orders.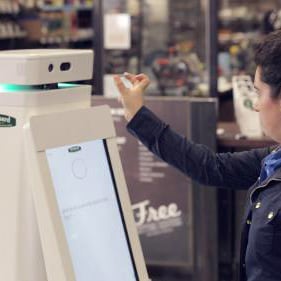 Last year, the University of Birmingham built Bob, the first-ever AI security guard, which stands 5 feet 10 inches tall and can scan rooms to detect anything out of the ordinary. When Bob gets stuck, he can ask for help, and when his battery is low, he can recharge himself.
Even the U.S. Army is reportedly considering replacing tens of thousands of soldiers with robots.
Additionally, as telecommuting becomes more common in the workplace, employers are going to have to figure out a way to allow employees to work from home, yet be as productive as they are in the office. A lot of times, this includes software tools and artificial intelligence. At the Massachusetts Institute of Technology's business school, someone who is working from home can come to meetings as a robot.
With the workforce going through such radical changes in such a short amount of time, just what effect will an AI takeover have on our workplace? Some believe the robotics workplace will sabotage jobs for humans. This 2013 Oxford study reports that work automation will put 47% of existing jobs in the U.S. at "high risk," meaning human workers in those jobs will be replaced by robots within 20 years.
Then there are others who believe the age of robots will free humans from "grunt" work and create more high-tech industries.
David Cann, CEO of Double Robotics–the company that created the iPad on wheels used by MIT and seen on Modern Family and The Good Wife–says robots like his aren't a risk to people's jobs, but actually increase workers' ability to get a job wherever they are in the world.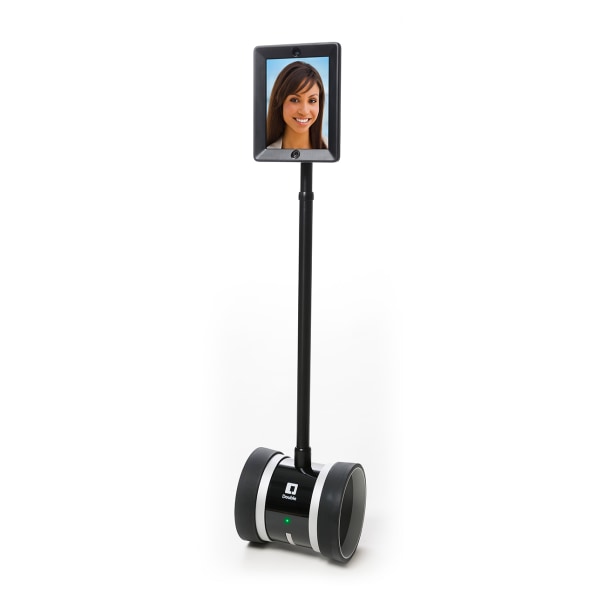 Economist Robert Atkinson of the think tank Information Technology & Innovation Foundation says rising claims that robots are taking our jobs are "amazingly shallow analysis" and, in fact, the exact opposite is happening if we look at productivity rates, which are dropping in the U.S. Atkinson attributes this drop to two factors: one, companies in the U.S. are not investing in machinery, equipment, and software like they did 30 years ago, and two, the "low-hanging fruit" of increasing productivity has already been implemented–for instance, the kiosks where you check in at airports.
He also blames the drop to the fact that the U.S. doesn't have any kind of national productivity policy.
"There are a lot of things the government can do to speed up the rate of productivity," says Atkinson. "But there's no productivity policy anywhere in the U.S. government."
He adds: "Other countries, for example, Australia, they have a National Productivity Commission whose job is to identify opportunities and policies to improve productivity. We don't have anything like that. We just assume it's going to happen."
Atkinson says a lot of the economy is still made up of things that are hard to automate and low minimum wage in the U.S. makes it economical for companies to hire humans instead of robots.
"If you're an employer, you don't have much incentive to replace workers or add tools because [employees] cost so little," he explains. "If workers cost more, more companies would have the incentive to give them the tools to increase productivity."
However, if low-wage workers got paid more like fast-food workers in New York City are about to be, then more employers might soon be adopting their own robotics workplace.
"There's a movement taking place right now," says Garry G. Mathiason, chairman of law firm Littler Mendelson, which has a specialization in robotics employment law issues. "New York is an example where the minimum wage is going to be pushed up in fast-food areas where they have franchisees in over 30 outlets to a minimum of $15 an hour."
He continues: "And that will have the effect of making it economically more attractive to bring in robotics to absorb some of that work. I think that will accelerate the speed with which this will take place. So over the next five years, we're going to all of a sudden see robots be very much a part of our lives just in terms of our normal commercial activity."
Like Atkinson, Mathiason says there's no reason to worry. He explains that the 47% found in Oxford's widely cited study isn't about jobs being taken over by robots, nor does it have anything to do with unemployment.
He explains: "There will be a displacement and there will be a repositioning of people into jobs that we don't even have today that we will have in the future. If you look back in history, you'll see that this disruption has been going on for some time. Not as fast as what we're currently experiencing, but nonetheless there."
As an example, Mathiason points to the agriculture industry, which in 1870 employed 70% to 80% of the population, but today, less than 1% make their money from agriculture.
"If you look at the historical unemployment rate, you'll see that with technology advancing, unemployment has actually stayed the same or declined. And I would see that happening for the next decade where the unemployment aspect taking our jobs will be less of a factor, but we'll be dealing with displacement. People where their skills are obsolete will have to reposition themselves with training for different careers. After 10 years, there's a real potential that it will start to affect employment in the workplace in a way that could be very positive."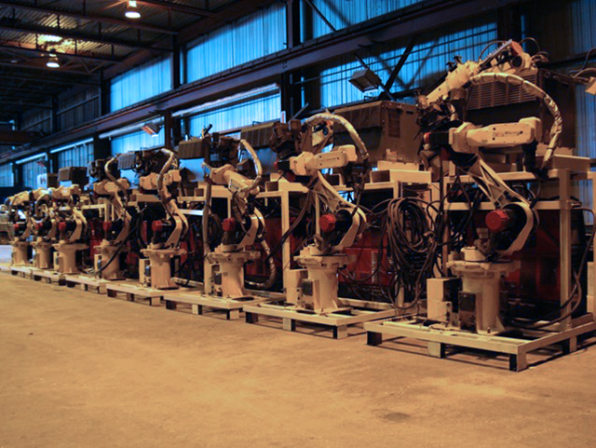 Mathiason calls our current time "very exciting," especially when looking at the areas of employment and labor law most impacted by robotics. For example, where will wage and hour requirements stand for robots that are operated by humans? Will they receive minimum wage and overtime pay requirements? What are the rules for human-resource robots that interview job candidates by recording them? Some state privacy statutes may require some kind of consent form to be signed before candidates can be recorded.
Whatever the impact will be and however fast it will happen, there's no denying a robotics workforce is coming. Many are afraid it will take jobs away from humans, but others are sure this change will improve the overall economy.
"As long as the overall macro economy is strong–in other words, low unemployment, we have good fiscal policies, we're keeping interest rates low–then those workers get absorbed into the economy and nobody really notices," says Atkinson. "In fact, it's actually a positive cycle because as productivity goes up, companies have more sales, workers have more money, people feel more optimistic."
However, as for how all of us will feel when a creepy actroid robot is mimicking our gestures and movements, that's another debate we're still trying to figure out.