Ambarish Mitra comes from what he calls "the classic Indian middle class family." Born in 1979, he came of age in the '90s, and for Indian boys of that era, he says, parents wanted one of two things: engineering school, or med school. "But I was never inclined to do engineering," says Mitra. What's more, the competition to succeed was overwhelming, with just a few hundred slots reserved for thousands of applicants. Mitra was an average student; his odds looked long, and parental opprobrium was growing.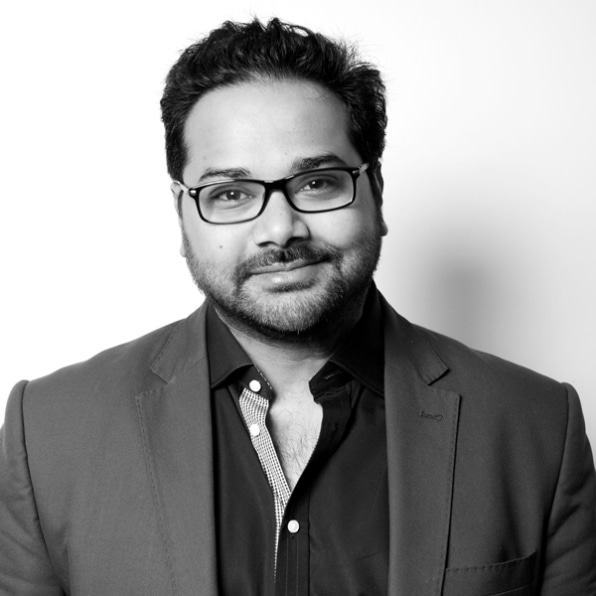 "The pressure was so high that, one fine day at the age of 16, I decided to pack my bag," says Mitra. He ran away from home to the far end of his sprawling city of Delhi. He left a note telling his family he'd moved to Mumbai, and not to try to find him.
When you're a teenage runaway without resources in Delhi in 1996, your options are few; even if Mitra could have afforded an apartment (and he couldn't), no one would have rented to him. When we think of slums in the developing world, we don't think of them as invitation-only, but in fact the slums of Delhi were controlled communities, each with a "micro-culture" and restricted access, says Mitra. Mitra had a friend who lived in Munirka Village, a dense slum of about 6,000 people. His friend put a good word in, and Mitra gained admission. He soon moved into a cramped shed, paying almost nothing, and got what he paid for.
Why did he do it? Was it as a last resort, or a kind of adventure? "It was a combination," he recalls now. "When I think about it, what I did was very dangerous and risky." But he had dreaded the life he was facing: a failed engineering examination, parental ire, a year spent just trying to get scores up for a degree he didn't want anyway. "Running away was an amazing feeling. There was a beautiful sense of freedom. Also, I always had a tendency to question things. There was a rebel inside me always."
So he was free. But he was a slum dweller, without a plan. "There were no aspirations. I was just living one day at a time. The immediate aspiration was to arrange for food." For a few weeks, he wondered if he should undo the decision. He called home—but if his parents picked up, he hung up. He called again, speaking to his elder sister, with whom he was very close. (He comes from a family of strong women; Mitra says his grandmother and her sisters were among the first degree-earning women in India.) His sister promised to keep his secret, and was glad to hear he was okay.
He remained in the slum. Finally, a few weeks in, he began to settle into a pattern. He found a job assisting the owner of a tea stall, something like a rickshaw selling hot tea and newspapers. He had no idea what the future would hold. Perhaps he was living it.
In the evenings at the tea stall, he'd read one of his own papers by the light of a kerosene lamp. Occasionally, he'd circle items that interested him. One day, he came across an ad in an English-language newspaper, advertising a business plan competition, focusing on the emerging category called "e-business." This ad, he recalls, "struck me the most." He felt it was made for him.
In his parents' home, he had been a user of technology. They'd had a computer and a modem with a 28k connection. He even had, in 1995, an email address, what he calls "the oldest Hotmail account in the world." Where other teens had a picture of Madonna of their wall, Mitra had a picture of Bill Gates.
Newspaper in hand, Mitra set to brainstorming ideas. This was the era of web portals: Instead of pulling up a web browser, you dialed up into something like AOL, a walled garden of content. Coming, as he did, from a family of strong women, he wondered at the great benefits that might come from a web portal aimed specifically at women, bringing them information that would be useful to them in particular.
So Mitra wrote to a P.O. box requesting an application form for the contest, and when it came he filled it out and sent it back. A few weeks later, he got back another piece of mail, saying his registration had been accepted. "I was excited and pessimistic at the same time," he recalls. Would he be competing against hundreds of others?
The day of the competition, he put on a faded shirt and slacks, and went to the five-star hotel where the competition was being held. His heart sank as he saw that there were indeed hundreds of people in the room. But soon, as the pitch sessions began, he realized that he was one of only about 25 finalists; the others were interested spectators. When his time came, teenage Mitra stood up and delivered a pitch lasting several minutes about his vision for a women-focused web portal.
Later that night, he learned that he won, and that the prize was $10,000 in capital to start his business idea. "Like a movie," he says, through there are differences from the obvious cultural reference: He wasn't born in the slum, and he didn't become an instant millionaire.
He called his sister clandestinely, that night. She was overjoyed. "This was meant to happen," she said.
And this was how Mitra's life as an entrepreneur began. He joined up with a classmate whose father, a banker, wound up investing another $25,000 to start the portal, WomenInfoOnline.com. (A major innovation–for that time–was to make the portal free for women below a certain income level, supporting it with ads.) The portal became well known, attracting the attention of a prominent female politician in India. In 2000, craving a market with broader connectivity, he moved to the U.K., again without a plan—much like his slum-dwelling days, only now with a healthy bank account.
He's spent the last 15 years as a serial entrepreneur, often—by his own admission—pursuing ideas before they're quite ripe for the world. He has high hopes for his latest venture, though, an augmented reality platform called Blippar, founded five years ago. The company has 200 employees worldwide and partnerships with brands like Nestle, Conde Nast, and Coca-Cola, and recently gained $45 million in funding.
And as for his family? They reconciled long ago, shortly before Mitra left for England, when the success of WomenInfoOnline made clear that he had made the right decision. Far from disowning him, his parents had kept his room intact, and hadn't touched the portrait of Bill Gates. "They're very proud of me," he says. "They've been proud of me even at times I haven't been proud of me. We've been a very happy, united, functional family for 15 years."