If you've never heard of the yearly "Running of the Interns," stop what you're doing and enjoy the hilarious, GIF-saturated recap of what has to be the best intern task of the year.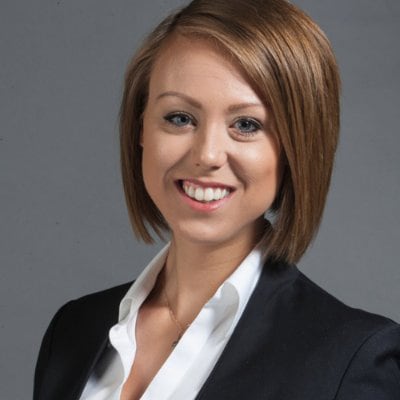 Every summer, broadcast interns across Washington, D.C. put on their best running shoes and head to the courthouse in order to run copies of the Supreme Court decisions to their respective news networks since there is no recording allowed inside the building. Interns race against each other, and the clock, to see who can deliver the decisions the fastest, in turn making their networks the first to break the news to the world.
This year, the winner of the Running of the Interns was Lauren Langille, a 25-year-old CNBC intern and graduate student at the University of Missouri. Langille was the first to deliver the King v. Burwell decision, which upheld Affordable Care Act subsidies, as well as Obergefell v. Hodges, which ruled that the Constitution guarantees a right to same-sex marriage across the nation. We caught up with Langille (no pun intended) to find out what it's like to be a part of such an intense tradition and any advice she has for future interns.
How would you explain the Running of the Interns?
Lauren Langille: This is a unique event for interns who work at TV news outlets. The Supreme Court (SCOTUS) is very traditional in the way they deliver major rulings. Cameras or any type of recording devices are not allowed in the court, so the closest they can set up is the public sidewalk. Since opinions of the court are disseminated through paper hard copies, our only option is to have the decision delivered from the press room inside to the reporters waiting outside for their live hit. I am the only intern at CNBC in Washington, D.C., so the job was given to me.
You're competing alongside your fellow interns. What's the relationship like between all of you?
Langille: This whole process takes less than an hour. Other than that time we were together at the Court, I have never interacted with the interns from other news organizations before. We were more concerned about getting our job done for our news outlet!
What's your internship like? What do you do day-to-day?
Langille: I support the national correspondents, producers, and editors in any capacity required. This could mean assisting with an investigative reporting piece, writing for the website, attending hearings at the Capitol to send notes back to the bureau, and going out on shoots with reporters.
How do you handle a high-pressure internship?
Langille: Part of it is personality, and part is training and education. I work well under pressure and enjoy the challenge. Going through the journalism program at the University of Missouri was integral in being prepared to work here. At school, we staffed the local affiliate news outlets for our coursework, so I'm used to high demands with tight deadlines. The difference is in the type of story that you will cover in mid-Missouri versus the national and international events you cover here.
You said that in news, journalists pride themselves on being first. What do you do to make sure you're getting the news out as quickly as possible while also being fair and accurate?
Langille: Always be prepared. If you've done your homework, and you know what you're looking for, it makes the job a lot easier.
You're all delivering extremely important decisions to your respective networks. What's it like to be a part of history in that way?
Langille: It felt surreal to be a part of delivering the Supreme Court rulings to the world that carried such historical significance. It was humbling and it is a day I will never forget.
You were one of the interns to deliver the court decision that legalized gay marriage. What was that day like?
Langille: The most exciting part of running the court ruling that day was the energy of the people in the crowd.
What's the best piece of career advice you've ever received?
Langille: Be yourself. My most successful job interviews, work placements, and networking events happened when I was letting my personality shine.
What advice do you have for those applying to internships?
Langille: Network, network, network! Even if you're not looking for an internship right now, always position yourself to meet as many people as you can, and keep in touch with the contacts you make. People are willing to help you out, and it's rewarding when you can pay that forward and offer support to the next wave of interns or your peers.
What's the best part about being an intern in Washington, D.C.?
Langille: You are surrounded by incredibly intelligent and talented people. Not only is there the opportunity to learn from them, but people in this city are willing to help you out as you navigate the early stages of your career.
Any tips for interns who will be running decisions out in 2016?
Langille: Running fast is only part of it. Get to know how and when the rulings are given out and go out there with a relentless determination to be first. This isn't about you, it's about doing your job, and getting the decision to your reporter!
And then we have to know . . . what kind of running shoes did you wear for the occasion?
Langille: Fast ones.
This article originally appeared on Levo and is reprinted with permission.