Forever 21's latest marketing stunt brings new meaning to the phrase, "nice threads."
The fashion brand and Brooklyn-based digital agency Breakfast unveiled a massive screen designed to show off specially tagged Instagram shots. But it's not a digital screen–in fact, the "pixels" on this screen are made entirely out of 1.5 inch-wide thread (ribbon is probably a more apt term) that rotate around to create a fabric tableau.
F21 Thread Screen goes live July 22 and will run 24 hours a day for a week to support the brand's back-to-school "Tried and True" campaign (which is all about cherishing your best friend). BFFs around the world are encouraged to tag Instagram photos with #F21ThreadScreen to have their images displayed. The entire thing is being live-streamed, and each image on the screen will be cut into a short video, sent back to the hashtagger for them to share.
The massive screen is made up of 6,400 spools of thread that rotate around, conveyer-belt style, to make up the pictures from 36 different colors. In today's 4K or retina-display world, the screen's 80×80 resolution might seem simplistic, but the process to creating this giant machine, which was entirely built from scratch, is anything but, says Andrew Zolty, partner and chief creative officer, Breakfast.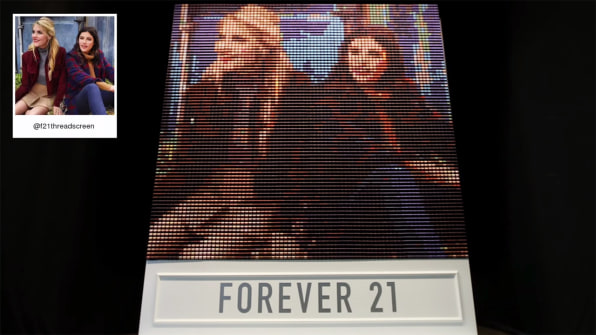 The brand and the agency started conversations about a year and a half ago, looking to do something innovative with technology and social media offline. "So the brief was quite open in that regard," he says.
"We had very good results in the past that gave our fans new and exciting ways to get involved with our brand including our holographic fashion show [in 2011] and 3-D looking glass projects [in 2012]," says Linda Change, VP of merchandising at Forever 21. "After those launched we were dormant for two years, so we wanted to come back with something innovative and unique."
The team at Breakfast, who developed the wireless photo printer Instaprint in 2012, wanted to create a machine that could be used by anyone in the world, Zolty says. "We felt like if we were going to build something, we didn't want only the people experiencing it to be the ones who saw it live."
"We knew we wanted to leverage Instagram [and] we knew we wanted to display images," he says. "Then we started talking about fabric, thread and this idea of fashion on the [production] line." All those ideas converged and the F21 Fabric Screen was born.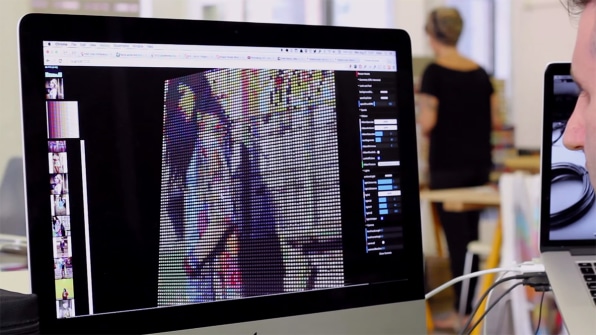 It was one of three ideas presented to the client, he says, and based on early R&D work, they were relatively confident they could actually create the massive screen proposed.
After getting the green light from Forever 21, Zolty says things started to move quickly, with the team beginning the process of designing the hundreds of new pieces required to make the screen functional. Each component in the 2,000-pound machine was specially designed, with more than 200,000 parts making up the whole.
The first big challenge presented itself when trying to determine what would make up the 36-color palette. Unlike a computer screen, the threads could only accommodate a small number of colors, meaning certain hues had to be left off the table, he says. Software had to be written to differentiate and best match the varying shades in a photo. "We have three shades of green, but no blue-green," he says. "So the software tries to figure out the best replacement for it. The image is very low resolution. But it works."
The second big challenge was that running the machine changed the temperature of the fabric, causing it to expand and contract as it heats up and cools down. The actual fabric itself was put through the ringer to ensure it had the strength to rotate constantly for a week straight, and another set of software and hardware (including infrared sensors) had to be designed to monitor whether the fabric was slipping out of place.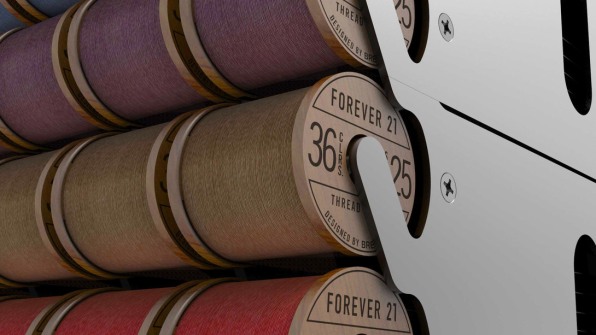 And when the circuit boards started catching fire, Zolty says the team was faced with its third big challenge. After measuring the voltage, he says they realized the spinning fabric rubbing against the wooden spools was causing nearly 20,000 volts of static electricity (for comparison, a Taser usually delivers a 1,200 volt shock), despite being well grounded–so they had to triple ground each spool to cut down on the electricity. "[Static] is something we anticipated, but not to the extent that it ended up presenting itself," he says.
The entire machine took about a year to create, he says, with five staffers, including a mechanical and design engineer and a software developer, working near full time.
And now that it's live, there's no word on what's going to happen to it after the week is up, Zolty says. The machine was created so that it could be transported from place to place, though Zolty says there's no official word yet on whether F21 Thread Screen will be moved around or even live beyond its first week.
"We are gauging the initial reaction from our fans," says Chang. "[The machine] being so complicated, and requiring a team of people to oversee if 24-hours a day, the current set up allows us to make sure it shines and performs at optimum capacity. After the first few days, we'll see what kind of response we get and decide the best approach from there."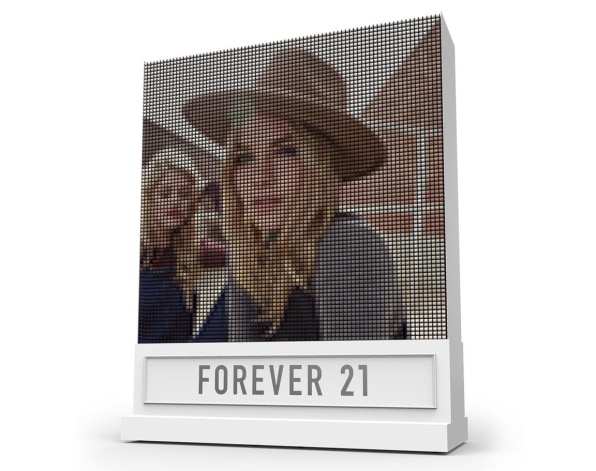 "Our goal is to drive social reach [for] this campaign," Chang adds. "The Thread Screen will naturally drive awareness, but it also shows Forever 21 as a leader in how social networks and technology can be used in completely new ways."