"The sneaker is the most baroque item of dress in a man's attire," says shoe expert Elizabeth Semmelhack, and she should know. Senior curator of Toronto's BATA Shoe Museum, she put together the Out of the Box: The Rise of Sneaker Culture picture book and traveling exhibition (through October 4 at the Brooklyn Museum) to celebrate the evolution of the athletic shoe from canvas high top to high-fashion status symbol that generates $55 billion a year in worldwide revenue.
The exhibit isn't the only showcase of sports shoes and the people who love them: a new documentary Sneakerheadz, which opened last week in New York and Los Angeles, explores a subculture of cool hunters who regard mint-condition sneakers as objects of collectible lust. Hard core devotees camp out on sidewalks for days to get first crack at prestige products like the Air Jordan Retro 11 Gamma, which triggered riots last year when it hit stores.
Semmelhack became fascinated with sneakers after spending 15 years studying high heeled shoes. She says, "High heels and sneakers are both ubiquitous, yet we don't often ask ourselves 'How is it that we have such emotional reactions to this kind of footwear?' I decided to apply my scholarly questions to sneakers and see if I could unravel their history."
Check out the gallery above to see how sports shoes have evolved. Read on to find out how a New England galoshes company, Depression-era thieves, two feuding German brothers, one Washington State track coach, a prodigiously talented basketball player and three rappers transformed the humble sneaker into a global menswear juggernaut.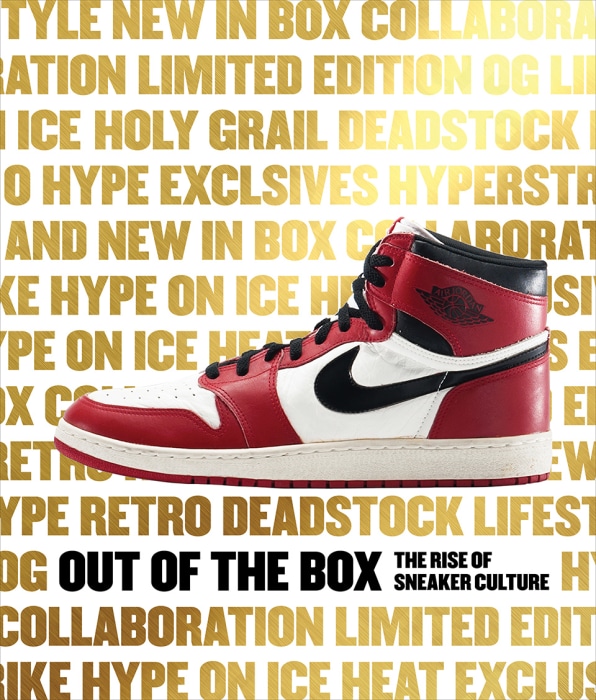 One key takeaway Semmelhack uncovered in her sneaker research: shoes come pre-loaded with an entire array of cultural values. "People find meaning in sneakers, so their choices are driven by brand identity," she says. "The original Chuck Taylor All-Stars shoe from Converse is associated with ideas of anti-fashion, alternative culture, authenticity and nostalgia, so those ideas are related to that brand." In contrast, she says, "The Air Jordan is very much about the next thing, the newest thing. So you see two different types of sneakers–Air Jordan versus the Converse–conveying completely different values in terms of what the wearer wants to express about themselves."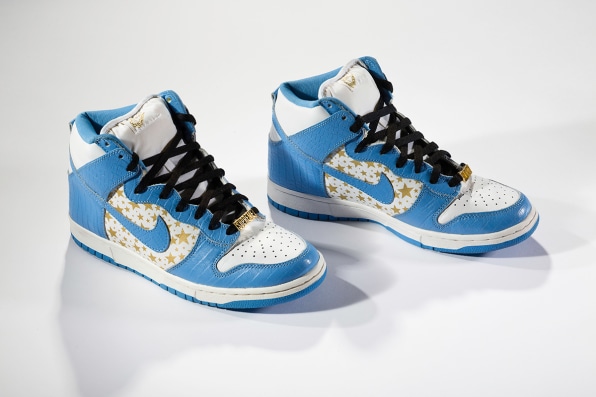 Sneaker companies pioneered the concept of celebrity endorsement and continue to capitalize on fame-based marketing. "Branding really took off during the post World War I era when shoe companies promote this idea of 'You need to wear this sneaker and not that sneaker.' As advertising starts to feed into Hollywood-driven ideas of celebrity, you see Converse using basketball player/coach Chuck Taylor to differentiate itself from competitors."
By mid-century, the shoe company itself emerges as a self-designated commodifier of cool. "When Adidas came out in 1950 with the three stripes on the side of their shoes, that became a central aspect of their design," Semmelhack says. "Then of course, Nike's swoosh become absolutely integral to the aesthetic of the shoes they created. It would seem very out of place if you had the Levi's logo taking up an entire leg of the jean, but Nike comes out with a swoosh that takes up the entire side of their shoe. Sneakers emerge at the forefront of this kind of visual marketing."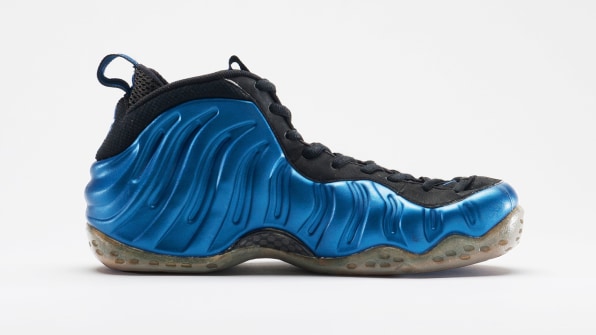 Sneakers in the 1980s accelerate a larger cultural shift toward casual dress championed by skateboarders, surfers and geeks. "You have the arrival of the tech genius who show ups at board meetings in playground attire and still commands respect," Semmlhack says. "This sartorial expression of high tech cowboy challenges the brogue shoes and herd mentality of masculine dress that had formerly been demanded in the work place."
But sneaker adulation hit a whole new level in the '80s and '90s after black athletes and musicians embraced the shoes. With basketball genius Michael Jordan and rappers like Run DMC leading the way, sneakers come to represent fresh concepts of achievement, according to Semmelhack. "When rap stars and high-achieving athletes wear sneakers, they set the tone for why certain sneakers are more desirable than others and find their way into the male wardrobe in a more meaningful way than some pair of generic kicks you wear to wash the car on Sunday. They also diversify the image of masculine success to the point where the white businessman-in-a-suit look starts to fall apart by the '90s."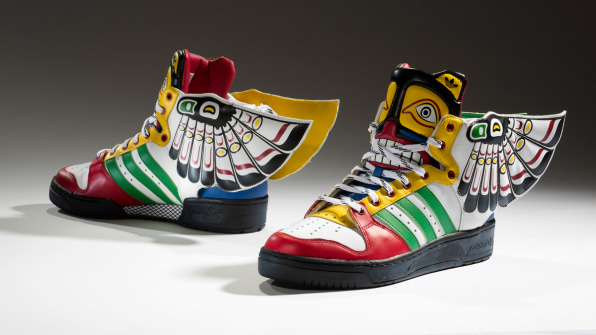 The role of sneaker as a high-status commodity originated in Victorian England, when members of the newly emergent middle class showed off their wealth and embraced the then-novel concept of "Leisure" by parading around the beach in costly rubber shoes designed to repel wet sand.
After cycling through a succession of materials and technologies geared toward enabling users to jump higher (Reebok Pumps) and run faster (Nike's Foamposite), 21st-century shoe design has now expanded to market style over athletic prowess. "Men take their biggest sartorial chances at the footwear level," Semmelhack says. "They wear larger shapes, embroidery and brilliant color they wouldn't feel comfortable with in other parts of their dress, so I think men's fashion is actually changing from the feet up. If you're wearing gold Christian Louboutin sneakers with spikes, you didn't buy them to play street ball. You're playing a different game. You're playing the game of fashion."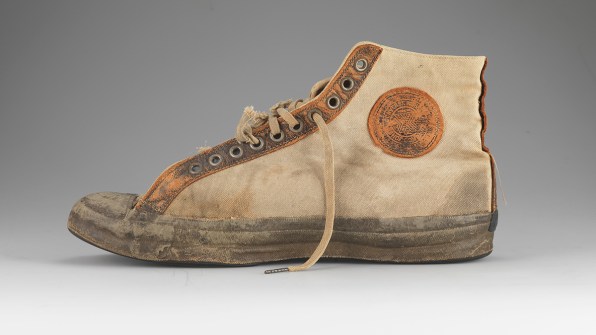 1921 Massachusetts-based Converse switches focus from galoshes and pioneers the celebrity endorsement concept by paying coach Chuck Taylor to promote his signature high top basketball shoe.
1935 The term "sneakers" goes viral among Depression-era Americans, inspired by reports that rubber-soled shoes allow purse-snatchers to sneak up on their victims without being heard.
1950 In competition with brother Rudi, founder of Puma, Adidas boss Adi Dassler brands his Samba shoe with the three-stripe logo that remains ubiquitous today.
1968 At the Mexico City Olympics, more than 80% of all competitors wear brightly colored leather Adidas, generating millions in free advertising for the German shoe company.
1974 Stanford MBA Phil Knight teams with his former track coach Bill Bowerman form Nike. They pay Portland State University student Carolyn Davidson $35 to design it's now world-famous "swoosh" logo.
1982 Vans founder Paul Van Dorn notices that his son's classmates are suddenly drawing checks on their shoes to imitate Sean Penn's surfer dude in Fast Times at Ridgemont High. The California company follows suit and manufactures an official version that quickly becomes a best-selling classic.
1984 Michael Jordan defies NBA authorities by wearing the original black and red Air Jordans on court. Fined with each appearance because his shoes fails to meet the league's "color uniformity" standard, Jordan's rebellious stance and sensational basketball skills revolutionize shoe marketing. The following year, Nike sells $100 million worth of Air Jordans
1995 Rap trio Run DMC records "My Adidas" and secures $100 million from the company to officially endorse Superstar shoes. The musicians wear their sneakers without laces in the style of imprisoned gang members who are deprived of string so they won't harm themselves or others.
2009 Kanye West collaborates with Louis Vuitton to create the "Don," paving the way for designers like Christian Louboutin and Jeremy Scott to channel high-fashion concepts through the humble shoe shape.
2015 Traveling show Sneaker Pimps passes the 500,000 attendance mark by showcasing collectible sports shoes for self-described "Sneakerheads."