It's a weird phenomenon of temporal perception that July 4th feels like the mid-point of the year, but then less than a month later August 1st portends Christmas kicking in the door already. If this year is going by so quickly, wow, maybe tech-advancements will usher along future years even faster until its all just a kaleidoscopic blur hosted by Andy Cohen. In between thoughts of our collective, rapidly encroaching mortality, however, August also brings with it a solid roster of movies, music, TV, and more to help stimulate our brains out of early on-set senility. Read on for 73 surefire suggestions to occupy you during this last gasp of summer/youth.
Grandma, August 21st. I wish I had some kind of kinship with Lily Tomlin, but instead I will have to live vicariously through the young woman who forms a bond with her grandma, played by Tomlin, in this dramedy.
She's Funny That Way, August 14th. Peter Bogdanovich's latest brings together Owen WIlson and Kathryn Hahn and other likables as a group struggling through a troubled Broadway production.
People Places Things, August 14th. Jemaine Clement bounces from this spring's hilarious vampire mockumentary What We Do In The Shadows to this more realistic take on a life unraveled.
7 Chinese Brothers, August 28th. Keeping up his indie VOD streak of late, Jason Schwartzman stars in this character study about a ne'erdowell drunkard mixing things up in his new job at the Quick-Lube.
Jay Pharoah – Can I Be Me?, August 1st on Showtime. The SNL impersonation ambassador also has jokes and now he has a venue in which to tell them.
I Am Chris Farley, August 10th on Spike. This doc reveals the side of Farley that wasn't often on view in the life actor's life–a side beyond his self-described "fatty falls down" shtick in films.
Demetri Martin – Live (At the Time), August 14th on Netflix. The most succinct wordsmith in comedy today returns with his first Netflix special. Will he have a guitar in tow too? Time will tell.
Tig Notaro – Boyish Girl Interrupted, August 22nd on HBO. This is Tig Notaro's year. Either get on board, or wait until 2016.
The Unauthorized Full House Story, August 22nd on Lifetime. You think you want to hate-watch this, but you just want to watch it. Give in. You'll feel better.

HEALTH – Death Magic, out on August 7th. The latest from the noise-pop band leans heavier than ever on the pop.
Mac DeMarco – Another One, out on August 7th. The prolific one-man indie band offers his latest 2015 release–and also his phone number.
Blackalicious – Imani, Vol. 1, out on August 7th. Perhaps gassed by a Daniel Radcliffe karaoke job gone viral earlier this year, the West Coast rap duo return with their first album this decade.
Grace Potter – Midnight, out on August 21st. The roots-rocker ditches her back-up band, The Nocturnals, for the first time yet.
Angel Deradoorian – The Expanding Flower Planet, out on August 21st. The Brooklyn chanteuse from Dirty Projectors strikes out on her own, Grace Potter-style.
Carly Rae Jepsen – E·MO·TION, out on August 21st. Will this be the moment audiences accept Jepsen as more than just the "Call Me Maybe" lady? Anything is possible.   
Method Man – The Meth Lab, out on August 21st. The Wu-Tang swordsman hasn't had a hit in a while, though he did recently show up in Amy Schumer's Trainwreck. Perhaps that small role reinvigorated the rapping vet.         
The Sword – High Country, out on August 28th. The latest from the Texas metal lords will melt off your face.
Beach House – Depression Cherry, out on August 28th. Reportedly, this fifth album will feature a scaling back of the expansive sound this fundamentally languid band landed on when their last two albums catapulted them to larger venues.
Destroyer – Poison Season, out on August 28th. The Canadian power-poppers offer up a new set of tunes for fans of New Pornographers and beyond.        
Foals – What Went Down, out on August 28th. The English indie rockers have more pep in their step now, if their first single is any indication. 
Yo La Tengo – Stuff Like That There, out on August 28th. The long-running pride of Hoboken, these comedy-affiliated rockers got Jason Woliner to direct their latest video, a cover of "Friday I'm In Love."         
Young Thug – Hy!£UN35, out on August 28th. The autotuned rap-crooner has had trouble with the law this year, and he will also have trouble following up this spring's well-received mixtape Barter 6.    
Playing House, season 2 premieres August 4th on USA. Every now and then, the right freshman show gets renewed and when it does, we must celebrate by watching and ensuring it's future. This show, about real-life best friends Lennon Parham and Jessica St. Clair co-momming is no exception.
The Carmichael Show, premieres August 26th on NBC. This vehicle for hot young comic Jerrod Carmichael is kind of a throwback to the culturally aware shows of Norman Lear, and it is very funny.
Difficult People, premieres August 5th on Hulu. Let's see if Amy Poehler's blessing of this show, created by and starring Billy Eichner and Julie Klausner as the titular twosome, will prove as prescient as it did with Broad City.
Mr. Robinson, premieres August 5th on NBC. This classroom-set sitcom finds Craig Robinson, of The Office and also the Judd Apatow crew, serving as a substitute teacher.
The Daily Show with Jon Stewart airs its final episode August 6th.
Funny Or Die Presents America's Next Weatherman, premieres August 8 on TBS. The first four words in this show's title are a crucial indicator that this series is just as much a satire of occupational reality shows as it is the real deal.
Show Me a Hero premieres August 16th on HBO. David Simon, of The Wire and Treme, returns to HBO with a miniseries that will likely benefit from the meticulous realism its creator is known for, once again on the subject of class war.
Documentary Now! premieres August 20th on IFC. Coming from the can't-miss trio of SNL alums, Fred Armisen, Bill Hader, and Seth Meyers, this mockumentary series makes documentaries themselves a target, rather than their subjects.
Blunt Talk, premieres August 22th on Starz.
Public Morals, premieres August 25th on TNT.
Narcos, premieres August 28 on Netflix. This new streaming series about Pablo Escobar comes from the man who brought you, sigh, 2014's Robocop remake.
2015 MTV Video Music Awards, premieres August 30th on MTV. Considering all the drama that went down between Taylor Swift and Nicki Minaj on the day of the nominations, there will likely be some real fireworks (that were not at all manufactured in a social media incubation lab) on the night of the show!
Awkward, season premieres August 31st on MTV. MTV's series that truly gets how high school works today returns for its fifth season.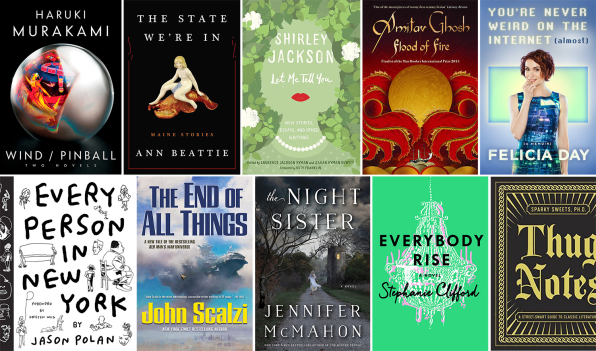 Haruki Murakami – Wind/Pinball: Two Novels, out on August 4th. The prolific Japanese author offers two short novels for the price of one. In this economy, that's nothing to shake a stick at. If you can afford a stick.
Amitav Ghosh – Flood of Fire: A Novel, out on August 4th. The Bengali author's first novel since 2011's River of Smoke is the final volume of the Ibis trilogy.
Jennifer McMahon – The Night Sister, out on August 4th. A page-turning thriller about two sisters with a lot of secrets.
Shirley Jackson – Let Me Tell You, out on August 11th. A posthumous collection of odds and ends from the author of the historic short story, "The Lottery."
Felicia Day – You're Never Weird On The Internet (Almost), out on August 11th. She already conquered the Internet and all of geekdom, now the proprietor of Geek & Sundry is out to beat the bookstore as well with this memoir.
John Scalzi – The End of All Things, out on August 11th. The latest sci-fi offering from the author with the insanely huge deal.
Ann Beattie – The State We're In, out on August 18th. A collection of fiction set in Maine from the short story master.
Stephanie Clifford – Everybody Rise, out on August 18th. A New York-set tale of social climbing by a reporter for The New York Times.
Jason Polan – Every Person In New York, out on August 18th. Follow the metropolitan-focused illustrator on his mission to draw every single person in New York City.
Thug Notes, out on August 25th. The web series featuring literary critiques from a gangster returns to its literary roots, as though fulfilling some sort of prophecy.
Philippa Gregory – The Taming of the Queen, out on August 25th. The author's last novel about the Tudors focuses on King Henry VIII's sixth wife Kateryn Parr.
Sneak Some Zucchini onto Your Neighbor's Porch Day, August 8th. Well, what are you waiting for? Be a good neighbor and make with the zucchini.

Be An Angel Day, August 22nd. Either get anatomically accurate and get the wing surgery, or just call your grandma. Be an angel and go figure it out for me, please.

Women's Equality Day, August 26th. Too bad there's a day for this and not, like, legislation for across-the-board equal pay.
---
[Photo Mash Up: Joel Arbaje for Fast Company; Documentary Now!: Tyler Golden, Peter Kramer, courtesy of IFC/AMC Networks; Jon Stewart: Martin Crook, courtesy of Comedy Central; Playing House: Andrew Eccles, courtesy of USA Network; The Carmichael Show: Matthias Clamer, courtesy of NBC; Mr. Robinson: courtesy of NBCUniversal; Difficult People: Heidi Gutman, courtesy of NBCUniversal; Show Me A Hero: Paul Schiraldi, courtesy of HBO; The Diary of a Teenage Girl, & Grandma: courtesy of Sony Pictures Classics; People Places Things: D Matthias; Ryan Muir; courtesy of Beachside Films/Sundance Film Int.; Cop Car: courtesy of Focus/Sundance Int.; American Ultra: Alan Markfield, courtesy of Lionsgate; Dark Places: Doane Gregory, courtesy of A24 Films; Fantastic Four: courtesy of 20th Century Fox; Ricki and the Flash: Bob Vergara, courtesy of Sony Pictures; Masterminds: courtesy of Relativity Media; Man from U.N.C.L.E: Daniel Smith, courtesy of Warner Bros.; Straight Outta Compton: Jaimie Trueblood, courtesy of Universal Pictures; The Gift: Matt Kennedy, courtesy of STX Productions; We Are Your Friends: Anne Marie Fox, courtesy of Warner Bros.; Z for Zachariah: courtesy of Roadside Attractions; Tig Notaro: Boyish Girl Interrupted: courtesy of HBO; She's Funny That Way: courtesy of Lionsgate; I Am Chris Farley: courtesy of SPIKE TV; Jay Pharoah's Can I Be Me? Special: Seth Olenick, courtesy of Showtime; The Unauthorized Full House Story: courtesy of Lifetime/A+E Network; Carly Rae Jepsen: Emotion, 2015 Cover Art, Interscope Records]