For the past six years Grovemade has built its brand making handcrafted wooden accessories for Apple products–like this walnut keyboard tray or these maple iPhone cases. For its latest product, the Portland-based company wanted to shift away from smartphones. Grovemade paired with watchmaker Stephan Andren to design the Grovemade Wood Watch, an earthy spin on the traditional dial watch.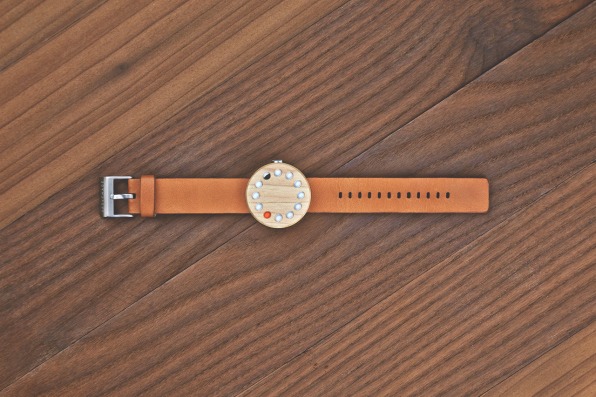 The watch's face is made from premium wood–it comes in either maple or walnut–and features 12 circular cutouts through which you can see two colored clock hands. As the circular hands pass through the windows, they form lovely eclipse-like shapes to show the time. The effect is like watching the sun rise and set as the minute hand travels around watch frame–a clever way to show the passing time. A stainless steel backing and vegetable-tanned leather straps finish off the modern look.
An elegant, no-frills alternative to popular wearables like Fitbit and Apple Watch, Grovemade's wooden watch is meant to encourage people to look into their screens a little less (the designers point out the irony of that motive, given the rest of Grovemade's inventory, in their video). At a time when smart watches threaten to turn our wrists into miniature computers, the Grovemade watch proves that some of the cleverest interaction design is also the simplest.
The Grovemade Wooden Watch ($239) is available on the Grovemade website.