It's been called the "electronic sweatshop" and its employees "digital slaves." It's the call center, and if you've ever been on the other end of a (scripted) call from a telesalesperson or a customer service associate, you've glimpsed how soul-sucking such rote work can be.
On their end: hours of sitting shoulder-to-shoulder in a cubicle farm, chatting with customers who range from clueless to chafed to irate, all for a paycheck that barely peeps over minimum wage (if they're fortunate enough not to have their pay based on commission). Pile on the presence of pushy supervisors and the lack of upward mobility, and it's no wonder turnover at call centers is about 33% and can go as high as 70% at those with staff exceeding 1,000 agents.
It's workplaces such as this that present the ultimate challenge for companies like Tenacity.
Tenacity is a spin-out from Alex Pentland's Human Dynamics Group at MIT and a Techstars startup. It's a cloud-based platform that works to improve employee engagement in call centers and other high-turnover industries. It does this by blending "social physics" (think: analyzing big data to understand human behavior) with medical science and machine learning to engage employees.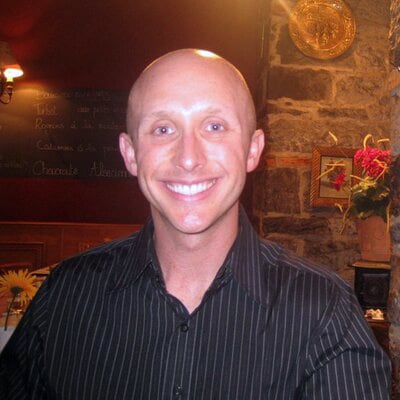 Motivated employees are big business. Engage them and watch the profits roll in. New research from Deloitte Digital and MIT Sloan Management Review found that the highest level of growth (between 10% and 15%) occurred at companies whose staff were highly engaged. Ignore them, and it won't be long before absentee rates start to tick up and productivity plummets.
At call centers, management is spread thin and managers are hard-pressed to provide the kind of support required to engage employees through mentoring and team building, according to Tenacity CEO Ron Davis. But he says technology can make the task easier by creating new ways to facilitate collaboration, resilience, and form habits that keep them from burning out.
To test-drive their engagement strategies, Tenacity did a pilot program at one call center that is part of a $30 billion telecom company. In three months, Tenacity reduced turnover by two-thirds, from 6.6% to 2.2%. Davis says they accomplished this by addressing two key factors: behavioral and social.
The behavioral piece includes modules such as an app for guided breathing exercises for the employees to use independently, and encouraging moderate physical activity. Davis says these are more effective at changing behavior than traditional incentives and social games.
We've covered how other companies use gamification strategies to boost engagement, most notably Bunchball, which also tackled the tricky business of call centers using a leaderboard as well as badges and reward points to encourage social interaction and collaboration. In brief: Gamification works because it plays on both intrinsic (I want to be in charge and make progress toward goals that will make a difference and get recognized by my peers) and extrinsic (completing a task in a prescribed way) motivators.
It's not that gamification can't improve retention, but Davis believes Tenacity takes it one step further because call centers are already de-facto gamified. "Everyone has five to 20 key performance indicators, and they are judged entirely based on these," Davis explains. "They are all public, and there are competitions, bonuses, promotions, and firings based on them." Davis contends that adding quests and badges doesn't do much in this environment "unless you are walking into a call center that is 20 years behind in terms of workforce optimization and performance tracking."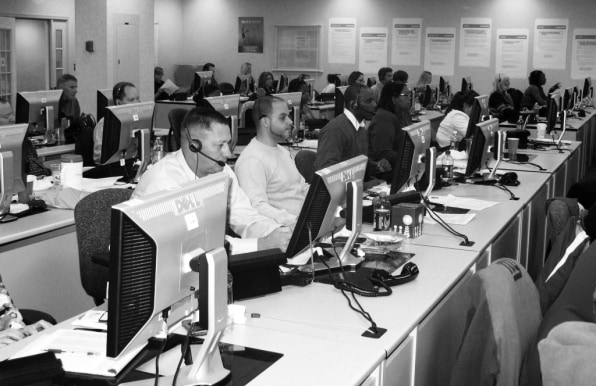 With the Tenacity pilot, Davis is already seeing evidence of behavioral change. "Interestingly, beside the big initial increase (from zero, of course) by the end of the first month, we then saw breathing exercises per capita double again by the end of the fifth month. Not only sustained behavior change, but increasing behavior change," he says.
On the social front, call center denizens are also at a disadvantage because they are often tethered to their headset. The Tenacity pilot offered individual and team-based challenges to combat the solitary work mode by strengthening existing relationships and creating new ones, says Davis. This not only builds resilience, but the presence of work BFFs has been shown to improve engagement and productivity.
Davis says that eventually, the data gathered from these interactions create a social network map and can be "tuned" to address problems and even optimize the best time for individuals to take breaks. Though Davis can't reveal anything more about the analytics or the social tuning–"Both get a little bit more into our secret sauce," he says–the larger point is that most call centers already know how to push people harder, faster, further. "This tends to make the work feel rote, it stresses people out, and it's socially isolating," he says.
Tenacity's intervention is all about tapping into human motivation, but then using that motivation to increase self-care and care of others, and to build social capital and meaning in work–not to get people to try to get their average handle times down by five seconds, says Davis. "It turns out that by focusing on the people rather than the work product, we are addressing the neglected part," he adds. "The great thing for our business is that this also produces spectacular results in terms of work product and retention."
Correction: A previous version of the story did not include Deloitte Digital when citing the joint survey conducted with MIT Sloan Management Review.