Ashley Longshore is a self-taught artist who didn't start painting until she was in college studying English literature. But from the very beginning it was more than a hobby or a pure creative outlet. Inspired by commercial artists like Peter Max, who became millionaires doing what they loved, Longshore saw herself as an entrepreneur from day one.
"When I started painting, I built a portfolio and I said, 'You know, this is a numbers game, I'm going to take this to 10 different galleries, one of them is bound to say yes.' I took them to 10 galleries and the woman said, 'Absolutely, I'll have a one-woman show for you.' We had a show. I sold a bunch of art. And I said, 'My God, this is what I want to do with my career.'"
Based in New Orleans, Longshore is now 23 years into a full-time career as an artist, succeeding largely in recent years by cutting out the middleman and using her fans and social media to promote her work directly to buyers. And this year, she has supercharged her business model with Artgasm, a subscription program in which members get four exclusive pieces per year for a single $500 annual payment or monthly installments of $50. There are only 250 Artgasm memberships available each year, but that means an automatic $125,000 or more in guaranteed revenue.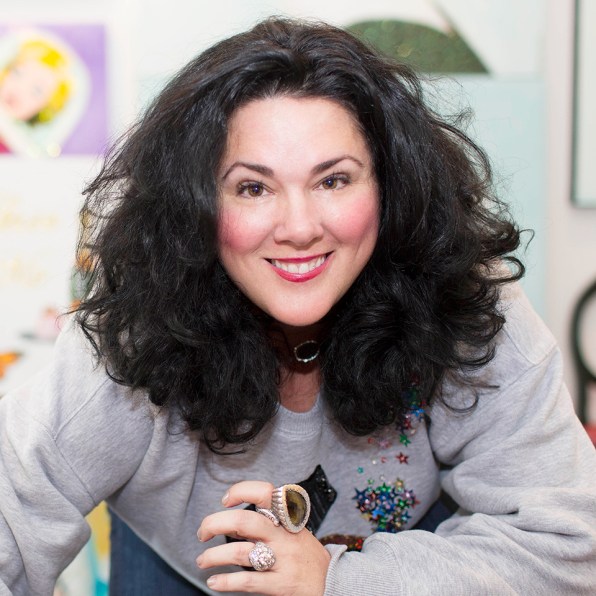 "As my career has gotten bigger and I've had more high profile clients, and I've sort of expanded to showing my art work all over the world, I realized through social media that there was a great demand for Ashley Longshore, Ashley Longshore something," she says. "I've always fought against making T-shirts, making fucking coffee cups. I thought, 'There's got to be a cool way that I can do something so that I'm appeasing these people that are wanting some Ashley, that maybe don't have the expendable income. Or maybe that I already have collectors that do have the income, but they want more."
The specific idea for Artgasm came from George Howard, a Longshore collector-turned-friend who was also a music industry veteran and, among other things, one of the founders of the digital distribution platform TuneCore that helps musicians get their work directly to retailers like iTunes without a label.
"It has always been this idea where I've been trying very hard to disintermediate between creative people and their fans," says Howard. "It worked out really well and what was so interesting about that process was seeing what artists could do, once they were given access and given tools. There's this impression that artists aren't able to be business people, and I think that's misguided."
"There are musicians who have sold millions of records and don't have two nickels to rub together," says Longshore. With artists, a lot of times it's the same way. They're working the galleries and the galleries are taking 50%; they don't know who their customers are. My whole business model has been, fuck the galleries, keep 100% of our profit margin, utilize all the connections I have with my highbrow collectors and really use technology and social media."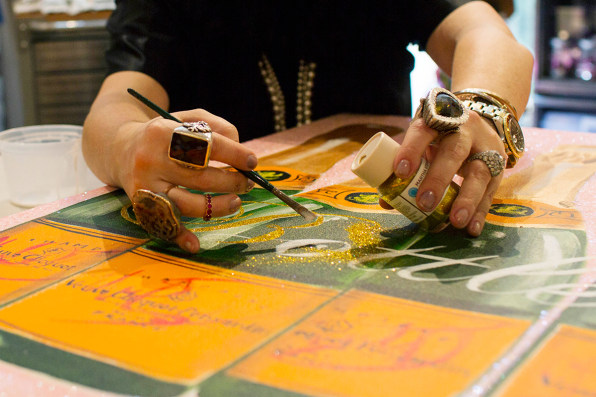 With Artgasm, collectors are getting regular, limited edition pieces for a reduced price, and Longshore is "earning money while she sleeps," says Howard. "I'm a big believer that artists have to connect directly with fans, but then also you have to put a mechanism in place where the fans feel like they are supporting the artist. So, you take the transactional element of a song or a painting or whatever, and you don't necessarily make that go away, but really what the member is supporting is the ongoing efforts of the artist."
The first products sent earlier this year were hand-signed palettes from Longshore's daily work.
"As I'm painting, I have a palette by me and I'm mixing colors and I correspond that with my signature," says Longshore. "I hand sign it and I put the name of the painting on the back and that becomes the first gift. I think about, 'My God, what if Picasso had done that?' It can't be for an infinite amount of people, because there's no way to mass produce something like this, but to create something special like this, that accrues in value, that only these specific people can get, this is exciting."
In addition to the palette, Artgasm members have received a handpainted cushion and a platter, with a fourth unknown item to come later this year. Longshore says the requirement to create so many pieces is less of a work overload than a structure for productivity.
"What I love is it's a challenge for me to become more prolific, the more successful I become, for me to be able to increase my production and quality in everything that I'm doing," says Longshore. "In doing these things, it just increases efficiency of my time management and makes me more disciplined. It's sort of like an artist's boot camp keeping me in check, keeping me organized."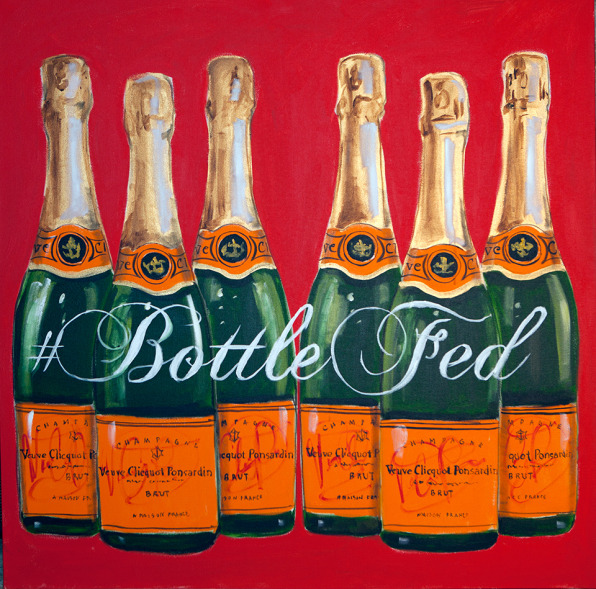 As for whether Artgasm could become the TuneCore of visual art, Longshore and Howard say they'd rather set a model for other artists to follow than open up a specific platform for others to join.
"With Artgasm, it's a way to show, rather than tell," says Howard. "I hope other artists steal this model. We're actually talking about writing a book that will outline how and why we did this and with the steps, and we'll do it in Ashley's inimitable fashion. It will be hysterical."
Longshore feels that creating a platform for artists would undercut her mission to help artists keep 100% of their earnings. "If we did this, and all of a sudden we're managing other artists and we're like, 'Okay, what are our percentages?' and all this and that. That sort of defeats the purpose of artists standing on their own two feet and becoming wealthy from their talent," she says.
"You have to be careful with that type of thing, or it will just become the new boss is the same as the old boss," adds Howard. "We become a different form of 'label.'"
For Longshore, the subscription model is perfect for earning money while forming closer relationships with collectors. "I think Artgasm members get very special treatment all the way around," she says. "I have Artgasm members that come to New Orleans and if they want to stop by the studio and come in for a minute and I'm bedazzling, hell, I'll let them bedazzle for a minute. People in Artgasm, they're not just my friends, they are the people that are putting the wind in my sails."