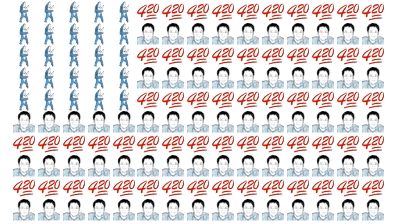 "The Farhaded States of America,"
Andrew Simone
, 2015
"The difference between the consumeR and the consumeD," says Tim Cook to a fearful crowd, "is merely R&D." Pause. "Unleash Project Icarus."

— Paul Ford (@ftrain) July 10, 2015

Ariana "yes I know it doesn't literally mean 'spider'" Grande apologized again, sort of, for licking a donut. It's the most excruciating thing ever posted on YouTube; the aliens will use it as an excuse to eradicate us and will be right to have done so. A black conservative group defended Bill Cosby, seizing a golden opportunity to be just as awful as white conservatives. ArnoldC is "A programming language based on the one-liners of Arnold Schwarzenegger. Hallie Bateman and Josephine Livingstone suggest better insecurities. And finally, the weekend's best tweetstorm: "We just need to be dudes together: A ukulele story."
Today in Fleeing for High Ground: "The Really Big One," Kathryn Schulz's tale of the impending devastation of the Pacific Northwest in The New Yorker, really is as good a read as everyone says.
Today's Song: Rihanna, "Bitch Better Have My Money (Korn Remix)"
~Accidents of history sometimes place otherwise unknown people in historic tabs.~
Today in Tabs is happy to report that nothing has happened so far today, as far as I know, so I'm sure tomorrow's Tabs will just be really great pieces of writing about enlightening and interesting *looks at Twitter* oh. Never mind. Anyway find us on Fast Company or in your email, and until then don't @ me.