Nobody raves about their mobile carrier. Here in the United States, we merely tolerate the companies whose profit margins we help fatten every month in exchange for the luxury of staying constantly connected. And that's the best case scenario. But what if we could actually feel good about paying our cell phone bills? Sounds crazy, I know. But Wikipedia founder Jimmy Wales doesn't think it's so far-fetched.
Today, U.S. mobile subscribers are getting one more option: The People's Operator, a socially conscious mobile provider based in the U.K. is launching its service stateside with the help of Wales, who now also serves as co-chair of TPO's board. The company donates 10% of its subscribers' monthly bills to a cause of their choice, while itself forking over 25% of its profits to charity as well.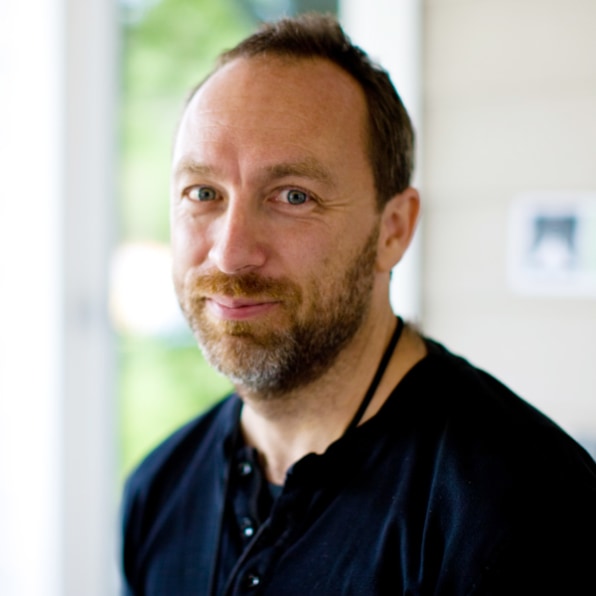 "We like the idea of having a more emotive proposition," says Wales of the company's unusual business model. "Something that you feel is a meaningful thing that you're doing. We're replacing massive marketing spend with massive spend on causes. I think that feels good to people."
At launch, TPO is partnering with some big-name causes like Save The Children, The World Wildlife Foundation and Wounded Warriors Project. But the charity options aren't limited to a short list of pre-selected causes: Subscribers can donate 10% of their bill to any valid 5013c organization, enabling what Wales refers to as the "long tail" of charitable causes, right down to the local high-school marching band.
"Every kid in the band has a phone and the parents have phones and the aunties and the uncles and the grandparents and everybody," says Wales. "You just do the math: 10% of everybody's phone bill. That's a pretty substantial fundraiser for them."
TPO is offering seven tiers of plans, starting at $9 per month for 250 minutes, 250 texts and no data, scaling all the way up to unlimited talk and text with 11 GB of data for $89. Of course, anyone considering a switch to a new carrier will want to know what sort of coverage to expect. As a mobile virtual network operator (MVNO), TPO piggybacks off of the infrastructure of another provider. In the U.S., it is partnering with Sprint, so its network speeds and coverage area will be identical to that of any Sprint customer. In addition to being able to set their own prices, MVNOs are free to use their own customer service apparatus, which is something TPO has invested in with the hopes of further differentiating themselves from the usual players.
Alongside the U.S. debut of its mobile service, the company is launching TPO.com, a social network that lets users donate freely to causes, in addition to their monthly 10% donation. TPO.com serves two strategic purposes: It gives TPO another potential channel through which to market itself (thanks in part to integrations with existing social networks like Facebook and Twitter) and it gives charitable organizations a self-service platform through which they can collect donations with minimal hurdles and costs.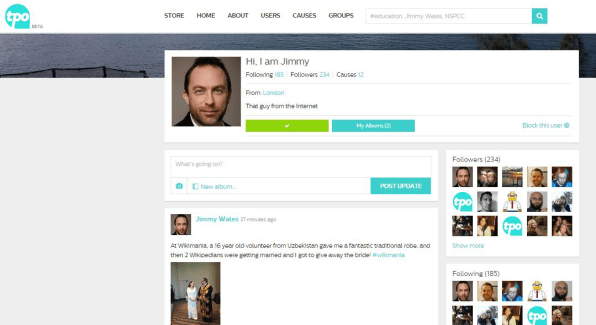 "With the previous generation of giving platforms, the cut they take is really high," says Mark Epstein, CEO of TPO. "We're going to literally only cover the bank fees. Far more of the money is going to be going to the cause. We're not going to be taking anything."
You might be thinking: Another social network? In 2015? Not even Google could make that work. While Wales describes TPO.com as a "general interest social network" with many of the common social media paradigms like sharing statuses and photos, the company's goal is clearly not to try and unseat Facebook or even take on Google+. For them, it's about using these social conventions to increase the odds that people will see the TPO brand flash across their screens and maybe even nab their fractured attention spans from Instagram or Snapchat for a few minutes. With a minuscule marketing budget compared to the Verizons of the world, TPO is banking on word-of-mouth and the viral potential afforded by the social web.
"Forty years ago, if you loved something, you might tell five people," says Wales. "Now the average person has 317 Facebook friends. So you can tell lots of people. And if you want to raise money for your favorite charity on our platform, you've got all the tools you need to go out and do that."
By plugging social media directly into the fundraising process, TPO could also help clarify the age-old social ROI question: Every modern organization is compelled to spend some amount of time toiling away on the latest social networks, but not always with a clear idea of how it will pay off. "One of the things we hear often is 'We have 300,000 followers but we have no idea how to monetize it'," explains Wales. With enough traction, TPO.com could help change that.
If launching a social network is a challenging endeavor, it's not as though starting up a new mobile carrier is any easier. Wales, Epstein, and the rest of the TPO team certainly have their work cut out for them, but they're hopeful that a combination of social good, viral marketing, and cheap prices (the Internet star power of Wales doesn't hurt, either) will help propel the already fast-growing company. With over 30,000 customers in the UK, TPO doesn't look huge, but that number is twice what it was five months earlier. So far, Wales say, they've seen relatively low customer churn in the U.K. That's not a bad sign as they launch in a second, much bigger market.
As far as what markets they're eyeing next, Wales and Epstein won't say. But the international scope of TPO.com could help them make data-backed decisions about where to start talking to carriers about potential partnerships. For now, they're focused squarely on the U.S. launch and hoping everything goes smoothly.
"It's like the birth of a child in a way," says Wales. "It's an exciting and scary day."