How can cities truly embrace technology to improve their operations and provide better public services? Despite no shortage of focus on this question, cities–with their entrenched ways of doing things and cautious approach–have struggled on this issue.
A new report called the Citie Framework attempts to provide answers. It advocates a link between local communities of tech companies and innovative governance–a kind of "feedback loop," if you will. "While city authorities can't create tech communities or entrepreneurs, what they can do is optimize the policy levers that are within their control to design the best set of conditions for innovation to flourish," it says.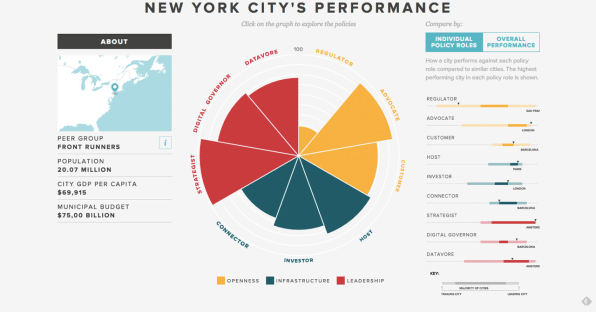 Citie is a new collaboration between professional services firm Accenture, Nesta, a U.K. innovation agency, and Catapult, which runs a series of government-backed innovation centers in Britain. The initiative looks at ways cities can support innovation and entrepreneurship while at the same time helping cities themselves to be more tech-savvy.
The report looks at 40 cities, assessing whether they are open to new ideas, whether they provide an "infrastructure" for high growth businesses, and whether cities are exploring innovation in their own operations. You can see the results visualized and analyzed in the Citie "diagnostic tool." Click on a country to see its performance, and compare that to cities with the same GDP, region, population, and so on.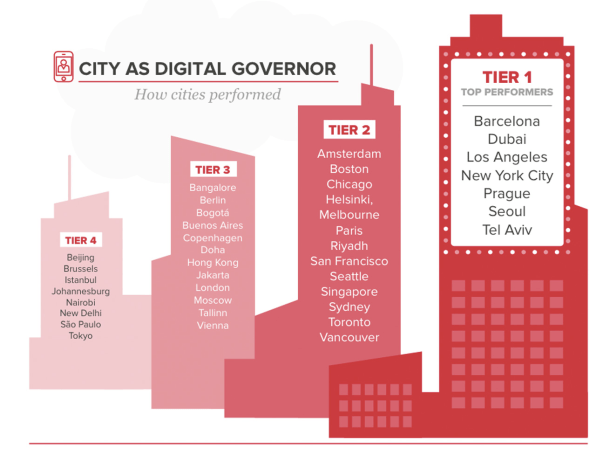 Accenture, Nesta, and Catapult see nine ways cities can spur the type of tech development that might be beneficial for cities, including cities as "connectors," "investors," "hosts," "customers," and "regulators." Currently, the report rates five cities highest (in order): New York City, London, Helsinki, Barcelona, and Amsterdam. They score best across the nine metrics.
"There are certain things that high-performing city governments share," the report concludes. "Most importantly, they recognize that new ideas and technologies create a big opportunity to do things differently and make better places to live."
Check out Citie here. It's a useful set of tools based on what would appear to be a solid thesis.