Things have gotten strange lately for Michael Buscemi. Michael's older brother, Steve Buscemi, is a very famous actor/ Michael is an actor, too—an accomplished one—albeit less famous. In this, he has company (ask Donnie Wahlberg or Daniel Baldwin), and besides, there are benefits to being the less-famous brother, not being hounded by paparazzi chief among them. But sometimes as siblings mature, their similarities shine through, and Michael recently has been increasingly mistaken on the street for Steve.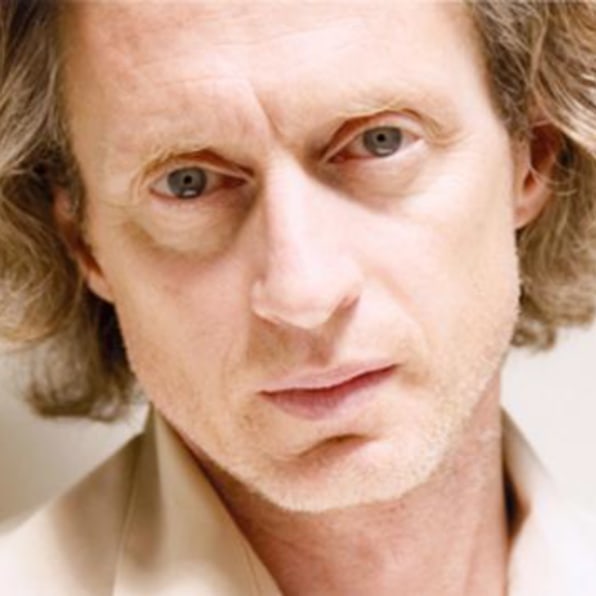 "I know we look alike, but I don't think I look that much like him," he says. Yet on a recent trip to L.A., people started approaching him so much that he became frustrated. "I called Steven and said, if you read in the Enquirer that you're blowing people off, it's me . . . I wish I would get a residual check, at least, every time I was mistaken for him."
I ask Michael if he has advice for siblings who choose to walk in the footsteps of siblings, but Michael corrects me: They both entered acting more or less around the same time, finding their groove in the East Village scene of the 90s. "I caught the tail end of the Wild West of the East Village," says Michael. In those early years, Michael booked solid, recurring gigs—but as it happened, Steve's career took off in ways most actors can only dream of.
Michael loves his brother and indeed, works with him frequently, most recently on AOL's Park Bench with Steve Buscemi, an informal short-form talk show filmed in New York's public spaces (a running gag is that Michael has a competing talk show, Bench Talk). And though it can be exhausting if a stranger remarks how similar he looks to Steve Buscemi, and then launches into a litany of how much they love Steve Buscemi's work, Michael says his opportunities to work with his brother have been his favorite moments of his career.
One of their first projects together was the 1996 indie Trees Lounge, written and directed by Steve, with now well-known names like Chloe Sevigny and Michael Imperioli filling out the cast. The film features a trifecta of less-famous actor siblings, as well: Daniel Baldwin, Elizabeth Bracco, and Michael all deliver strong performances.
Michael enjoys working with Steve to the extent that he'll consider roles he might not play otherwise. In 2007's Interview, directed by Steve, Michael played the wordless role of a psychiatric patient. "At first I thought, I'm gonna be nothing but a prop? But then I thought about it and said, 'I'm getting a chance to act with my brother, so I know there's gonna be some feeling there, even without words.' If anyone else had asked me, I wouldn't have done it. But with him, I didn't feel like a prop. I felt like an actor."
There have been times where Michael has been put in the position of auditioning for his brother. Some years back, Michael went out for the part of "God," a patient off his psych meds, for an episode of Nurse Jackie that Steve was directing. When Michael walked into the audition room, he was surprised to see his brother there, too, alongside the casting crew.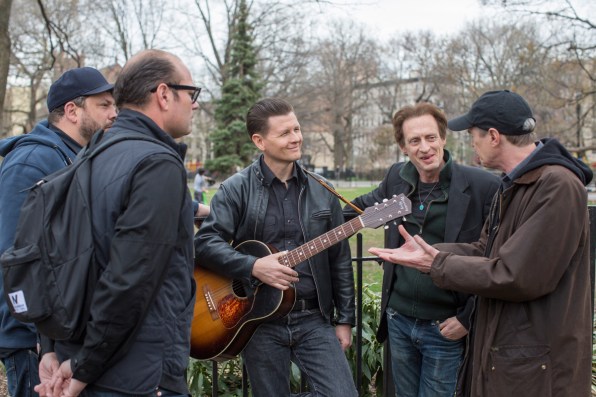 "It felt weird, so to lighten the moment, I said, 'Steven, you gotta call Mom.'" He got the part, and the role of God became a recurring part across four seasons.
On AOL's Park Bench, life has become art, and the two get to indulge in a level of self-satire. If in real life, Steve's fame can at times be an impediment to Michael; on Park Bench it's Michael who serves as a thorn in Steve's side. In the show's pilot, it's the siblings' father who suggests doing a web series; the episode's ultimate gag is that Michael stole the idea and ran with it at the same time that Steve did. This sibling rivalry persists across several episodes of the show, which is currently in the midst of its second season (with new episodes dropping each Thursday).
"In real life, it's not a rivalry. We're a very close-knit family," Michael says. Still, that doesn't make it easier when a stranger launches into rhapsodic praise of his brother. "Imagine you're a good plumber," says Michael, "and your brother is a good plumber as well, and is getting a lot of business. They're talking about him, you know, and you say, 'Well, I'm a plumber. I can fix your toilet.' But instead they're saying, 'Well, I know this great, great plumber.'"
Ultimately, though, fraternal love triumphs. And Michael wouldn't want his brother to be anything other than an actor, since his own professional high points have been collaborations with his brother. "I've worked with Steven several times, and every time I acted with him, it's like the best thing in the world," he says. "I can't describe a better high. It's this unspoken, wordless connection we have as brothers."