While grownups have been applauding the launches of recent standalone apps from top cable companies like HBO and Showtime, kids are now getting an innovative upgrade for their own second-screen habits.
Today Cartoon Network is replacing its Watch Cartoon Network video app with a new platform, simply called Cartoon Network, which uses the advantages of both on-demand streaming and linear programming to give kids–and parents, presumably– choices and personalized recommendations. The app will be the flagship of Cartoon Network's 34 existing mobile apps and games, which have accounted for more than 40 million total downloads across platforms. (This will make many parents very happy during the long summer days off school, but will do nothing to quiet the ongoing debate about kids and screen time.)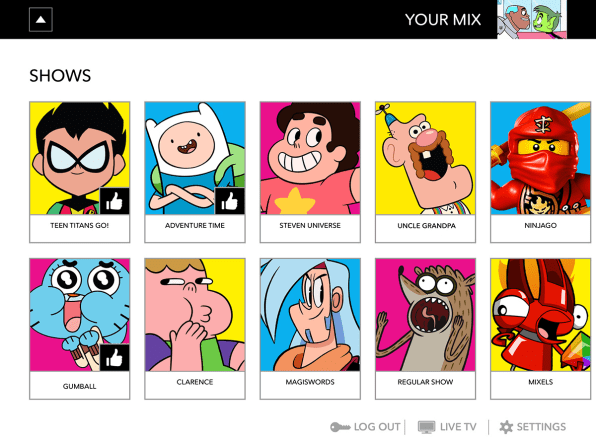 More than a digital on-demand library, the app's main feature is "The Mix," a running playlist of episodes and clips that is generated after kids pick their favorite shows from an opening screen. Fans of Teen Titans Go!, for example, will be frequently served that show's content, but it will be mixed with related suggestions as well as occasional brand-new content for discovery. Kids can skip around as they want, and give each selection a thumbs up or thumbs down to help the algorithm get to know what they like.
In focus groups, Cartoon Network learned that unlike previous groups of six- to 11-year-olds, kids who are currently in the network's sweet spot "assume personalization," says Chris Waldron, VP of Cartoon Network Digital. "They assume now that the app is going to listen to them, and it's going to do what they say, and over time react to their preferences."
As with most VOD apps, users can also navigate to specific Cartoon Network shows from a library menu–more than 1,000 episodes and clips are available with the free standalone app, or families can access the network's complete library of full episodes by logging in through a cable provider. But The Mix introduces the benefits of a linear broadcast to an on-demand environment.
"We have decades of experience on linear, which is good at many, many things, even on this platform," says Waldron, referring to how shows used to be watched. We basically said, 'What are the two things right now that some of the VOD offerings that we and others have that are most challenging?' You go through a lot of buttons, a lot of tapping. TV doesn't work that way. You turn it on and it starts going. How can we get at that?
"The other thing that TV is better at is helping people discover new shows with minimal effort. "The whole industry is trying to figure out how to get people to watch new shows. When it's an actual choice, when you press a button, there is some friction to that. There is some, 'That show looks good, I've heard about it, but I don't want to watch it right now.' But TV leads into other shows that let you sample a lot of stuff. So we set out to redesign this app and say, How can we take the best of VOD, and the best of linear, and what can we build that takes that even further?"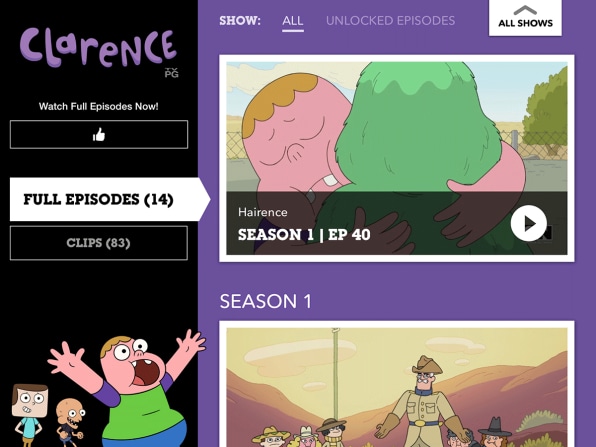 The app will also be a launching pad for content that may or may not cross over with television. New episodes of popular shows will often premiere on the app up to a week before they are broadcast–a "See It First" section will release a new episode of Teen Titans Go! each week prior to linear premiere later in July, and the app at launch will include an exclusive short from each of Cartoon Network Studios' original series: Adventure Time, Regular Show, Steven Universe, Clarence, Uncle Grandpa, Mighty Magiswords, and a new series, We Bare Bears. And through the app, viewers can debut original clips from the network's shorts development program.
Mighty Magiswords is an example of how programming can be piloted and evolve with Cartoon Network's multiplatform approach. The show started as 15-second episodes on the top-ranked Cartoon Network Anything app, which launched last year as a stream of bite-sized clips, games, and memes. On the new Cartoon Network app, the episodes will be two to three minutes, introduced through The Mix.
"As [Magiswords] becomes more popular, it has the opportunity to go from screen to screen to screen," says Christina Miller, president and GM of Cartoon Network, Adult Swim, and Boomerang. "So in some cases, it might start there, but go to TV. Or it might start on TV and end up in CN Anything. So we're becoming more and more agnostic."
Cartoon Network's chief content officer Rob Sorcher says the new holistic programming strategy has actually changed the organization's structure, and requires people to shift their thinking.
"There isn't just a digital group anymore, there is only a content group that is thinking digitally and multiplatform, programming all screens in sync," says Sorcher. "There are 300 artists in this building, and when we bring them into the process is when it gets very interesting. It requires us to actually bring them in to the business, not just the show. They have to understand why we're asking them to develop in this way, and at the very beginning of the process to think completely differently about their property."
"A lot of people talk about storytelling or creating a show, but we're looking at how we can create immersive worlds," adds Miller. "What is everything that a fan does or a kid does. Sometimes it's playing great games, sometimes it's watching 15 seconds of content, sometimes it's binging on five episodes of their favorite show."
Waldron also emphasizes that there's no one best strategy for innovating in on-demand.
"What I like about this is that we designed something specifically for us," he says. "I think it's important for what we do as a network to make sure that brand comes through. And this doesn't work for serialized shows. For a company like HBO, it wouldn't make sense at all to pull out a random episode of Game of Thrones. But for our content, which is very sitcom-y, you can just jump in."