GoPro today announced its first all-new camera since 2006, the lightweight, cube-shaped, waterproof Hero4 Session.
Priced at $399 and available throughout most of the world on July 12, the Hero4 Session is half the size and 40% lighter than the existing Hero4 line of cameras. It was designed to be much more simple than other GoPros, with a single button that starts and stops recording. It's also meant to mount on objects, like bicycle spokes, that are too small to hold current Hero4s. It works with all existing GoPro mounts.
The company hopes the Session's smaller size and lighter weight will make it more attractive to many of the professional athletes it works with, and who shoot and share videos of their action-sports exploits.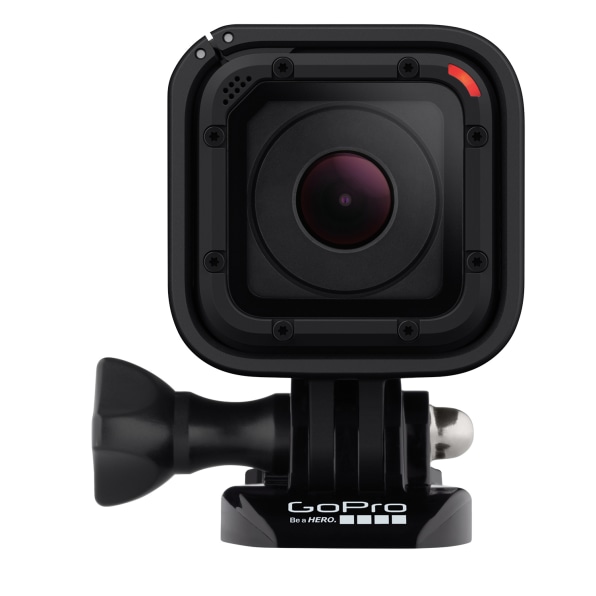 "I think it's going to be probably one of my secret little weapons," pro mountain biker Aaron Chase told Fast Company. "It's a fraction of the size, and I can tuck that camera away even more than the original GoPro. I think it's going to add another dimension. [A kayaker told me] he could put it one of the fishes' mouths."
GoPro is positioning the Hero4 Session as a camera for users who want something lighter than the Hero4 Silver or Black, but who don't want to give up much when it comes to features.
At 1.4 inches cubed and weighing just 2.3 ounces, the Session has to give up some of the components of its larger cousins–most notably, an LCD screen. That means users will have to rely more heavily on either the GoPro mobile app or the Wi-fi smart remote than is necessary with larger GoPro cameras. On the other hand, the Session is waterproof to a depth of 33 feet without the need for an additional housing.
The Session can shoot 1440p at 30 frames per second, 1080p at 60 fps, or 720p at 100 fps. It can also shoot 8-megapixel photographs in burst mode at 10 fps, as well as .5-second to 60-second time-lapse photos, and includes a number of settings for slow-motion recording and high-resolution images.
GoPro says the Session's battery would last up to two hours at 1080p30, while the Hero4 Black would last 90 minutes at the same frame rate.
Befitting the Session's size and the parlance of its target market, GoPro is using the tagline "So small. So stoked." According to a spokesperson, GoPro has been working on a cube-shaped camera since 2011, and earlier this year was granted a patent for a "camera housing for a square profile camera."
The spokesperson said GoPro CEO Nick Woodman has wanted a smaller device for a long time, in large part because the Session is ideal for athletes who have been asking for a smaller, lighter, and more discreet camera they can use to shoot video and photos during competitions.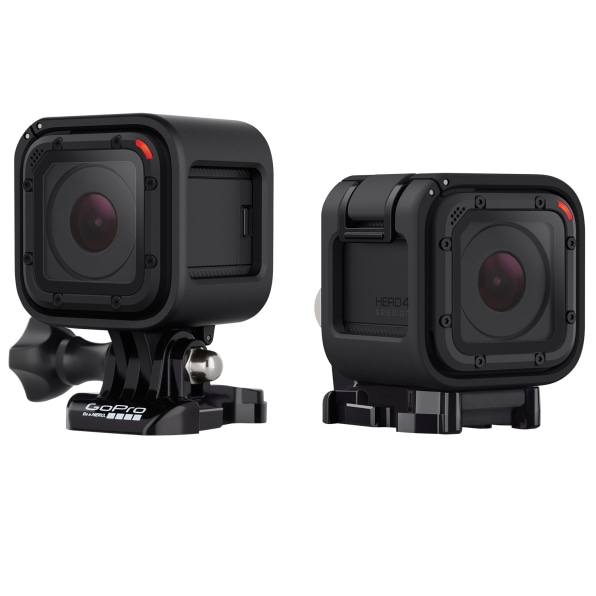 One major difference between the Session and other Hero models is that the new device has just a single button that is used to turn on the camera and almost immediately start shooting video or photographs. The spokesperson said it takes about a second to start recording after pushing the button. One benefit is that this extends the Session's battery life because the camera is never on and idling.
By contrast, the existing Hero line utilizes separate buttons for power and record and can be turned on even when it's not shooting.
The Session was designed with dual microphones, a feature meant to minimize wind noise in recordings. The idea, the spokesperson said, is that the camera auto-detects where wind is coming from, and utilizes the microphone that will record better sound.
At the same time, because the camera is cube-shaped, it is meant to be mounted in any direction, and built-in technology senses the proper direction to orient the image capture.
Last year, Polaroid released The Cube, a $99 device many saw as its attempt to undercut GoPro in the action-camera market. Other companies, like Xiaomi, have also put out low-price GoPro competitors.
Given the small form factor and cube size, many people may be tempted to think of the Hero4 Session as a low-end device. But GoPro says the camera's feature set is much more aligned with the Hero4 Silver, and is not aimed at the entry level.
GoPro also said it's certain that the Session will mount on the company's forthcoming drone, which is expected to be launched next year. The spokesperson said other drone companies, many of which have traditionally made it fairly easy to mount GoPros, are likely to support the Session.
As for athletes like Chase, the smaller Hero 4 Session means being able to tuck the camera under his goggles or to use a selfie stick knowing there's less weight on the end.
"I wouldn't have guessed they could make it much smaller, because of how much they packed into the camera" already, Chase said. "Once I found out (about the Session), I'm all in."